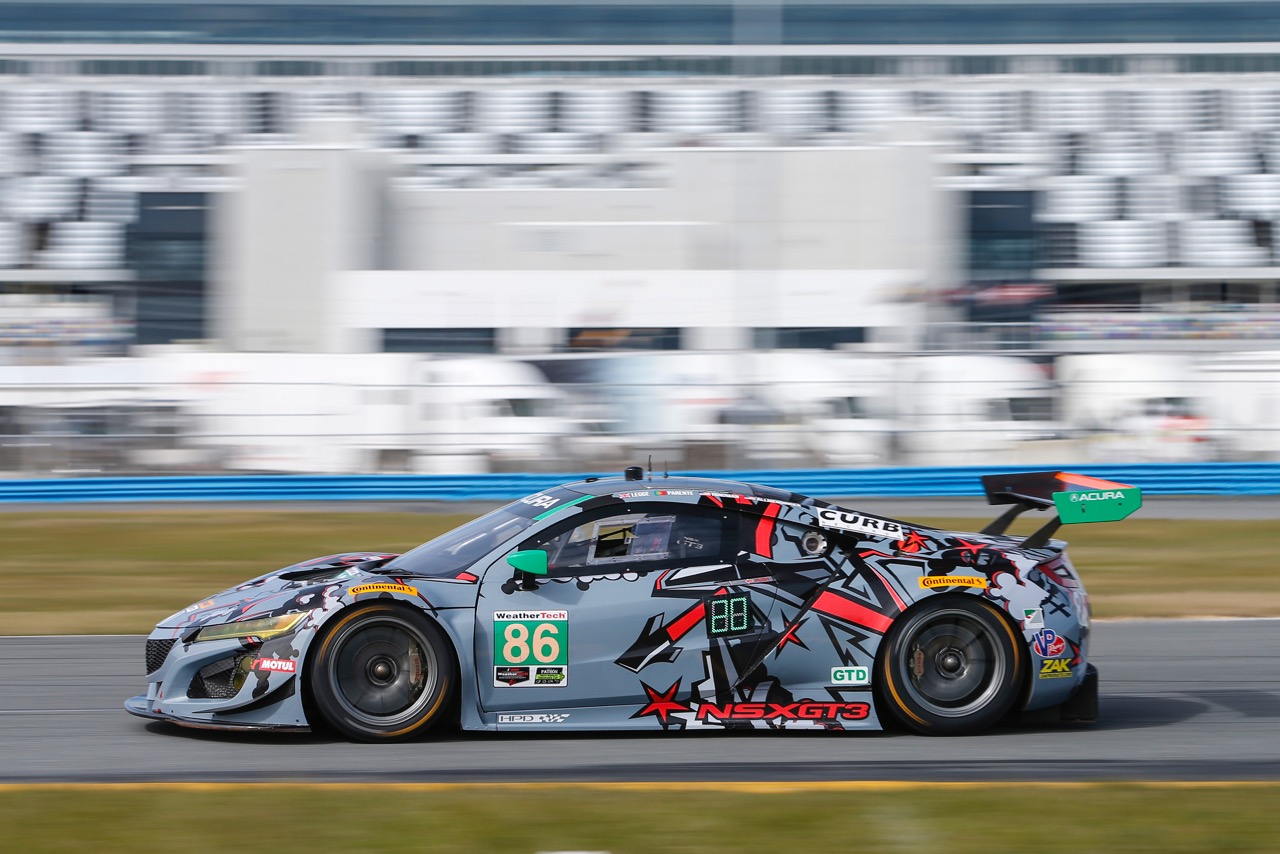 GT3 / 24 January 2018
First five cars on track for NSX GT3 Customer Racing Programme
The first five examples of the NSX GT3 Customer Racing Programme are already on-track; the JAS Motorsport-assembled supercar set to race under Honda and Acura branding in the 2018 season.
Three NSX GT3s have been confirmed for programmes in North America, which begin with the legendary Daytona 24 Hours this weekend and will continue into the season.
Michael Shank Racing, who gave the car its maiden victory race at last year's IMSA WeatherTech SportsCar Championship event in Detroit, have confirmed a two-car assault on the series for 2018.
One car will tackle the full season with a driver line-up of Lawson Aschenbach and Justin Marks, who will be joined by Mario Farnbacher for the longer 'endurance' events that count towards the Tequila Patron North American Endurance Cup (NAEC) and Come Ledogar at Daytona only.
The second car, which will enter only the longer NAEC events, will be driven by Katherine Legge and Alvaro Parente. They are joined by AJ Allmendinger and Trent Hindman for Daytona.
Also participating in the NAEC is Honda America Racing Team (HART); an outfit staffed by full-time employees of Honda's Performance Manufacturing Centre in Ohio, USA, outside of work hours.
HART will field one car for Ryan Eversley, Chad Gilsinger and John Falb while Sean Rayhall joins them for Daytona.
Two more of the cars will contest Japan's premier sportscar series, Super GT, for which GT3 machines are eligible in the GT300 class.
One car will be entered by CarGuy Racing with Team Principal Takeshi Kimura, Naoki Yokomizo and Afiq Yazid driving. The other will be fielded by Drago Corse, whose Team Principal, Ryo Michigami, the 2000 Super GT Champion and Hiroki Ohtsu, will race the car.
Super GT begins at Okayama on April 8, by which time several further programmes in Europe and Asia are set to be confirmed.
The NSX GT3 Customer Racing Programme has been a collaborative project between Honda Motor in Japan, JAS Motorsport and Honda Performance Development (HPD) in the USA since its inception.
Donor chassis and engines come from the NSX production facility in Marysville, Ohio; the powerplants re-assembled to GT3 specification by HPD and car build taking place at JAS Motorsport.
Sales and customer support are handled by HPD in North America, M-TEC in Japan and JAS throughout the rest of the world.