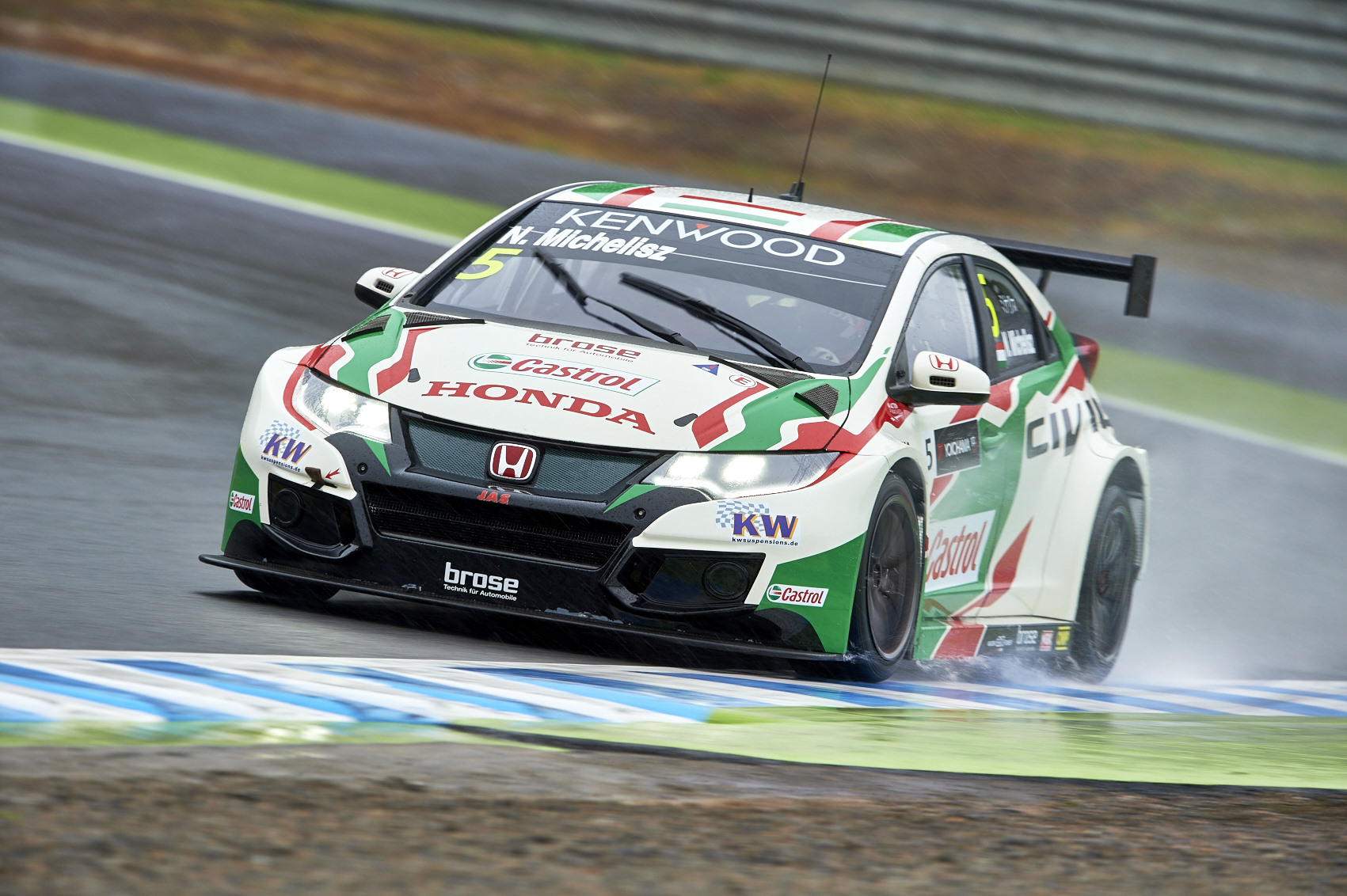 WTCC / 29 October 2017
Michelisz wins for Honda on home soil
Norbert Michelisz braved torrential rain to take a superb FIA World Touring Car Championship victory on Honda's home soil at Twin Ring Motegi in Japan.
The victory was his third of the season and the fifth for the JAS Motorsport-run Castrol Honda World Touring Car Team; a result that launched the Hungarian into second place in the Drivers' Championship. Starting from pole position, Norbert led the race, which was red-flagged and declared after 10 laps due to the dangerous track conditions, from start to finish.
That result came after a bruising Opening Race in which he was spun out of a top-five position, for which his assailant was penalised with a drive-through penalty. After falling to 11th, he recovered to seventh by the chequered flag.
He has cut his deficit in half, going from 32.5 points adrift of the lead to just 16.5 behind with four races to go, while Honda has also drastically reduced the gap in the Manufacturers' Championship to the leaders.
His new team-mate Esteban Guerrieri, who is standing in for the unavailable Tiago Monteiro, made a sensational debut to finish third in the Opening Race after being hit several times following over-aggressive behaviour by another driver.
He added fourth place with a more straightforward drive in the Main Race to complete a very successful weekend that leaves him seventh in the championship; three spots behind Tiago.
Home hero Ryo Michigami started a fifth in the Main Race; setting a new record for the best grid position achieved in the WTCC by a Japanese driver.
He battled for the position early on before sticking brakes contributed to an off at Turn 9 that ended his race. He scored a point for 10th place in the Opening Race, having been hit twice by rivals and taken off the track.
Hungarian team Zengo Motorsport, who run a pair of JAS-built cars, suffered a challenging pair of races after Daniel Nagy impressively took his Civic into Q2 in qualifying and started a superb 11th.
The teenager finished 15th and 14th while his rookie team-mate, Zsolt David Szabo, who is contesting only his third WTCC event, was 16th and 17th in the sister car.
Alessandro Mariani, Castrol Honda World Touring Car Team Principal, said: "For the past two weeks the whole team has worked like crazy to make some updates to the cars, and it looked like we might not even be ready for the weekend. But everybody pulled together and to win with Norbi is a fantastic result for every member of our team who has worked so hard. Esteban did a fantastic job on his first weekend with us and took a very important podium despite being hit many times by Thed Bjork in the Opening Race. The target this weekend was to reduce the gap in the championship and we have done this. It's a good way to finish a tough week."