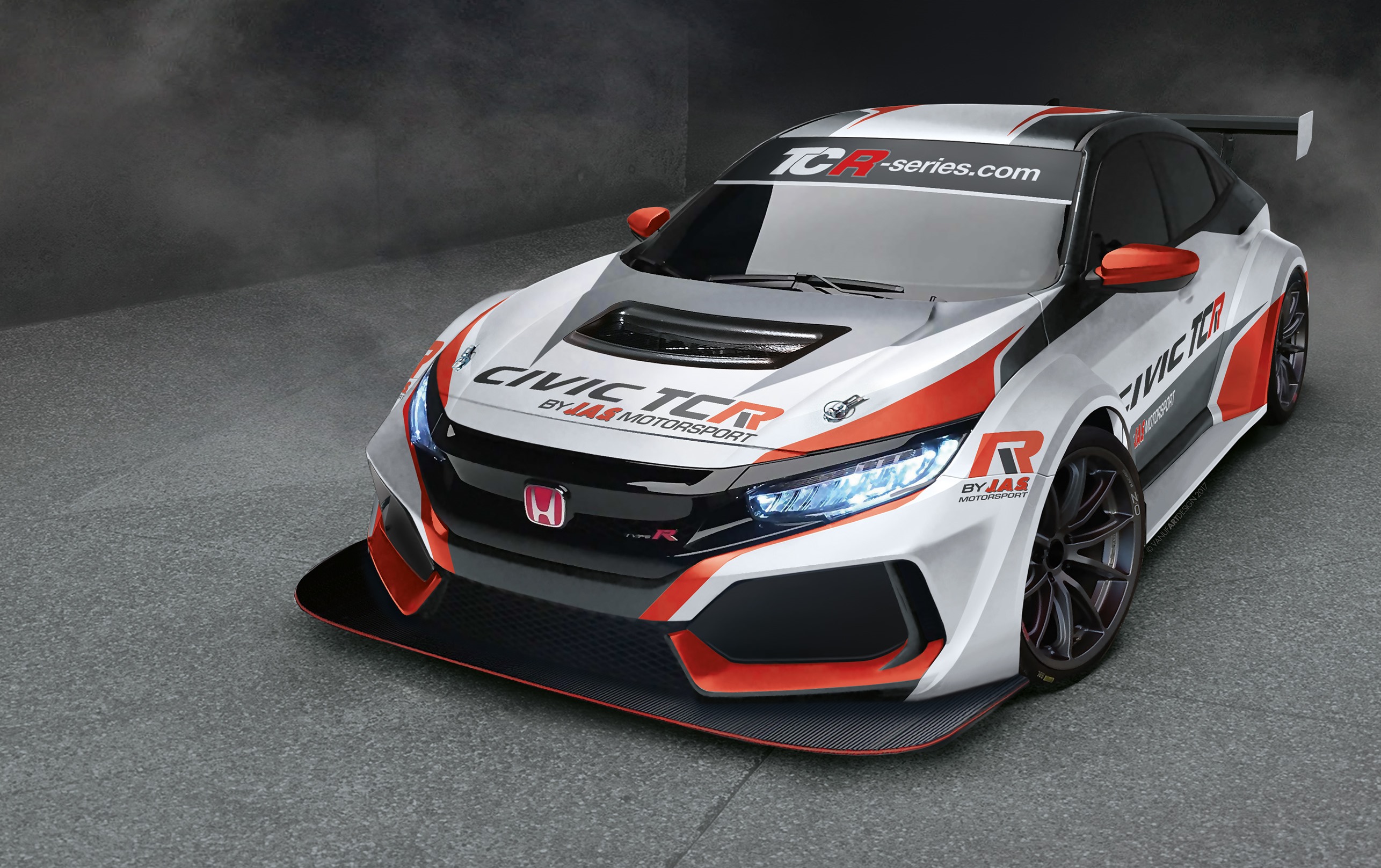 TCR / 09 January 2018
New Honda Civic Type R TCR to debut at Dubai 24 Hours
The all-new Honda Civic Type R TCR will make its eagerly-anticipated race debut at the Dubai 24 Hours this weekend.

Twenty-five examples of the car, which is based on the latest version of the Honda Civic Type R, are being built by JAS Motorsport at their Milan headquarters with the first few examples having already been delivered to customers across the globe.

RKC/TGM Motorsport, who were the first team to receive their car, will field it in the 15-strong TCR category of the Dubai 24 Hours, which is also the opening round of the 24H Series.

The drivers will be Team Principal Ricky Coomber, Tom Gannon, David Drinkwater, Umair Khan and former factory British Touring Car Championship Honda driver James Kaye.

The new Civic Type R TCR, which was unveiled in October and has undergone an intensive testing programme in Europe, is the replacement for the car that took 13 major championship titles last year and 16 in total.

It is eligible for competition in the re-branded FIA World Touring Car Cup (WTCR), domestic and regional TCR-based series and endurance championships such as the 24H Series, VLN, Super Taikyu Series and IMSA Continental Tire Series, with classes dedicated to TCR machinery.

Ricky Coomber, RKC/TGM Motorsport Team Principal, said: "We're extremely excited to give the new Honda Civic Type R TCR its race debut. The car will be transported direct to Dubai, where each of our drivers will get some seat time before the race weekend begins. With 16 cars in the TCR class, we know the competition will be tough, but if we can stay out of trouble and get into a good rhythm, I think we can take a strong result. The customer support from JAS has been excellent and we're sure that will continue into the race season."

Mads Fischer, JAS Motorsport TCR Project Leader, said: "After the extraordinary success of the previous Honda Civic Type R TCR in 2017, it's incredibly exciting to be at the dawn of a new era. The new Civic has undergone 2800km testing since the middle of October and we're confident that it will be an extremely effective racing car. The recent announcement of the FIA World Touring Car Cup, for which TCR cars will be the only eligible cars, is extremely exciting news and we hope to see several examples racing there, as well as in domestic TCR series and endurance championships such as the 24H Series. We know RKC/TGM Motorsport will do a strong job, but Dubai is the car's debut so we go into the race without pressure and just aiming to do as well as possible."