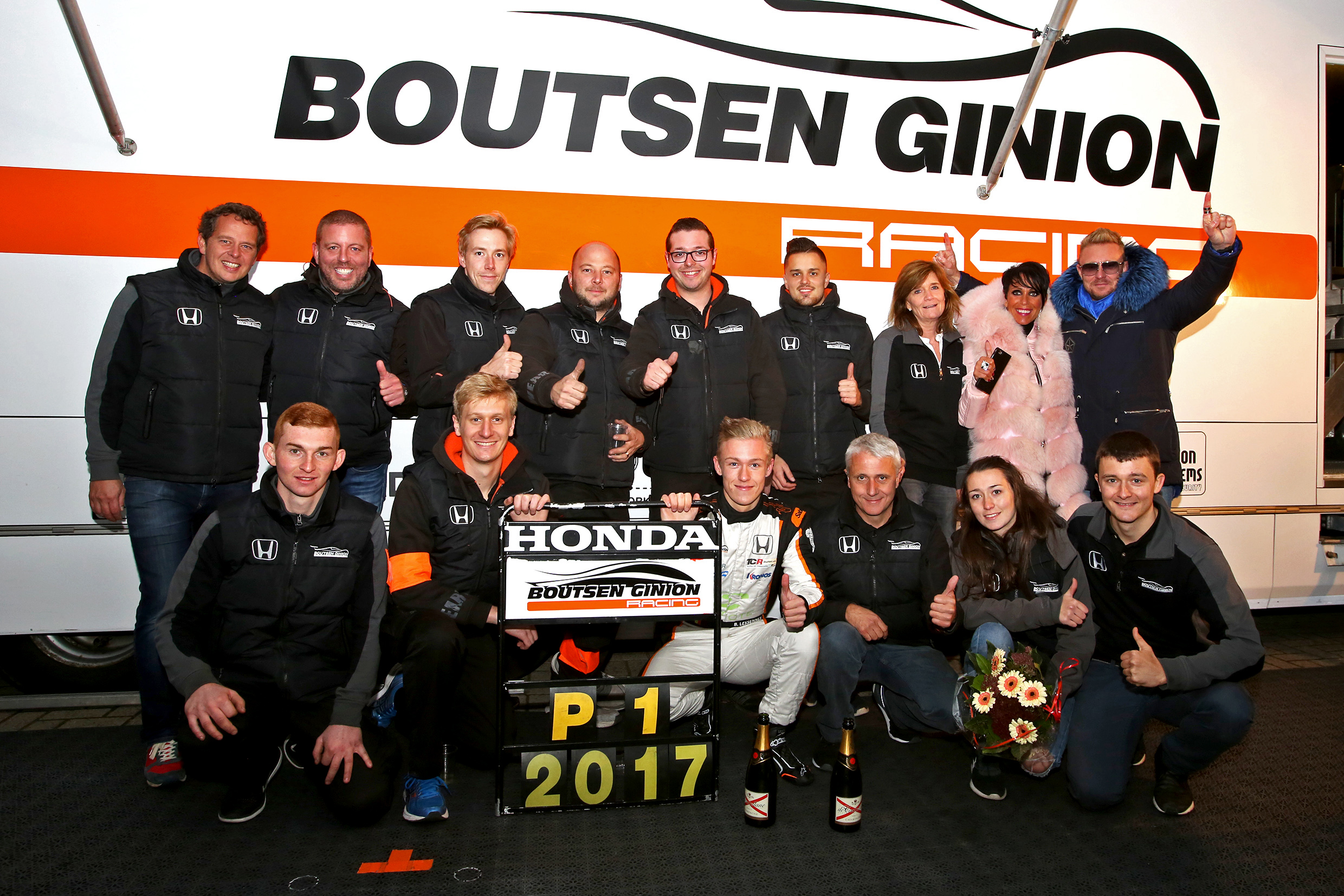 TCR / 23 October 2017
Treble crown for JAS Hondas in TCR Benelux
The Honda Civic Type R TCR has secured an incredible 10th major title of 2017 following a magnificent treble-crown in the TCR Benelux series last weekend.

Boutsen Ginion Racing driver Benjamin Lessennes claimed both the overall Drivers' Championship and the Junior title while the JAS Motorsport-built Civic claimed the Car of the Year crown at Assen.

Having qualified third at the Netherlands circuit in changeable weather conditions, Lessennes and co-driver Tom Coronel finished fifth in the Qualifying Long Race on Saturday.

Experienced Dutchman Coronel then finished third in each of his two Sprint Races on Sunday morning to set up a thrilling afternoon of action, for which teenager Lessennes took over driving duties.

The day nearly turned to disaster when Lessennes was hit by a rival driver and spun into the gravel early on, but he showed determination to recover the track and finish sixth, making him Champion of the Junior division for drivers no older than 21 at the start of the season.

Nursing a still-damaged car, fifth place in the final race of the day was enough to confirm the Car of the Year crown and his Drivers' title; the second in as many years for Boutsen Ginion after Stephane Lemeret took honours in 2016.

Coronel, who only contested half of the events, impressively finished sixth overall in the points table.

There was further success in TCR Italy, which concluded at the legendary Monza circuit near Milan.

MM Motorsport driver Eric Scalvini arrived with a slim chance of taking the Drivers' Championship, and took a very strong runner-up spot in the points in his Civic.

He finished sixth and eighth on race day; his latter result coming after a race-long fightback following a harsh drive-through penalty for opening-lap contact.

Those results, plus eighth and fourth for team-mate Davide Nardilli, secured second place in the Constructors' table for the Honda Civic Type R TCR, which won four times this year in the hands of Scalvini and Jonathan Giacon.

Mads Fischer, JAS Motorsport TCR Project Leader, said: "It's incredible to think that our car has now won 10 major titles in 2017. The latest three, which have come in TCR Benelux, are especially pleasing. TCR Benelux, with its format of five races per weekend and a two-driver qualifying race, has been incredibly closely-fought this year and five different brands were able to win the Car of the Year title at the final weekend. To come out on top of this is a testament to the strength, speed and preparation of the Honda Civic Type R TCR and the job the Boutsen Ginion Racing team, Benjamin Lessennes and all his co-drivers have done this year. It's a shame MM Motorsport weren't able to make it two more titles in TCR Italy, but they're a strong team and Eric Scalvini is another talented who has a great future ahead of him in touring car racing."