Engineering
ADVANCED AUTOMOTIVE ENGINEERING
J.A.S. Motorsport developed from an independent racing team into a total race car engineering and manufacturing center, specialising in all categories of Touring and GT cars. This capability has led to a strong relationship between J.A.S. Motorsport and Honda R&D, particularly to develop the WTCC version of the new Civic 5-door
CHASSIS
The JAS Design Team includes 20 engineers who design every single component of the race car, including chassis, suspensions and powertrain integration, taking advantage of the most sophisticated engineering techniques.
The extensive use of CAD modelling, Finite Element Analysis, Virtual Dynamics, CFD and Rapid Prototyping enable JAS to deliver fast-track engineering solutions and enhance design integrity.
ENGINE
For engine manufacturing and maintenance, J.A.S. works in close collaboration with Honda R&D and Mugen, the globally recognised motorsport engine and high performance parts manufacturer. Together, we provide Honda racing customers with the most competitive power plants allied to excellent service and expertise.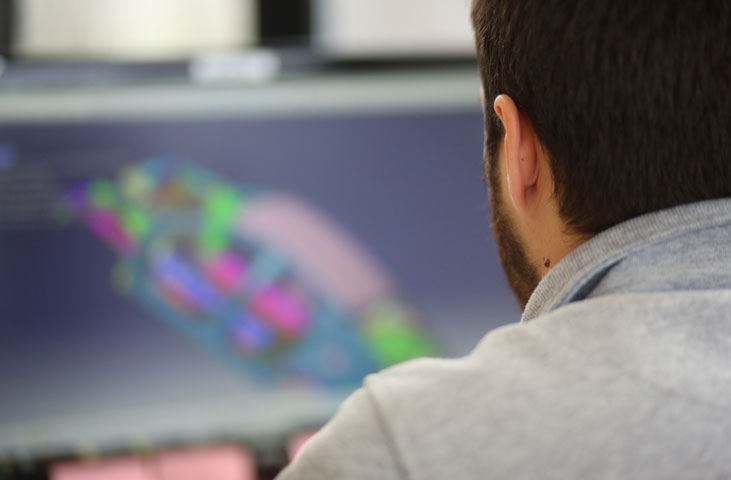 Manufacturing
RACE AND RALLY CAR MANUFACTURING
One third of the workshop is totally committed to the manufacturing of highly sophisticated race car chassis. Starting as bare shells from Honda factories they are then seam welded and equipped with extra reinforcements and roll cages.
J.A.S. Motorsport chassis are recognized as best-in-class within the racing manufacturing world.
STIFFNESS, DRIVER PROTECTION and LIGHT WEIGHT are the three criteria brilliantly achieved by extensive use of Finite Element Analysis in the design phase and the use of TIG welding and high tensile strength materials in construction.
The manufacturing process of a reinforced chassis may take from 400 to 1000 hours: a meticulous and precise work, essential to produce top quality racing cars.
The Production facilities have the ability to produce up to 20 race shells which are then directed to the internal assembly shop.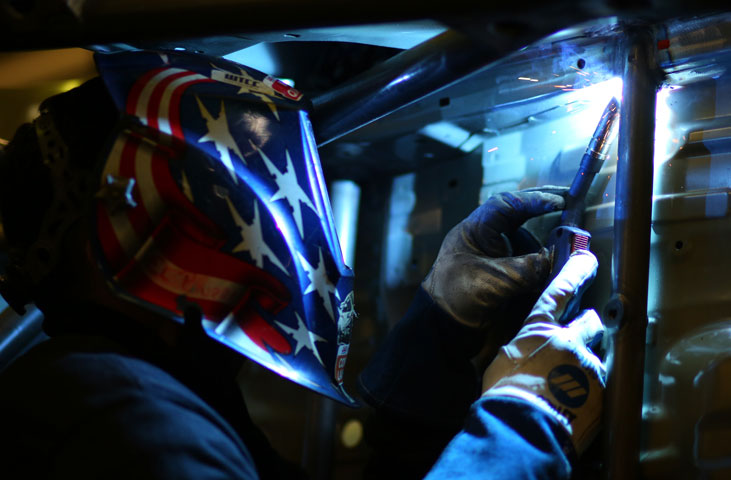 Racing Services
A FIRST CLASS SERVICE TO ASSIST YOUR RACING PROGRAM
In 2001 to take advantage of the launch of the new Civic Type R (EP3), Honda, for the first time, started the so-called Grass Roots Racing Program, a worldwide Customer Support program for all privateer Honda racing or rally customers.
This service, extremely important in assisting Honda customers in motorsport, has been entrusted to J.A.S., which, in 15 years of activity, has serviced over 500 customers worldwide.
The Customer Support features a wide variety of tasks requiring a well-structured organization formed by highly professional and knowledgeable staff, including:
Race/Rally cars engineering/development/production
Spare parts supply through a comprehensive racing parts catalogue
Hot line technical consulting (trouble-shooting, set-ups, instructions of use)
Technical assistance on site (race/rally engineering, qualified mechanics and technicians)
Engineering of components and special installations upon request (custom made solutions)
Information and clarifications about technical regulations and homologation forms
It is a formula that works. Our engineers and mechanics have helped teams to be successful all over the world, from Western and Eastern Europe to Asia and from Australia to Central and South America, not forgetting China!
From this global demand for racing cars and customer support, J.A.S. Motorsport decided to expand internationally. Branches are now operational in Hong Kong to serve the Asian market and in Paraguay as base for Central and South America.
We would love you to join our loyal customers and be a part of the Honda / J.A.S. winning formula!
For more detailed information, do not hesitate to contact Mads Fischer at J.A.S. mads.fischer@jasmotorsport.com