GIORGIO SCHON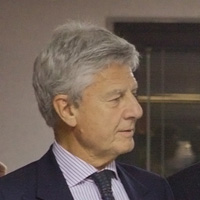 Born in Novara, 15/5/1946, living in Milano, graduated in Economics, started to work in 1969 in the high fashion family business with his mother, Mila Schön, one of the top italian designers. First job was launching the uniforms of Alitalia, designed by Mila Schön, all over the world. He managed the business for 23 years, becoming CEO of the company and strongly developing the Firma in Japan.
He dedicated all his extra time to the racing cars and since ever to collect historic cars. First race was the Montecarlo rally in 1968, with a Cooper S.
Has raced for 23 years, winning 4 Italian circuit championships (Porsche, Alpine, Fiat Ritmo and Porsche 934), 1st overall in Giro d'Italia 1979 with Porsche 935 biturbo.
Run in 8 Montecarlo rallies, 9 Targa Florios and took part in 33 races valid for World Championship included Le Mans.
In 1981 raced officially for Lancia Martini with Beta Montecarlo Turbo, winner of the world championship.
Raced in offshore just ones, winning the prestigious competition Viareggio-Bastia-Viareggio.
In 1993 the family business Mila Schön has been sold to the Itochu Group, and since then he became dealer Ferrari and Maserati for Northern Italy.
In 1994 bought the Zagato brand, resold in 2001.
In 1996 was contacted by Giorgio Pianta, ceo of Alfacorse, to build a team to race in the ITC with 4 official Alfa Romeo cars.
JAS was immediately established with Maurizio Ambrogetti and a third partner, under direction of Alessandro Mariani.
In the last 20 years dedicated his activity mainly to Rossocorsa, the largest Ferrari and Maserati dealership in Europe, and to the family winery Colle Manora in Piedmont.