MAURIZIO AMBROGETTI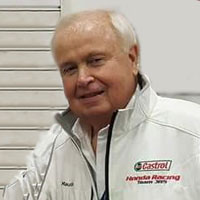 Dr. Maurizio Ambrogetti is President and Founding Shareholder of J.A.S. Motorsport. Born in Milan in 1948 he holds a bachelor degree in Politic Science and Business from Università Statale di Milano.
Motor enthusiast since he was young, in the early 70s he found a Company as Italian exclusive distributor of PUCH Enduro motorbikes, a well-known Austrian brand.
Dr. Maurizio Ambrogetti has worked for more than twenty-five years (1973 – 1998) in his family-owned Company which has been leader for chemical products distribution in Italy. Former President and shareholder of Pioneer Car Stereo Italia, and later of Alpine Italia Car Audio System, both top level electronic brands in the world.
During the 70's he has been a rally driver for ten years; contesting more than 100 rallies, he won the Italian GT Rally Championship in 1973. Later in the 80's, he switched to Powerboat races.
He raced in different Motorboat categories, winning two times the European Offshore Championship in Class 1 (1990 -1991) and in 1991 the World Championship. Furthermore he won twice the renowned Viareggio-Bastia-Viareggio race (1983 -1991).