STEFANO FINI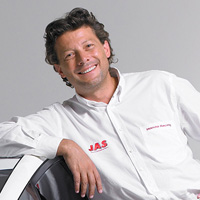 Born in Milano in 1963.
Bachelor in Mechanical Engineering at Politecnico di Milano, spends 6 years with an international company specialized in plastics and composites technologies for the automotive industry, visiting hundreds manufacturing sites around the world and working with the most reknown automotive suppliers, while still dreaming of a professional career in Motorsport.
Following his passion for race cars design, Stefano finally joins JAS in its early days (1996) as race engineer of Jason Watt in the Alfa Romeo ITC JAS Team.
At JAS Stefano has developed and experienced all technical roles, including race engineering and design, R&D and project management, highly contributing to the growth and success of the company.
Since 2002 is representative of Honda at FIA Technical Working Groups (Touringcar, Rally and WRC, Engine, GT) and member of the FIA Inspectors Panel.
From 2010 onwards he has been elected as Representant of the Manufacturers at the FIA Electric and New Energies Championship. Awarded in 2015 of the "Qing" certification for "Automotive Engineering - Hi-Performance and Race Cars" with the Milan Order of the Engineers.