MATTEO PELA'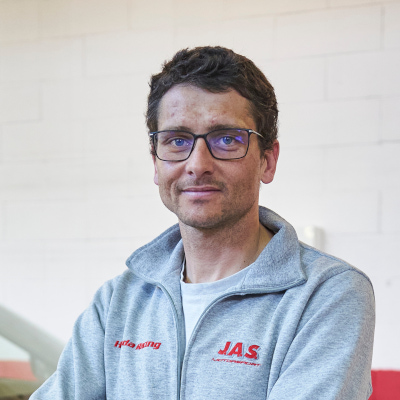 Matteo was born in 1988 in Milan where he lived and got his MS in Mechanical Engineering at Politecnico di Milano, after spending 2 years as Erasmus student in Paris at Supméca Engineering School.
Matteo is a passionate and dedicated engineer with expertise in Motorsport and Automotive Industry.
Before working for JAS he was junior design and calculation engineer for an innovative academic project manufacturing fiber composite tanks for truck transportation.
He started his engineering career at JAS Motorsport in 2014 as mechanical designer then moving to racing team operations, race engineering, customer service and finally production duties.
At the very beginning, as design engineer he worked on the CTCC - H50 design project.
In 2015 he was involved in the development of the JAS-Honda H49 WTCC race car (TC1 category) as part of the Castrol-Honda factory team.
At the beginning as R&D engineer then he was performance engineer and racing team operation supervisor until the WTCC FIA championship project ended in 2018.
In 2018 he was assigned to the TCR H70 project as production manager following the production of the first 80 TCR customer cars.
In 2020 he was charged as customer service supervisor mainly as customer race engineer and manufacturer customer service representative in different TCR championships worldwide.
From 2022 he replaced Andrea Biraghi as Production Manager for all the projects developed from JAS Motorsport.
His role consists in being the interface between the internal departments and the production workshop, reporting to project leaders for each project.
Part of his duties cover issuing internal technical information, assembly procedures and managing workforce through the manufacturing shops.