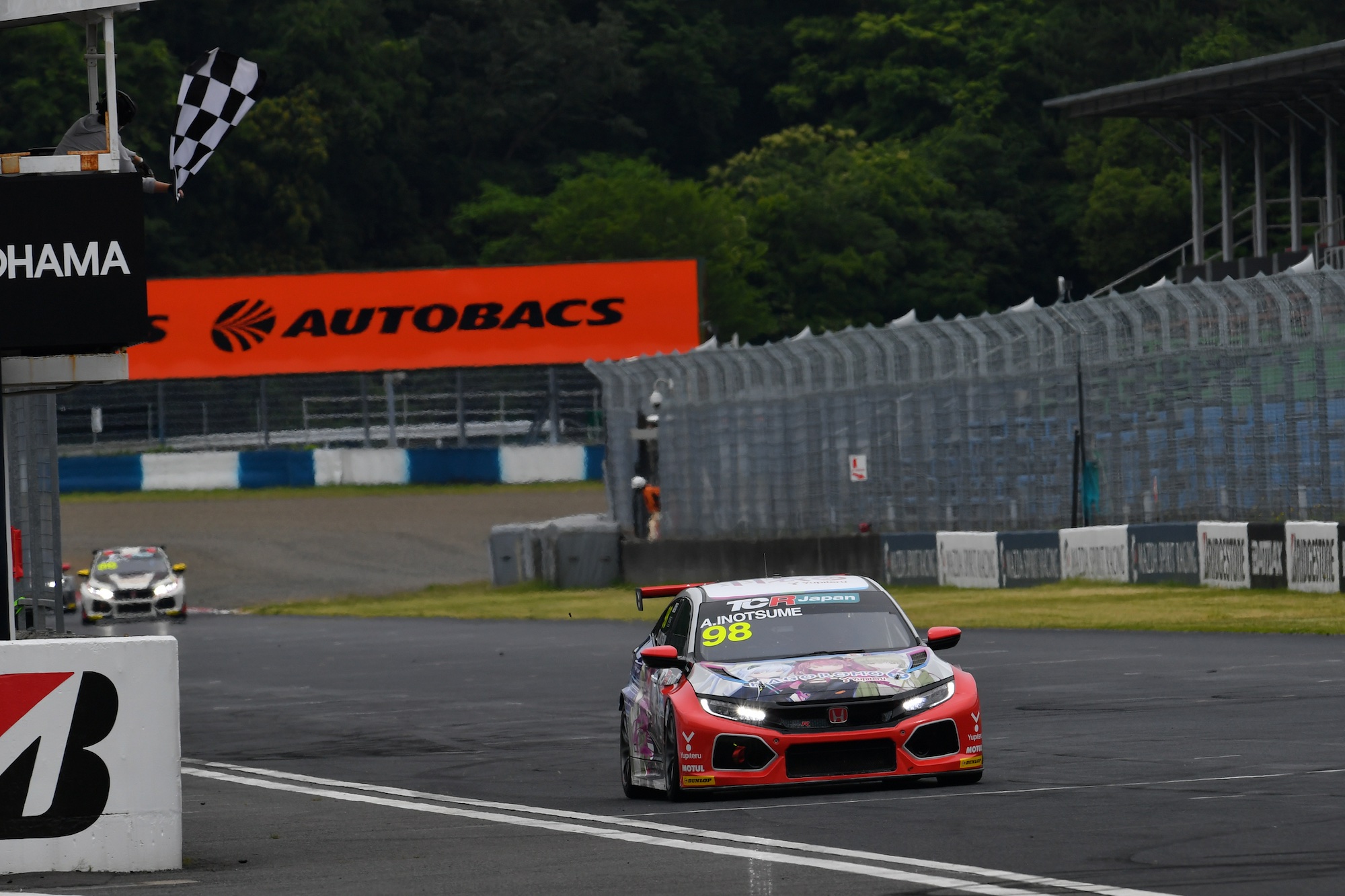 TCR / 13 June 2023
Anna Inotsume makes history with Civic Type R TCR
Anna Inotsume made TCR Japan history on a weekend of major successes for the Honda Civic Type R TCR.
With podium finishes in two other series, it was another strong weekend for the JAS Motorsport-built car.
TCR Japan
Inotsume took pole position for the Saturday Series race aboard her Hagoromo 6 Dome Racing Civic and, after losing the lead initially to the similar 55Moto machine of Mototino, hit the front midway around the first lap.
Mototino crashed before half-distance, promoting the J's Racing Civic of Junichi Umemoto to second and completing a Honda one-two.
Inotsume increased her points lead by becoming the first driver in series history to win four races in a row on Sunday as Mototino and Umemoto finished third and fourth. Dome continue to lead the entrants' points.
TCR Eastern Europe
Davit Kajaia was one of the star performers at the Slovakia Ring as the Georgian driver scored second and third-placed finishes to move into second spot in the Drivers' Championship.
His Mertel Motorsport team-mate Rene Kircher scored his maiden series pole position and finished second on the road in Saturday's opener, only to be excluded post-race for an infringement of the Balance of Performance rules.
From the back of the grid he climbed to sixth in Race Two, a result that means he can wrap up the Junior Trophy title next time out at Most.
Honda Wyszomirski's Sebastian Kolakowski was second in the Trophy class both times while RTM Motorsport's Antonio Citera was third in Race One.
TCR South America
Squadra Martino continue to head the Teams' points following a podium finish for Juan Manuel Casella and Gaetano di Mauro in the second two-driver endurance race of the season at Interlagos, Brazil.
There was also a podium finish for their team-mates Fabio Casagrande and Franco Coscia in the Trophy division while Enrique Maglione and Rodrigo Aramendia were seventh.
Ignacio Montenegro - the sensation of the 2023 season, who led the overall points coming into the weekend - and Lucas Colombo Russell were retirees.
TCR World Tour
Nestor Girolami proved the pace of the new FL5 Civic by tearing through the field to finish eighth in the final race of the weekend at Imola. Starting third he was run off the track at the opening sweeps and dropped to the tail.
A strong recovery brought him to eighth; two places lower than where he finished Sunday's opener.
ALM Motorsport team-mate Mattias Vahtel, a graduate of the JAS Motorsport Driver Development Programme, was 12th in the opener and 14th, after having an issue pulling away, in the later race.
TCR UK
Reigning champion Chris Smiley finished fourth and seventh in two highly-uneventful races at Oulton Park for Restart Racing.
His team-mate, JAS Motorsport Development Driver Scott Sumpton, failed to start either race owing to an electrical issue aboard his car.