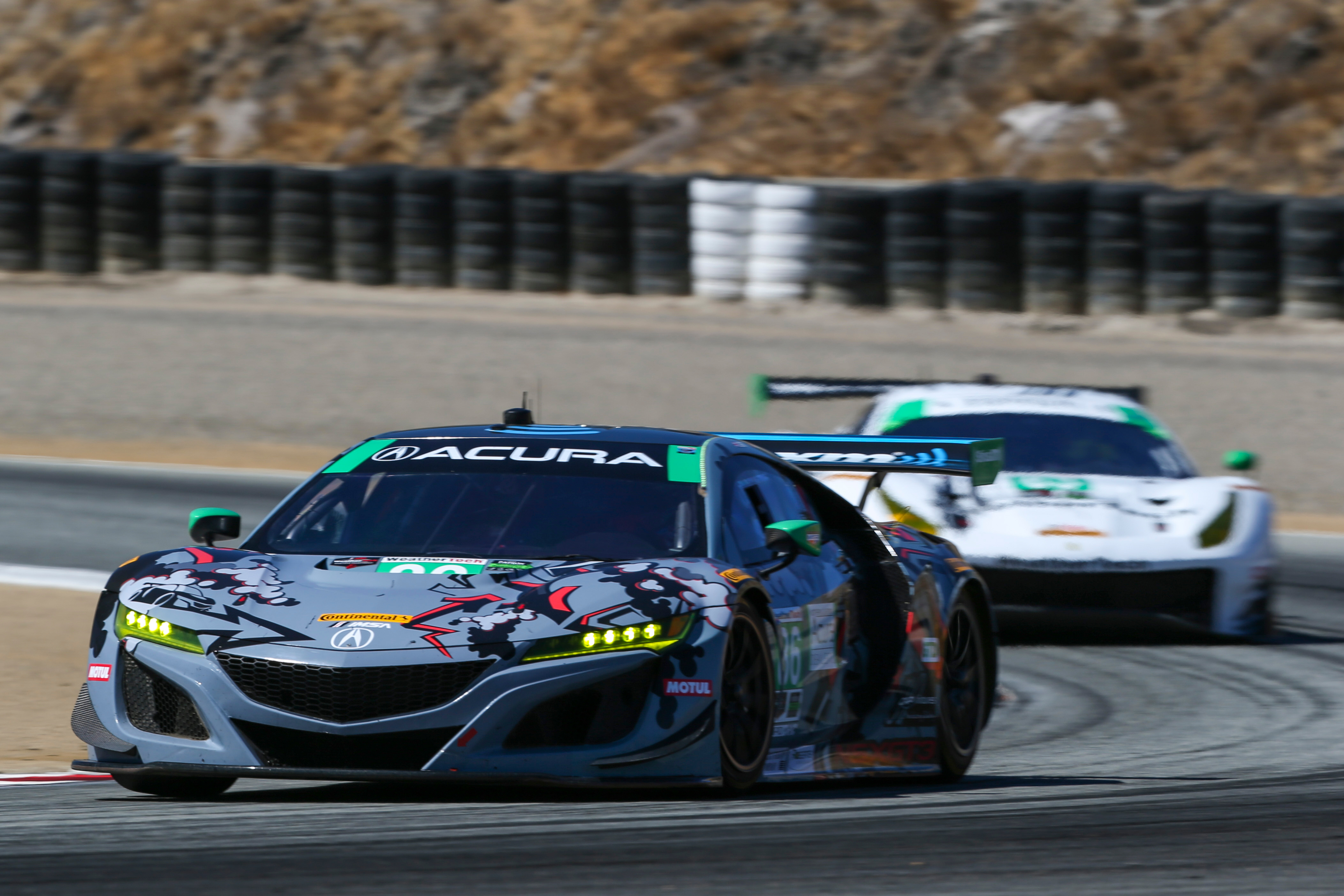 GT3 / 10 September 2018
Another win for the NSX GT3 in IMSA
Alvaro Parente overtook three cars in the final 10 minutes of an action-packed race at Laguna Seca to take the second IMSA Weather Tech Sports Car Championship victory of the season for the NSX GT3 of Meyer Shank Racing.
After co-driver Katherine Legge had broken the track record to take pole position on Saturday, the Briton focused on tyre preservation during her opening stint of the two-hour, 40-minute race at the California circuit and led the GTD class up to the car's opening pitstop.
With tyre wear a key factor in the hot weather conditions and Parente taking over from Legge during the middle part of the race, the MSR team played safe and changed rubber for the final stint; sacrificing the lead and dropping him back to fourth.
But a scintillating final stint enabled the Portuguese to catch and pass the class leaders in the closing minutes and take a sensational win.
The success, which is also the NSX GT3's seventh podium from 10 races this year, moved Legge to within six points of the series lead with one race to go and 35 on offer for a victory.
Parente, who has missed two races in 2018, is eighth while Meyer Shank Racing's #86 car and Acura lie second in the Teams' and Manufacturers' Championships.
The sister car of Justin Marks and Lawson Aschenbach endured a typically luckless weekend. After starting 10th, Marks suffered front-end damage as several cars made contact at an early safety-car restart. It was enough to send the car into retirement.
Germany's ADAC GT Masters moved onto the Sachsenring for the penultimate round of its season and produced two races dominated by the safety car.
Christopher Dreyspring qualified the Honda Racing Team Schubert Motorsport NSX GT3 22nd overall and fifth of the all-junior crews for Race One as the top 24 cars were covered by just 0.8 seconds.
He climbed to 18th before handing over to Giorgio Maggi at the driver change. The duo finished as the third-best all-juniors in 26th overall.
Maggi put the car 33rd on the grid for Race Two, but well-judged opening stint elevated him to 24th before he was hit by another car and spun immediately prior to his pitstop, meaning Dreyspring emerged 29th.
The young German showed the pace of the NSX GT3 to climb to 17th by the chequered flag; fourth of the all-junior teams.
All three cars were competing as part of the NSX GT3 Customer Racing Programme; a global collaborative project with JAS Motorsport responsible for assembly of all cars.
Honda Performance Development (HPD) and M-TEC handle sales and technical support in North America and Japan respectively, with JAS responsible for these areas across the rest of the world.
Stefano Fini, JAS Motorsport NSX GT3 Project Leader, said: "This is an extremely exciting time for the NSX GT3 in North America. Last weekend we saw the car set the fastest lap in a sprint series, the Pirelli World Challenge, and now we have seen another magnificent performance by Meyer Shank Racing in endurance competition in IMSA, who now go to the final race in with a very good chance of winning the championship. The NSX GT3 was the fastest car on race pace all weekend at Laguna Seca; a circuit that requires a car to be well-balanced and show good stability under braking and acceleration, and this can only be a huge positive for the future. Schubert Motorsport showed good race pace, and it was impressive to see two young drivers keep out of trouble on a weekend littered with accidents for some vastly more experienced guys."