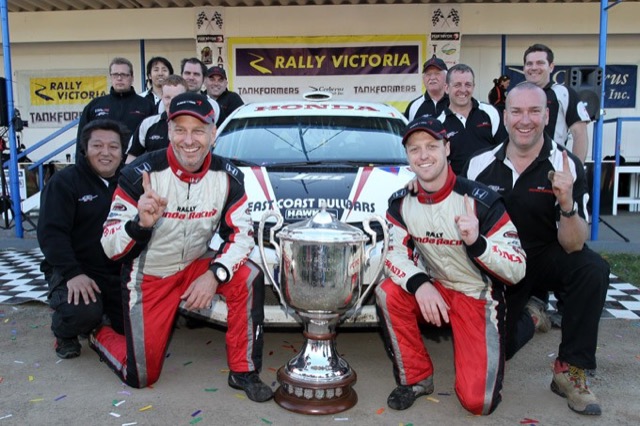 Rally / 18 November 2013
Australian Rally Championship ? Rally Victoria
Twelve victories for the Honda Jazz in the ARC!
At the end of a difficult weekend at Rally Victoria, the final Round of the 2013 East Coast Bullbars Australian Rally Championship, Eli Evans and Honda have tasted champagne as their relationship comes to an end after four years of success.
In addition Evans' win this weekend extends his unbeaten run in the Championship to twelve consecutive victories and means he hasn't been beaten to the top step of the podium over the past two seasons.
"I'm speechless!" exclaimed Eli as he made his way to the podium. "I'm very proud of everything today, everything this weekend and everything this year. I'm so thankful to the Evans Motorsport team and Honda Australia."
"Twelve wins in a row now, so hopefully we can get something together for next year and come out to try to extend that to thirteen," Eli added.
For co-driver Glen Weston it's the highlight of a four-year relationship alongside Evans. "It's such a pleasure to sit next to Eli, and I'm so proud of the last four year with him and the team, and incredible to get through the last two years unbeaten."
Disappointment for Mark Pedder in the second Honda Jazz: he stopped with a broken throttle cable.