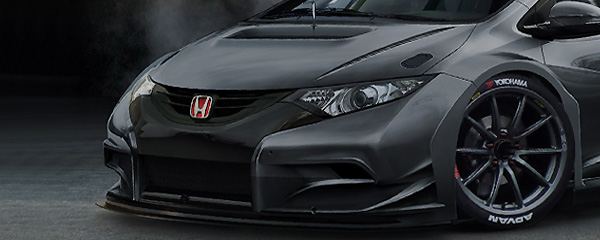 Rally / 31 January 2011
Bad luck for Honda Civic Type R teams at Monte Carlo Rally
The Monte Carlo Rally is well known for being as much of a lottery as the roulette wheel in the Principality's famous casino. This year, Honda customers gambled and lost, caught out by the tricky conditions of the Intercontinental Rally Challenge season-opener.
Frenchman Lionel Comole, made headlines by carrying the colours of the "Fondation Arthritis" on his Civic Type R R3: a French charity set up to combat arthritis. Unfortunately, Comole was to go no further than the third stage, where he went off the road. With no super rally system in place for Monte Carlo, he was not able to re-start. A more bizarre fate awaited Dutchman Marcel Piepers, who like Comole was driving a Civic Type R R3 built by JAS Motorsport.
Piepers and de Wild at start of the Monte: A dream comes true
Piepers showed promising pace on the opening day of the rally, but when it snowed on the second day, he found himself on the wrong tyres: a constant risk in the changeable conditions of Monte Carlo. As the crews travelled through the Ardeche region, Piepers was faced with the prospect of completing a long snow-covered stage on just intermediate tyres.
Conditions were so slippery that he even went off briefly on a road section, and with no grip on the stage; he was unable to get his car up the first proper slope. The result was a frustrating retirement on Thursday afternoon. A third Honda Civic Type R R3, run by the Italian Repetto Team, also suffered a lot of bad luck. French driver Michel Gendre crashed his car heavily on the tricky roads of this 100th Monte Carlo Rally. Both driver and co-driver were uninjured but their Civic was very badly damaged.
JAS Motorsport team principal Alessandro Mariani said:
"The story of our rally is quite a common one in Monte Carlo: this is a very unpredictable event, where it is so easy to be caught out by the constantly-changing conditions and so hard to guess the right tyre choice hours in advance. The most important thing though is that they all realized a personal dream by taking part in this fantastic 100th anniversary event. Lionel managed to raise plenty of awareness for the "Fondation Arthritis" charity, which was another important objective. Once more our cars were both fast and reliable, showing themselves to be perfectly suited to the needs and budgets of privateers such as Lionel and Marcel. In Monte Carlo we were unlucky, but we are already looking forward to our next event."
A total of six Hondas started the event, with two Civics joining Comole, and Gendre on the retirements list as the result of accidents. One car, driven by Frenchman Jean-Jacques Bally, made the finish.
The Monte Carlo Rally featured more than 14 hours of live TV coverage from the stages on Eurosport.