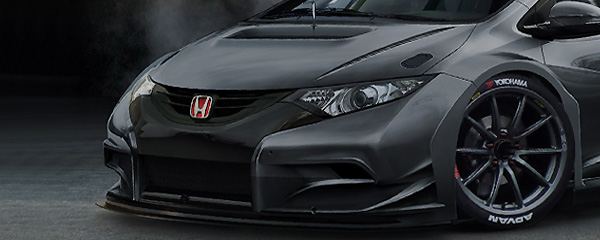 Rally / 07 March 2008
BETTI AND HONDA TYPE R R3 IN TOP 10 OVERALL!
Luca Betti
and the JAS Motorsport Honda Civic Type R R3 have finished an impressive ninth overall on the Rallye du Valais in Switzerland: the best result for the Italian driver and his Honda Civic all year.
Luca
gained also the 5th position overall in the IRC Standing which is the best result of the season for a two wheel drive car.
In doing so,
Betti
and Honda add another R3 class victory in the IRC to their collection. This was despite the fact that it was
Betti's
first visit to the event, and only the third-ever rally for the Honda Civic Type R R3. The Swiss mountain event, running close to many of the country's most famous skiing resorts, presented a big challenge, with ice on the road in the mornings and a mammoth 37-kilometre stage that even contained a seven-kilometre long section run on gravel.
Luca and Giovanni
steered clear of problems on their first experience of Switzerland, but took a little while to adapt themselves and the car set-up to the unique conditions. Tyre choice was a crucial element to their strategy, and they made the right choices to put in a consistent performance in the tricky conditions. Nonetheless, they dropped some time with a minor electronic problem and a puncture on Friday, but still entered the final day within the points-scoring places.
Luca
then had an excellent run through Saturday afternoon's stages to move up from fifteenth to ninth at the finish: his best-ever result on an IRC rally. Despite having only two-wheel drive, he was able to set stage times that were consistently in the top 10, beating cars with considerably more traction and power and also beating many local drivers with a lot more experience of the delicate conditions.
"I really enjoyed this event.?
says
Betti
?It wasn't easy, and I didn't quite know what to expect before we arrived, but in the end we managed to get a result that is a great reward for everybody's hard work throughout the year. The JAS Motorsport team has done a fantastic job to make the Civic R R3 the competitive package that it is today, and this is a fantastic performance from a car that is only on its third rally. The stages were very slippery, but the Civic proved to be very performant, easy to handle, with very good balance, even in these delicate conditions. This was my last rally of the season, so it was fantastic to end it on such a high.""Luca and Giovanni's performance here has proved both the pace and the reliability of our Honda Civic Type R R3.?
explained JAS Team Principal
AlessandroMariani
,
? Despite a few problems to begin with, there is no doubt that they have risen to the occasion to record what is a very significant result. This achievement validates all the work we have done so far, but of course we will keep on working hard in order to improve ourselves further."
For more infos or technical support please contact +39.02.9037541 or mail us at
info@jasmotorsport.com
.