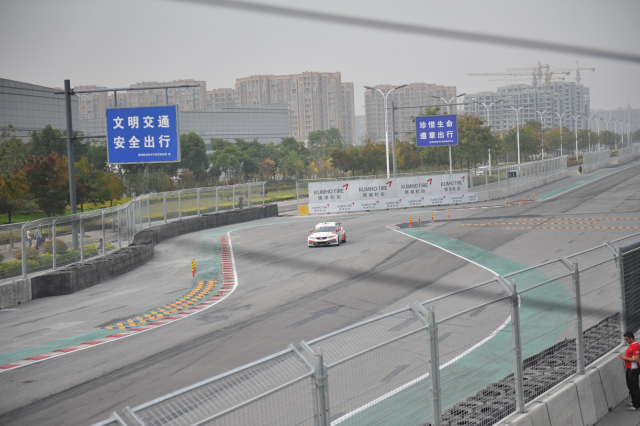 TCR / 25 October 2015
Bitter Sweet Thai Taster for JAS-Prepared Civics
But in Contention for Series Title in China
An uncharacteristic error on the start line upset the chances for lead driver Gianni Morbidelli in the Thai round of the TCR International Series. The Italian had been the talk of the Chang Circuit, having set dominant qualifying times to cement pole position in the newly revised Step 2 Civic TCR, prepared by JAS Motorsport. Sadly a drive through penalty for a jump start was to relegate the driver to tenth place.
Teammate Kevin Gleason was in the original version of the JAS Civic and turned in another excellent quali performance with 20kgs of success ballast on board. He finished fourth, while Rene Munnich was ninth in the third team car.
Unfortunately mechanical gremlins intervened in the second race to relegate all three cars to the DNF list.
Team Manager James Nixon of WestCoast Racing: "Three DNFs is far from ideal, but both Gianni (Morbidelli) and Kevin (Gleason) had great pace and it was encouraging to see both the original car and the 'Step 2' version performing so well; it means there's a lot of potential for 2016.
"Gianni took full responsibility for jumping the start and he was very apologetic, but he's a man who makes very few mistakes. I think Kevin drove exceptionally well in race two and he was the fastest man after his unscheduled repair stop. Gianni's day ended when his engine overheated as a result of the delayed start, while Rene was brought to a halt when a bolt from another car went through his radiator. As a result, there are no championships to fight for in the season finale and we can just look ahead to showing what we can do by finishing on a high in the Macau Grand Prix next month!"
Meanwhile in China, the latest round of the China Touring Car Championship was taking place.
Henry Ho and Martin Xie finished in second and third places in JAS prepared Civics, with Ho now firmly in contention for the series title with one race to go in Beijing.
"Henry drove a very tactical race to work his way up the field from 10th on the grid to second overall and right into contention for the championship. We have suffered from missing the Korea race but that is history so all focus now is on the championship final and preparing the Civic precisely for this final encounter," reports Mads Fischer, JAS Motorsport Customer Racing Manager.