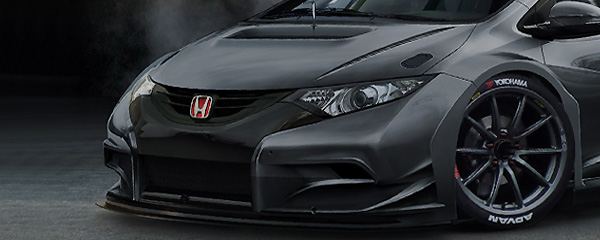 Rally / 15 September 2011
Bosch ARC: Eli Evans delivers Honda the Australian Manufacturers?title
It was third time lucky for the Honda Civic Type R of Eli Evans and Glen Weston, with the pair placing third outright to secure another podium in the 2011 Bosch Australian Rally Championship.

Round Four of the Bosch Australian Rally Championship, the Coffs Coast Forest Rally, was held together with the tenth round of the World Rally Championship, giving competitors the chance to show their abilities in front of an international audience.

Heavy overnight rain on the first day made conditions difficult for all competitors and the Evans Motorsport team made some adjustments on their game plan.

?That was the first really wet rally that I have done in the Honda,? said Eli Evans. ?It was probably one of the most hazardous surfaces I?ve competed on. We were sliding at ninety degrees on the road but thankfully there were some well placed banks where we could bounce off to keep ourselves on the road.?

In the fourth stage, the Honda set the fastest time, beating the entire Bosch ARC field by three seconds: ?The stage was still wet, but I could see it had a lot more rock on the surface, so the car had more grip. That?s why I decided to have a charge and could catch the other boys. For almost two years I have been trying to beat those four-wheel drive turbo cars on gravel and I?m happy to have achieved it.?

One-wheel drive and still racing

Day two was held on stages in the south of Coffs Harbour that were not affected by the rain. The first loop of stages was challenging, with higher than expected tyre wear. The Civic Type R broke a driveshaft on a rough section of road.

?Thankfully the shaft broke with only a few kilometres of stage left, so we were able to get through the end of the section and then cruise back to service and let the boys replace it. I was really surprised to see that the Honda was still drivable with only one-wheel drive.?

Eli Evans and Glen Weston held their position throughout the remainder of the stages, ensuring a third position outright to take home another podium.

Said Evans: ?I?m so happy for the team that we could get another podium finish and also win the 2011 Australian Rally Manufacturer?s Championship for Honda Australia. It?s a great reward for supporting our team and the championship this year. It?s a really good omen that we now have such good pace and I can?t wait until the championship goes two-wheel drive next year.?

Evans? stage times were so strong. If he had been competing in the WRC field, he would have found himself in 12th outright and over fifteen minutes ahead of the next two-wheel drive competitor.

The next and final round of the Bosch Australian Rally Championship takes place in Warragul, Victoria on November 12 and 13.