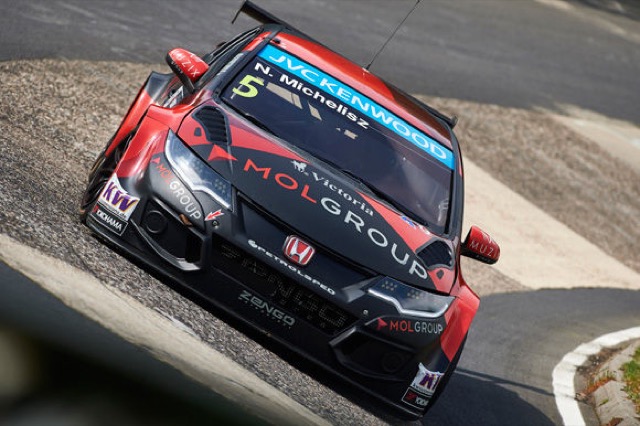 Race Track / 16 May 2015
Castrol Honda Looking to Capitalise on Grid Positions
Norbert Michelisz highest placed in 4th
Gabriele Tarquini and Tiago Monteiro have today qualified 8th and 10th ahead of tomorrow's opening FIA World Touring Car Championship race on the Nürburgring.
Running to a later schedule the one hour qualifying session got underway at 18:20 local time in dry, fine conditions – a complete contrast to the morning's earlier practice sessions on a wet, slippery track with visibility much reduced by lingering fog.
With a lap length of 25km, the custom format of three qualifying sessions was revised to one full hour for this track.
Zengo Motorsport's Norbert Michelisz was the highest placed Honda competitor, progressing throughout the session to temporarily bank an impressive time worthy of second place before slipping back to 3rd and then 4th as Hugo Valente's late flyer just pushed the Frenchman ahead.
Unable to match the pace of the front-runners and impacted by yellow flags, Tarquini ended the session in 8th and will line up on the fourth row of the grid. Team-mate Monteiro had been holding P9 over the closing stages of the session but Tom Coronel split the Civic WTCCs in the final moments, demoting the Portuguese racer to tenth – also troubled by waved yellows.
In consolation Monteiro's tenth place posting ensures pole position for tomorrow's second race. Tarquini will start from third – which could play into favour on a track where overtaking is difficult.
Gabriele Tarquini : "I'm really unhappy about the qualifying because my lap time was even worse than this morning, but we had a small problem with a sensor which cost me the qualifying. We discovered this problem after the first two set of tires. I pitted to replace so I had a last chance to improve the lap time but then Ma crashed in front of me so I had to abort the lap and my chance to improve was gone. For race two we will see – anything can happen. We'll try to do the best possible."

Tiago Monteiro : "I wasn't able to get the set up right in the dry today to be honest. It was ok this morning in the wet conditions of FP1. I knew it wasn't going to be pole position today but I thought my lap time would be better than that.
"Starting on pole for race two, I don't know what we can do. We have to work on setup because this afternoon it just wasn't easy to drive and we need to make the best of our race two position."
Norbert Michelisz : "After free practice I expected to struggle but I had confidence from the start and this is more than I expected. I was sure of the times from the start and on my last run I would arrive at the limit but double yellows upset my plan. To improve is possible and I will try to do that. Overall I am happy with P4. I aim for the podium tomorrow."
Alessandro Mariani, Managing Director JAS Motorsport: "Technically I'm happy with the performance of the cars. The pace is good in any condition. Norbi did a very good job again and our drivers worked hard. The balance of the cars is good. We had the issue with the yellow flags and changing tire pressures so our last run did not reward us. But we have pole position for race two with Gabriele on the second row. It's not easy to overtake here so if we make a good start we have a chance."
Daisuke Horiuchi, Large Project Leader for WTCC Development at Honda R&D: "Norbi did a very good job and Tiago will push from the start in race two. Our specifications are virtually the same as in Hungary and sector 1 here is also very similar, as we saw with Norbi fastest in this section twice during qualifying."