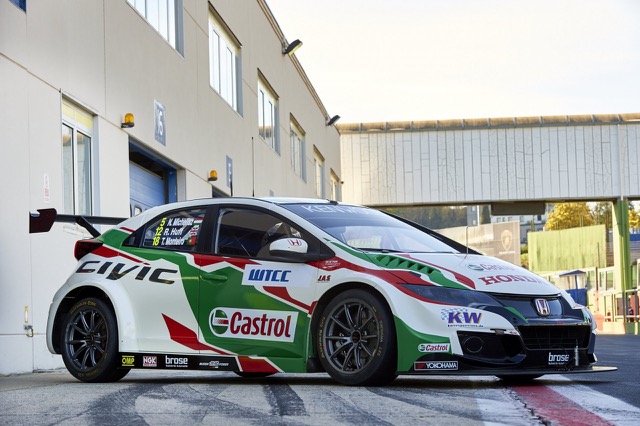 WTCC / 02 March 2016
Castrol Honda World Touring Car Team unveils 2016 livery at Vallelunga
Huff and Monteiro headline, while Michelisz to also race works Civic, entered by Honda Racing Team JAS
Castrol Honda World Touring Car Team has unveiled the new-for-2016 look of the Civic WTCC, prepared by JAS Motorsport, as part of the official FIA World Touring Car Championship media launch and test at Vallelunga, Italy.
The Civic, which has been boosted for 2016 by a significant development to the powerplant by Honda R&D together with engine partner MUGEN and additional improvements in the mechanical sections, will be raced by Honda newcomer Rob Huff, the 2012 WTCC champion and Tiago Monteiro while reigning WTCC Trophy winner Norbert Michelisz has also become a works Honda driver.

The team's line-up of drivers was officially presented at the WTCC season launch event, which also took place at Vallelunga.
The Vallelunga test ran over two days, coming to an end on Thursday, 3 March. Michelisz will be the sole driver during the test while Huff and Monteiro are present to lend their experience to the team during this pre-season period.
The FIA World Touring Car Championship gets underway at Circuit Paul Ricard, France on April 3 and will comprise 12 rounds on four continents between now and the end of the year. As in 2015, the Losail circuit in Qatar will host the final round.

Huff:"Getting back into a front-running car for the first time since 2012 has really put a spring in my step. I regard JAS as one of the very best teams in the world at running a touring-car operation, so to be able to come together with them and with Honda for this season is a great feeling. As any racer will tell you, when you have a chance to win, you find that extra something within yourself and push that little bit harder. I can't wait for the season to begin at Paul Ricard at the start of April."
Monteiro: "This is definitely the most excited I've been coming into a new season since I joined Honda. In just my first two days in the car at Jerez and Valencia, it's already clear that we've made a significant step forward, in particular with the development of the engine. In terms of the rest of the car, we've made little changes in a lot of areas, and all these add up to a much bigger improvement than I could ever have expected. You can never know for certain where you are until the first race, but it feels very good right now."
Michelisz: "Since I started racing Hondas in 2013, I've always finished in the top six in the overall championship and won races and I think there's a great opportunity to progress from that this year now that I have a works car. Realistically, the main aim for the year is to be a more consistent threat for wins and podiums and help Honda in the manufacturers championship.