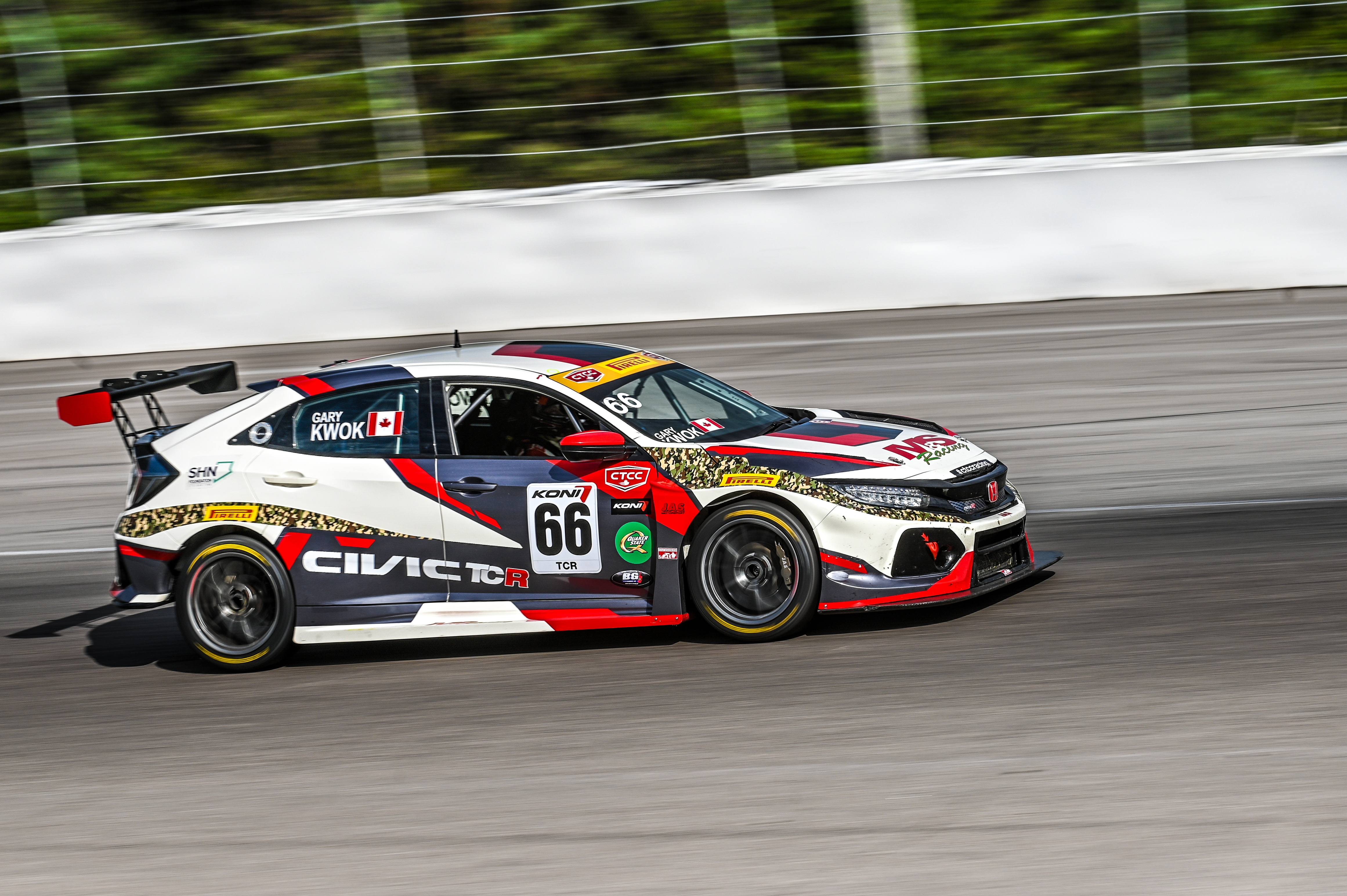 TCR / 26 August 2019
Championship glory for Civic Type R TCR in Canada
The Honda Civic Type R TCR claimed its 20th major title last weekend as Gary Kwok sealed the Canadian Touring Car Championship's TCR crown at Mosport.
The M&S Racing driver had only switched to the latest FK7-specification Civic at the previous event at Trois Rivieres, having won twice earlier in the year in an older FK2 Civic, but he wasted little time in claiming his first win in the new car in Race One.
Brother Tom Kwok, who is still in an FK2, made it a one-two finish in TCR for the JAS Motorsport-built cars in Race One and then dominated Saturday's season finale to claim his second victory in as many events while Gary finished sixth.
Gary Kwok's title was the third of 2019 for the Civic Type R TCR, which had previously won the TCR Middle East Drivers' and Teams' crowns. Tom Kwok, who missed two CTCC events earlier in the season, finished eighth in the standings.
Honda remain on top of the IMSA Michelin Pilot Challenge TCR Manufacturers' standings after an action-packed race at Virginia International Raceway, USA.
Starting second after qualifying was rained-out, LA Honda World Racing's Shelby Blackstock ran inside the top three early on, but he and co-driver Tom O'Gorman twice dropped back at the pitstops and spent the rest of their stints fighting back into the podium spots.
Unfortunately O'Gorman was hit on the final lap by a rival and suffered a puncture, dropping him to sixth, while team-mates Colin Mullan/Max Faulkner finished 10th.
Blackstock/O'Gorman are third in the Drivers' Championship - only nine points off the series lead - with their LAP Motorsports-run car third in the Teams' standings.
Atlanta Speedwerks pair Brian Henderson and Todd Lamb finished 11th after their on-board air jacks became stuck in the down position after their first pitstop and necessitated an extra stop for repairs.
TCR Eastern Europe Trophy competitor Jakub Wyszomirski was fourth and fifth for the ASK Vesnic team at the Slovakia Ring. His squad continue to lead the Teams' Championship while Wyszomirski is fifth in the Drivers' points with a round to go.
Martin Ryba, who returned to the series for the first time since winning the season-opener for Brutal Fish Racing, qualified fifth but scored a best result of 10th in Race Two after a puncture had put him out of third in Race One.
Mads Fischer, JAS Motorsport TCR Project Leader, said: "It's unbelievable to think that the Civic Type R TCR, which debuted in 2015 with the FK2 model, has now won 20 championships, and that the FK7 model now has eight titles in less than two years of competition. A huge congratulations from all of us to Gary Kwok, who has won races in both cars this year and is a deserved CTCC champion. TCR is a truly global formula and the success of the Civic Type R TCR in Canada shows JAS Hondas can run at the front all over the world."