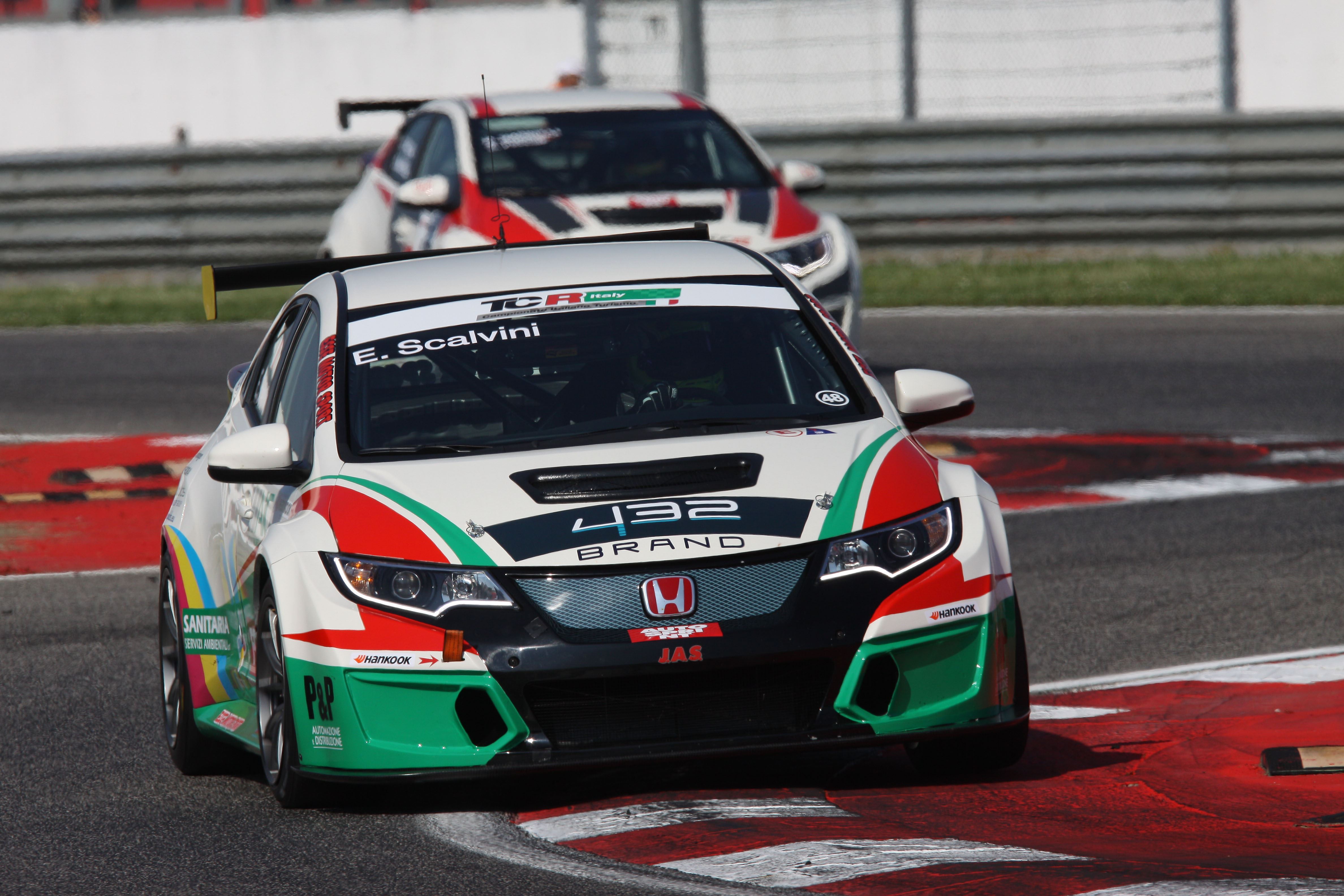 TCR / 09 May 2017
Civic dominates as TCR Italy kicks off
JAS Motorsport-built Honda Civics claimed a double victory last weekend (May 5-7) as several major touring car championships kicked off their 2017 campaigns.
Defending Champions MM Motorsport kicked off their TCR Italy title defence in the best way possible as the new season got underway at Adria Raceway.
Eric Scalvini wasted little time in settling into his new role as team leader, following Roberto Colciago's move into TCR International. Scalvini qualified his Civic Type R on the front row and then dominated both races to come away with the series lead.
Team-mate Davide Nardilli was sixth in Race One with Samuele Piccin taking over the car for Sunday's race and snaring a similar result.
The TCR International season continued with five JAS-built cars on the grid at Spa-Francorchamps in Belgium. Starring on his series debut, after three podiums at the same circuit in TCR Benelux a week earlier, was teenager Benjamin Lessennes.
The Boutsen Ginion Racing driver qualified third and added an incredible second place in Race One. He was then battling for victory in Race Two before a late-race excursion dropped him to fifth at the flag.
Joining Lessennes on the Race One podium was M1RA's Attila Tassi, who made a rocket start to lead into Turn One from sixth on the grid. The Hungarian finished third and moved up to third in the points table as a result.
Tom Coronel (Boutsen Ginion) took a strong top-10 finish in Race One while Roberto Colciago (M1RA) and Jens Moller (Reno Racing) were also in action.
The Scandinavian Touring Car Championship, now running exclusively for TCR machinery, began at Knutstorp, Sweden.
LMP Engineering racer Nicklas Lilja scored the Honda's best result with a pair of sixths while Team Honda Racing's Mattias Andersson finished in the top 10 in each of the three races and Wreck-it Racing's Marcus Annervi did so twice.
After setting a strong pace in practice, Danish team Insight Racing qualified third in the TCR category for the latest round of the 24H Series; the 24 Hours of Paul Ricard in France.
Lying in the top three for the entire first half of the race, the Civic driven by Martin Jensen, Marcus Paverud, Jocke Frid and Frederik Schandorff were sadly denied a rostrum finish by a head-gasket issue just past the 12-hour mark.
Alessandro Mariani, JAS Motorsport Managing Director, said: "We're very pleased to continue the winning run of the Honda Civic Type R TCR, which has now won in seven different championships in 2016. Together with our partner teams, we are aiming to beat 2016's total of four drivers' titles in TCR machinery and we've made an excellent start to this plan; beginning with the TCR Middle East title in March and now extending into a number of series that still have a long way to run. MM Motorsport, who have achieved a great double win this weekend, are just one example of these teams."