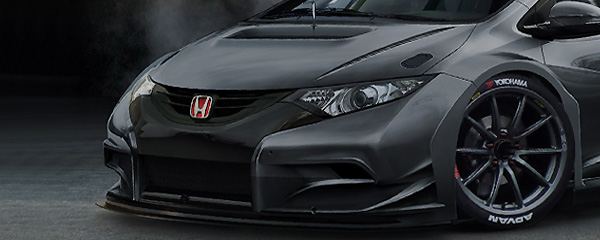 Rally / 18 March 2008
CIVIC RALLY FIA Gr. "R" ON THE PACE OF 4WD Gr. "N"
CIVIC RALLY FIA Gr. "R" ON THE PACE OF 4WD Gr. "N"

The testing of the new Honda Civic Type R for Rally, developed for the forthcoming FIA Gr.R regulations, is progressing amazingly well and bringing the first encouraging results. On December 18-19 JAS Motorsport spent two days in a private Rally course in Tuscany to continue the technical development, and took the opportunity for a performance-comparison between a high-specs Gr.N4 (4 wheel drives) and the new-born Gr.R Civic.

The comparison was carried out very accurately, it was held on a medium-slow stage in both damp and dry conditions, having both cars driven by the same driver at few minutes distance from each-other. The results were highly encouraging, as the Civic proved to be on the same pace of the Group N car in both damp and dry conditions. The performance of the Civic is even more impressive in consideration of the very limited mileage the car has run so far, and also considering that the same Gr.N, driven by the same driver car was leading the Rally of Ciocchetto before running out of fuel, which took place the day earlier.

?We are very pleased, but not surprised at all? explains JAS Technical Director Stefano Fini ?The Civic has all ingredients to be far quicker than a Super 1600, having a far higher engine power and torque while having comparable track width and weight. Therefore we expected this level of performance, although we are very pleased to see the car so fast after a few hundreds kilometres of testing. The car is still very young, there is still a lot we have to do and the potential for improvement is really huge. We expect the Civic to be as much competitive also in the gravel, thanks to the very good torque curve of Honda engines?.

In the same occasion the car was shortly tested also by Alan Scorcioni. Having extensively raced with Super 1600 Rally cars, the young and talented winner of the Subaru Trophy 2006 judged very positively the new car.

JAS Motorsport tests will continue from the end of January onwards with a new, upgraded, Rally car while the first prototype with be at Honda disposal for the pan-European press presentation of the road car, scheduled in Estoril, from January 29 2007. This prototype will indeed be adapted to circuit specifications and journalists will have the opportunity to appreciate, while driven by our test driver, the development work done so far for the racing amateur.

For more infos or technical support please contact +39.02.9037541 or mail us at info@jasmotorsport.com.