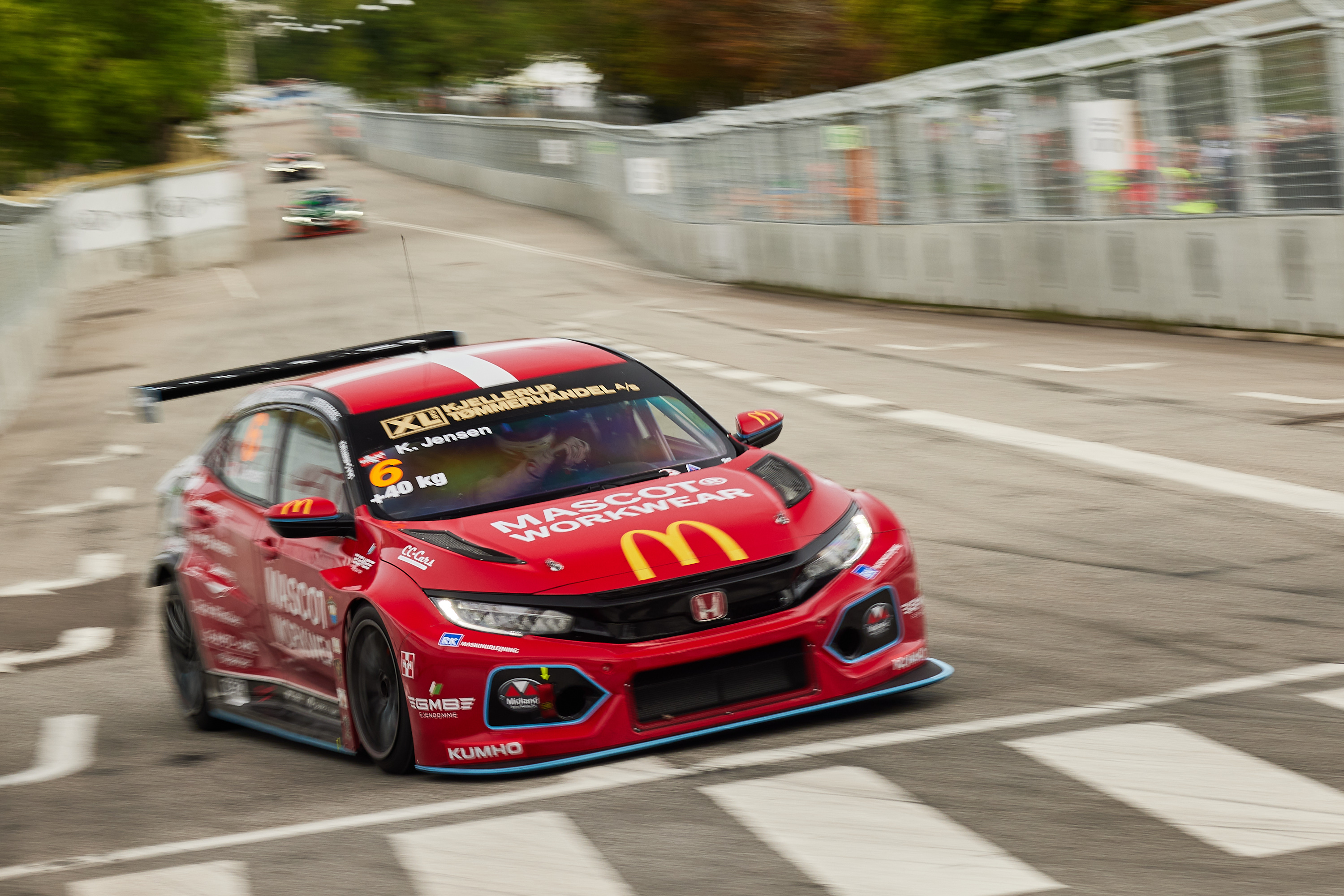 TCR / 07 August 2023
Civic Type R TCR is streets ahead in Denmark
The Honda Civic Type R went back to Victory Lane over the weekend as Kasper H Jensen again triumphed in TCR Denmark amid five other class wins for the JAS Motorsport-built car.
TCR Denmark
Kasper H Jensen scored his third win of the season with a dominant drive from pole position in the first of three races on the streets of Copenhagen.
The GMB Motorsport driver, who is hunting a fourth straight title, was dominant in Saturday's opener and, after being eliminated in a multi-car incident in Race Two, finished third in the finale to sit fifth in the Drivers' points.
Team-mate Gustav Birch was a double-winner in the Under-25s category as he increased his championship lead. He beat TPR Motorsport's Kevin Brandsborg for an all-Honda one-two in Race One and achieved his Race Two success in third place overall.
TPR's Michelle Halder and PL Racing's JAS Motorsport Development Driver Philip Lindberg were eliminated for the weekend on the opening lap of Race One while Kim Konig, of Team Bundgas, was third in the Trophy category in Race Three.
TCR Eastern Europe
Rene Kircher took a major stride towards the Junior title with another class win at Most in fourth spot overall in Race One. The Mertel Motorsport driver is 42 points clear in the race to become Junior Champion with only 50 available from the Brno finale.
His team-mate Davit Kajaia qualified second, but damaged his splitter with a Race One off and finished ninth. He was fourth in Race Two.
Team 78 Racing's Antonio Citera was a double-winner in the Trophy category, both times beating Honda Wyszomirski's Sebastian Kolakowski.
Sports Car Club of Canada
Gary Kwok scored a brilliant maiden TCR-class pole position for the new Honda Civic Type R TRC FL5 in a damp, but drying session on the streets of the Trois-Rivieres.
The M&S Racing driver was leading Friday night's opener until spun down to sixth by a rival, but bounced back with third and second-place finishes on Saturday.
Team-mate and brother Tom Kwok hit the wall in Race One while attempting to avoid a rival who had spun directly in front of him; the damage putting him out for the rest of the weekend.
Trois-Rivieres Honda's Jocelyn Hebert was also involved but finished seventh and fourth on Saturday.
IMPC
LA Honda World Racing scored a fifth-place finish in TCR in a closely-fought race at Road America.
Mike Lamarra, who has switched to the #37 entry for this race alongside Ryan Eversley, ran in a seven-way fight for the lead through the opening stint while Eversley had to fuel-save during the second half of the race to secure the result.
HART returned for their fourth appearance of the season and ran with the LA Honda World car for the majority of the race. Steve Eich and Chad Gilsinger took their best result of the year in sixth, also fuel-saving towards the end.
The second LA Honda World Car, with qualifying king Mat Pombo now alongside William Tally, did not start due to a shock-absorber issue that could not be solved on-site.