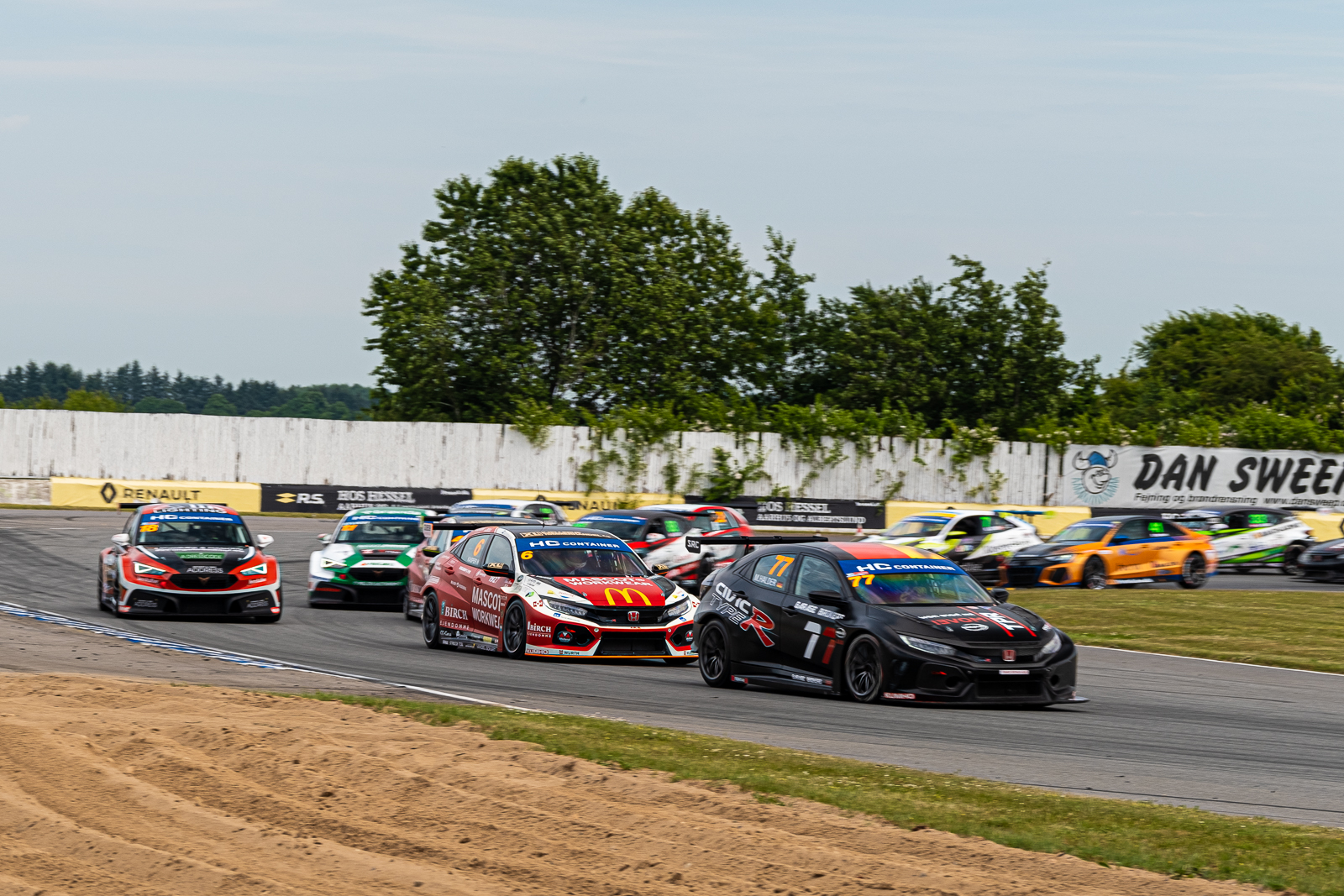 TCR / 27 June 2022
Civic Type R TCR scores 350th race win
The Honda Civic Type R TCR scored a milestone 350th major race victory last weekend with Mike Halder enjoying a sensational time in TCR Denmark at Jyllands-Ringen.
German driver Halder scored his first series win and in doing so continued to build on the incredible success of the JAS Motorsport-built car in TCR competition globally since 2015.
TCR Denmark
Fittingly it was Halder - who has more Civic Type R TCR wins (19) than any other driver - that achieved the landmark success at Jyllands-Ringen as TPR Motorsport won for the first time in 2022.
Halder dominated the opening race from pole position to head the similar car of Kasper H Jensen in a Honda one-two. He then doubled-up later and added fourth spot in the final race of the day to climb to second in the points.
Jensen won Race Three to maintain his Drivers' Championship lead while third place for team-mate Gustav Birch - a double-winner in the Under-25s category - in the finale moved GMB Motorsport and Honda further ahead in the Teams' and Constructors' title races.
Madbull Racing's Kim Lund Johansen qualified a season's-best ninth and was second in the Trophy class in Race One while TPR's Anton Bergstrom was 10th in Race Three and Carsten Lorenzen finished all three encounters aboard his older FK2 Civic run by Budveg Racing.
Chinese Taipei
FIST Team AAI duo Kevin Chen and Liu Weizhi extended their championship lead with a second win in as many races at Lihpao. Running in second for much of the race, Weizhi - who took over at the driver changes - hit the front with 15 of the 60 minutes left.
He then scored an unchallenged win, crossing the line under safety-car conditions with the older FK2 Civic of Border Team's Huang Jianye and You Yihao completing a one-two finish for Type Rs.
New entrant Motul 300V's Wang Shangyuan/Yang Mengqiao were sixth, but neither Carsman Racing's Luo Tianyi/Li Yuquan nor Go Racing's Zhu Jiawei/Li Yongde finished.
TCR Japan
Anna Inotsume scored her maiden pole position at Okayama and added a double-podium finish to move herself into second place in the Saturday Series points and third in the Sunday Series standings; the Dome Racing Team also going second in the entrants' rankings.
She battled hard to beat the similar 55Moto machine of Mototino to second spot on Saturday, but had to give best to her rival the following day as Mototino made it a podium double for the first time in his TCR Japan career.
Resshu Shioya was sixth on Sunday, having failed to get off the line at the start of the Saturday Series formation lap with a technical issue aboard his Zenyaku Kogyo by G/Motion Civic.
IMSA Michelin Pilot Challenge
VGRT recovered to sixth place at Watkins Glen; Karl Wittmer - who exited the pits after relieving Victor Gonzalez Jr of driving duties - getting stuck behind the safety car and dropping from third to 13th during the middle section of the race.
HART's Steve Eich and Chad Gilsinger, returning to the series after a couple of rounds away, were eighth while LA Honda World Racing's entry, driven by Mike Lamarra and Ryan Eversley, retired from seventh at three-quarters distance due to a loose electrical connector.
WTCR
The toughest weekend of all for the Civic customer racing teams came at Motorland Aragon, where the Civics - yet again significantly the heaviest cars in the field due to a combination of BoP and the series' Compensation Weight regulations that deliberately slow certain models.
Unable to match other cars on straightline speed, Esteban Guerrieri and Nestor Girolami took best results of 11th and 12th for ALL-INKL.COM Munnich Motorsport while Attila Tassi and Tiago Monteiro both had a 14th-place result for Liqui Moly Team Engstler.
Munnich has dropped from first to third in the Teams' points as a result with none of the racers now in the Drivers' Championship top five.
Mads Fischer, JAS Motorsport TCR Project Leader, said:"To achieve any victory with any race car is a huge challenge, but to do it 350 times is quite amazing. The Honda Civic Type R is a fantastic product for the road and we're very proud at JAS Motorsport to have been given the opportunity to turn it into a racing machine that our customer teams have been able to win with regularly all over the world. To help them achieve this requires a huge amount of customer racing support from the team here at JAS and I'm very proud of the work everybody's done here to help create this huge number - a number I hope to see grow bigger and bigger before the end of the year."