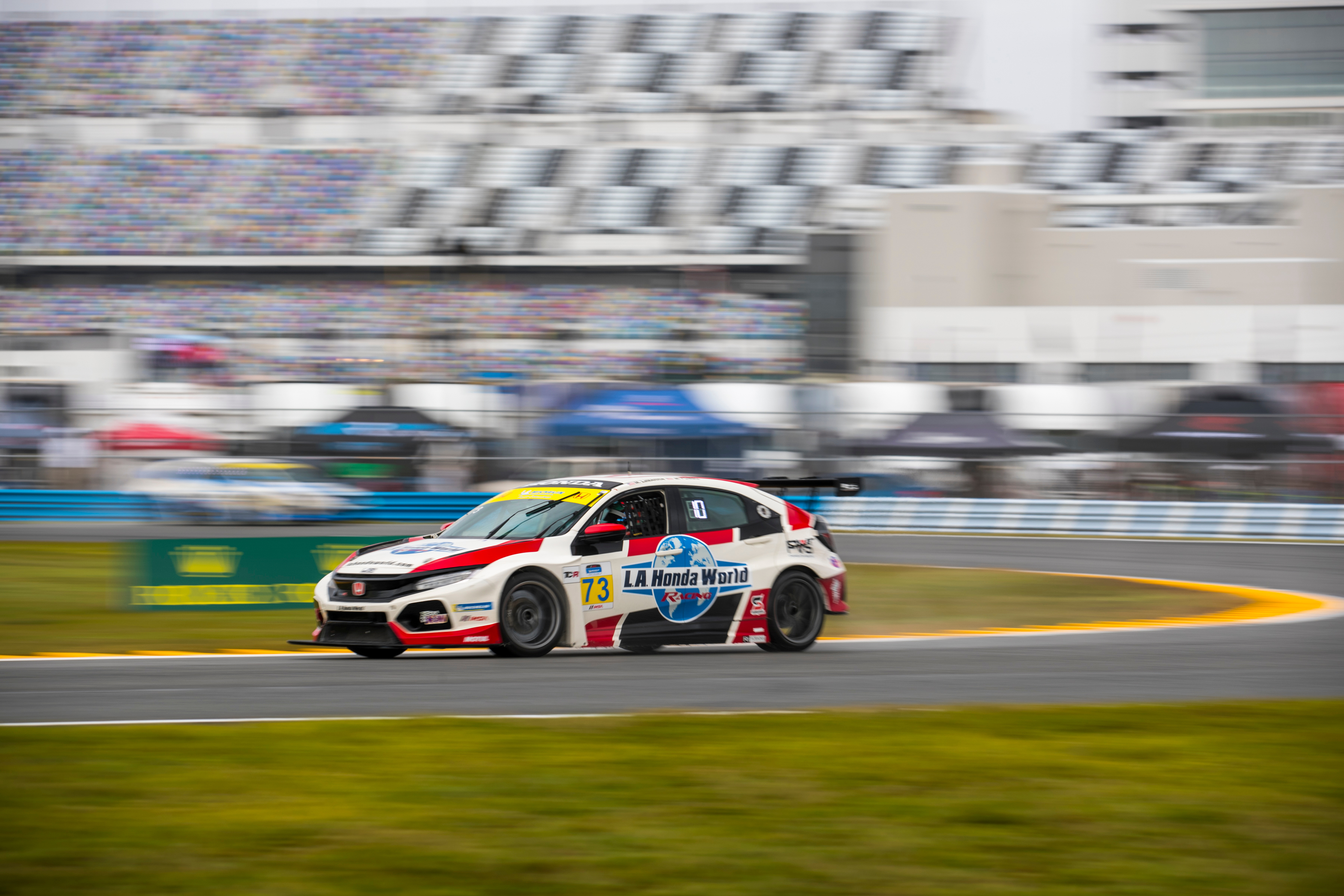 TCR / 27 January 2020
Civic Type R TCR sets fastest lap at Daytona
The Honda Civic Type R TCR set the fastest TCR lap of the opening round of the IMSA Michelin Pilot Challenge at Daytona International Speedway, but any hopes of a repeat of the car's 2019 success were thwarted by a spate of punctures.
Mat Pombo, sharing his JAS Motorsport-built car with Mike Lamarra, was the man who achieved the accolade; doing so as he lay just a handful of seconds off the TCR class lead while fighting among the podium contenders.
But his LAP Motorsports-run LA Honda World car suffered a front-right puncture that forced him into the pits for an unscheduled stop. The pair finished eighth.
Even worse afflicted was the sister car of Taylor Hagler and Ryan Eversley, who twice suffered cut tyres and dropped out of the top 10 to finish 12th at the four-hour race.
The third car, of Chris Miller and Shelby Blackstock, lost ground pitting to remove a plastic bag from their air intake, and then retired in the second hour when Miller suffered contact with a GT car that had spun directly in front of him and blocked his path.
Incredible teamwork from Atlanta Speedwerks catapulted Brian Henderson up from seventh to second as the pack pitted under caution at the 90-minute mark, but a puncture shortly afterwards - the first of two his car suffered - meant he and Todd Lamb took 10th.
Bryan Ortiz made an incredible start in the sister car to climb from eighth to second on the first lap, but was unable to keep pace with other cars that could achieve higher straightline speeds under the current Balance of Performance.
Contact from a GT for co-driver Nikko Reger caused a loss of 10 laps for repairs; the pair finishing 15th.
HART were unluckiest of all with several issues in practice and qualifying restricting Steve Eich to 16th on the grid.
A fantastic start brought him up to sixth, which is where Chad Gilsinger lay when his car suffered a front driveshaft issue. After five laps behind the wall, the car resumed, but a recurrence of the same issue forced Cameron Lawrence out.