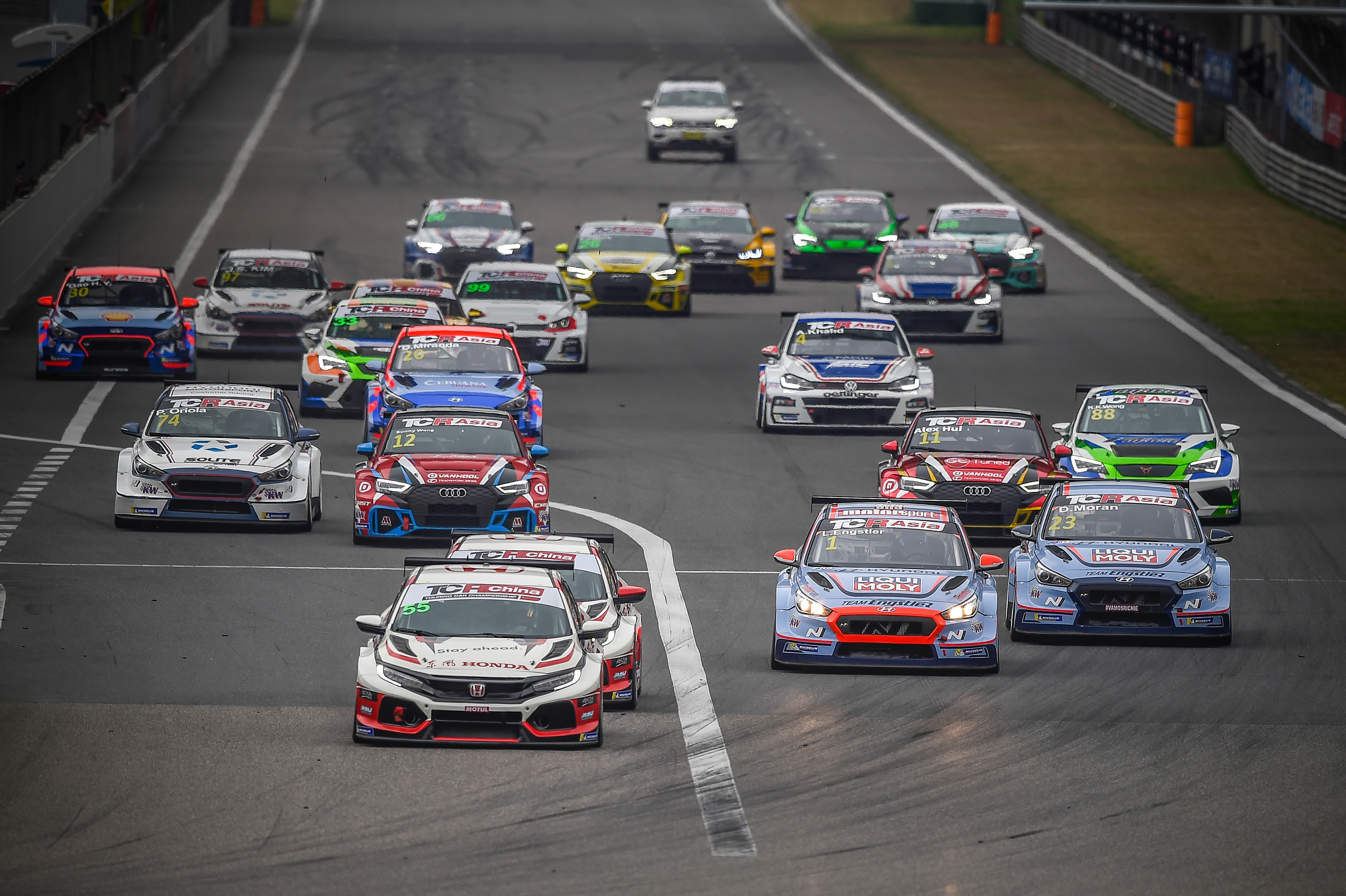 TCR / 03 June 2019
Civic Type R TCR wins in China and Canada
Daniel Lloyd increased his lead at the head of the TCR China points table with a superb double win in his Honda Civic Type R TCR while Gary Kwok gave the car a first victory of the year in the Canadian Touring Car Championship.
Lloyd qualified second at Shanghai behind his Dongfeng Honda Racing Team-mate Martin Xie, but the Briton overtook him at one-quarter distance in Race 1 and pulled away to victory in his JAS Motorsport-built car.
Xie made it a one-two for DHRT, whose cars are fielded by reigning champions MacPro Racing Team, but did not finish Race Two as Lloyd - the reigning TCR UK champion - came from the tail end of the top-10 on the partially-reversed grid to take his third win from four races in 2019.
Gary Kwok scored the first win of the season for the Civic Type R TCR in the Canadian Touring Car Championship; a result that also gave him a share of the points lead.
The M&S Racing driver, who had been a front-runner last year, won the TCR category in Race Two at Calabogie Park on Sunday from fourth on the grid.
He began the weekend with fourth spot in Race One, having fallen into the lower reaches of the top 10 at the start and being forced into a spirited recovery drive.
RFC collected their first Super Taikyu ST-TCR podium with a consistent run to third place at the series' showpiece event; the Fuji 24 Hours.
Regular drivers Jun Fujii and Takahisa Ohno, who were joined by ex-Formula 1 racer Toshio Suzuki and Le Mans 24 Hours winner Seji Ara, were top-three contenders throughout the second half of the race, having started fifth.
Reigning champions Dome Racing Team qualified on pole position thanks to Tadao Uematsu and Shinji Nakano, but they and co-drivers Hiroki Otsu, Tomoki Nojiri and Mitsuhiro Endo retired after fighting back to hit the front at the 10-hour mark.
Josh Burdon put fellow front-row starters KCMG into an immediate lead at the start and he, Paul Ip, Matt Howson and guesting WTCR racer Attila Tassi built a one-lap advantage by the time an exhaust issue dropped them 13 laps in the eighth hour.
After cutting the deficit to just over nine laps by half distance, further issues dropped them to seventh; one place ahead of the Team Noah car of Yoshikazu Sobu/Kuniyuki Haga/Yuji Kiyotaki/Kazuyuki Matsumoto/Genki Nishimura.
Mattias Andersson scored vital points as TCR Scandinavia headed to Anderstorp, Sweden, for its second round.
Driving the Honda Racing Sweden entry, which is run by his MA:GP team, Andersson qualified a season's-best third in his older FK2 model Civic Type R TCR, and raced to fourth and sixth-placed finishes.
Debuting in the series at Anderstorp were Jonas Lynge and Danish squad Insight Racing. Lynge qualified 11th and finished ninth in both races.
Mads Fischer, JAS Motorsport TCR Project Leader, said: "I'm delighted to see Dan Lloyd going so well in TCR China and this magnificent double win - the first of which was in front of some very well-known TCR Asia drivers - speaks volumes about the effectiveness of the Civic Type R TCR and the way in which MacPro Racing Team are running it under the DHRT banner. The victory in Canada from Gary Kwok and a strong performance in Sweden from Mattias Andersson also shows that the FK2 Civic remains a force to be reckoned with. We were really hoping to see the Civic Type R TCR win a major endurance race at the weekend, but sadly this did not happen, despite the KCMG and Dome teams proving that it remains the class of the field in Super Taikyu on pure speed. It was very pleasing, however, to see RFC on the podium for the first time as a JAS customer."