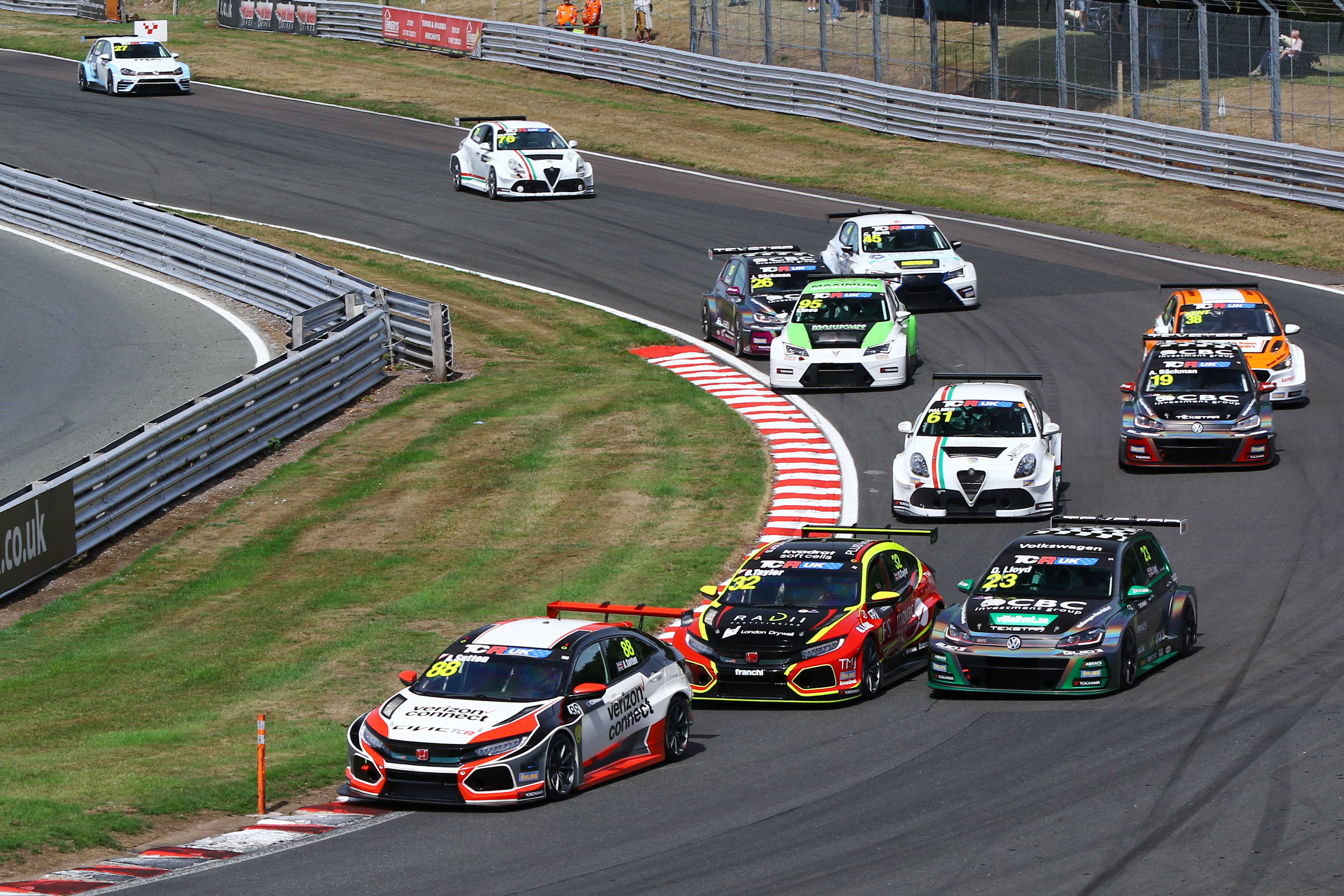 TCR / 05 August 2018
Civic Type R TCR wins in UK and Germany
The Honda Civic Type R TCR enjoyed a sensational weekend with four wins from four starts and a pair of one-two finishes in two of Europe's leading touring car series.
Ash Sutton, Mike Halder and Dominik Fugel were the victorious drivers on either side of the English Channel as the JAS Motorsport-built car went undefeated from pole position in TCR UK and TCR Germany.
Reigning British Touring Car Champion Sutton made his TCR UK debut at Oulton Park, substituting for the unavailable Finlay Crocker at the Pyro Motorsport-run Verizon Connect Racing team.
He topped every session over the weekend to take pole position and both races in dominant fashion.
His Pyro stablemate Ollie Taylor, who won from pole at Castle Combe last time out, made a last-corner move to wrest second place in Race Two and maintain his second place in the Drivers' Championship. He was eighth in Race One.
The Civic Type R TCR has now finished on the podium 13 times in the 10 races held so far this season and lies second in the Model of the Year standings.
At the Nurburgring, Mike Halder completed a TCR Germany lights-to-flag victory from pole position in his Honda Team ADAC Sachsen Civic Type R TCR, which is ru by the Fugel Sport organisation.
Team-mate Dominik Fugel leapt from seventh to third within two corners of the race and moved up to second at mid-distance to secure his best-ever finish in the championship.
Fugel went one better 24 hours later as he took his maiden series win; moving from fourth to first by the opening corner of the race. Halder climbed from eighth to third in a charge that was halted when a red flag forced the result to be declared short of full distance.
Honda Team ADAC Sachsen moved up to second in the Teams' Championship while Halder and Fugel each made huge gains to climb to fourth and 11th; Halder now less than one win's worth of point away from the series lead with three double-header meetings remaining.
Mads Fischer, JAS Motorsport TCR Project Leader, said: "It's been another weekend of amazing success for the Honda Civic Type R TCR; a car that only ran for the first time 10 months ago. In TCR UK, Hondas have now had pole positions at two events in a row and won three of the past four races – all with Pyro Motorsport-run cars. It's great to see the Fugel Sport-run Honda Team ADAC Sachsen get the success they've deserved all season. We still a couple of rounds left in both championships and I'm sure the Civic Type R TCR can have a successful end to both campaigns."