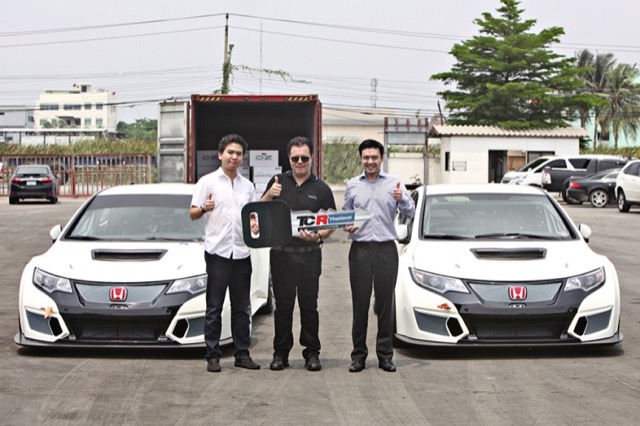 TCR / 08 April 2016
Civics Ready for Battle in TCR Asia Series
JAS Built Cars Cause Sensation in Thailand
The arrival of the first TCR cars in Thailand created sensation. Photos of the two Honda Civic TCR Cars unloaded from a 40-foot shipping container at the freight yard of Lat Krabang after making the long journey from Italy zoomed round the Internet within minutes of being posted.
Within just 48 hours the photos had racked up an unprecedented 18,000 shares and 800 comments. Quite simply no new racecar for many years has generated more interest in Thailand than the Civic TCR.
The cars were ordered by TBN MK I Here team and the drivers, Nattachak Hanjitkasem and Wijak Lertprasertpakorn were on hand to take delivery. The former flew to Italy last month to test the Civic TCR and so he was already somewhat familiar with the striking new machine.
"It's my second time to see the Civic TCR," said Hanjitkasem. "So I think Wijak is more excited than me. I was really excited to see for the exterior I really like the wide body and the big rear wing. Inside JAS has done a good job with a clean and well arranged cockpit."
The TCR Thailand's maiden season will kick off at Buriram's Chang International Circuit on May 22.