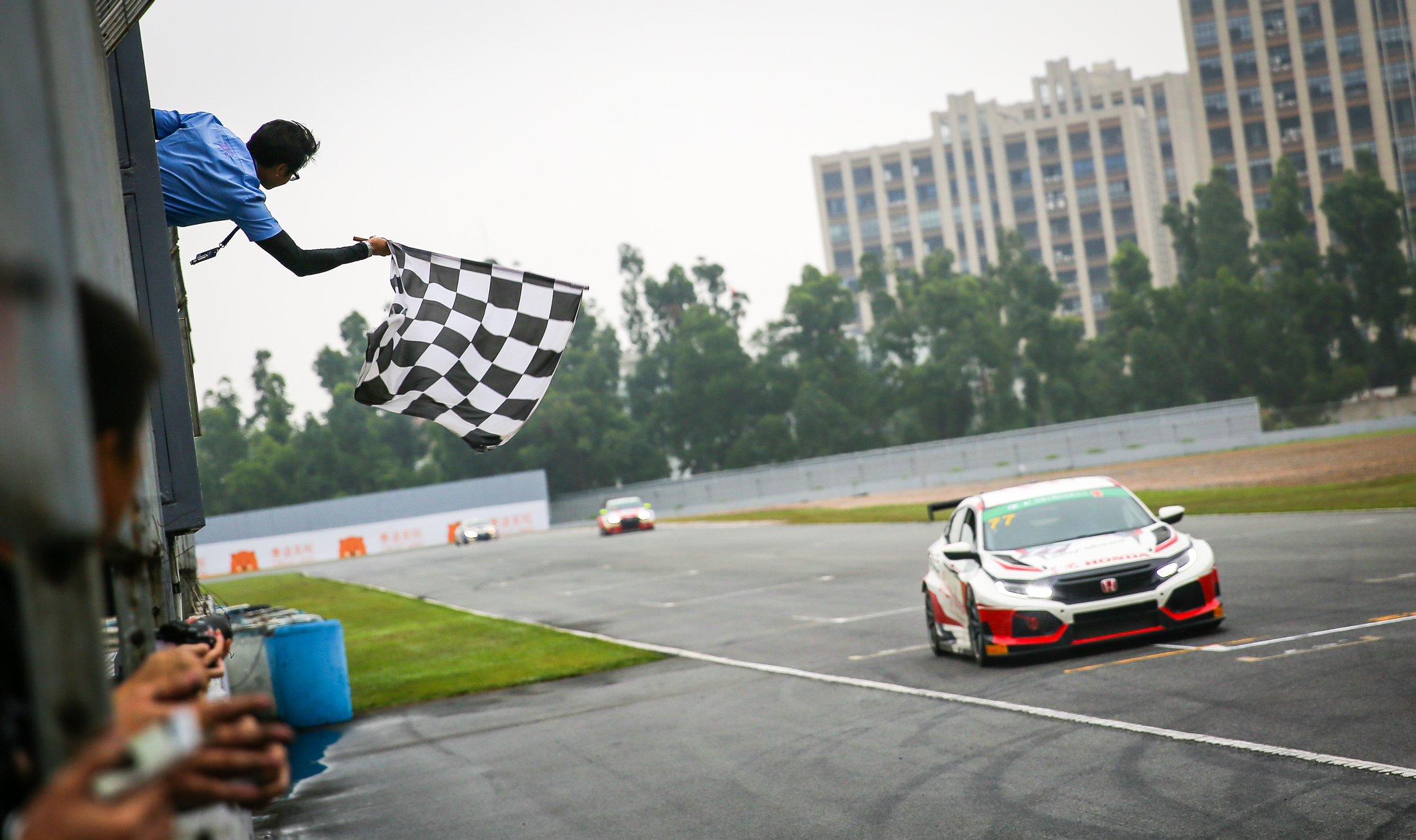 TCR / 18 June 2019
DHRT win again in China with Civic Type R TCR
Dongfeng Honda Racing Team's Pattarapol Vongprai continued his unbeaten start to the season to give the Civic Type R a second straight victory in the Pan-Delta Racing Festival's Circuit Hero 2 race at Zhuhai.
The Thai qualified third, but broke through during the race to claim the spoils for the squad, which is run by the MacPro Racing Team, and increase his series lead.
Top Racing's Li Ka Hei was third with team-mate Li Siu Wa sixth. TRC's Paul Ho and Duncan Leung were seventh and eighth in TCR in their JAS Motorsport-built Civics while DHRT's Charles Ng was
Robin Vaks bounced back from his disastrous Baltic Touring Car Championship opener with a pair of second-place finishes at the Botniaring, Finland.
The Estonian, who did not start either race at Bikernieki, qualified his ALM Motorsports car on the front row and deserved his podiums. Team-mate Mattias Vahtel was fourth and fifth and lies fourth in the championship – one place ahead of Vaks.
MM Motorsport drivers Mauro Guastamacchia and Samuele Piccin each took a second-place finish at Monza as the battle for the Coppa Italia Turismo's TCR title gathered pace.
Guastamacchia started Race One from pole position in TCR's non-DSG class in his Civic Type R TCR, but could not live with the pace of Piccin and finished third – a spot behind his team-mate.
Guastamacchia did finish second in Race Two with Piccin's co-driver, Alessio Aiello, fifth. Luigi Bamonte was fifth and fourth in the two races.
The latest round of TCR Scandinavia took place at Skelleftea, northern Sweden. After going third-fastest in practice, Mattias Andersson suffered an issue that required an engine change.
The Honda Racing Sweden team staged a superhuman effort that included a 2000km round trip back to the MA:GP headquarters for a replacement, and worked through the night to prepare his car.
From the back of the grid he tore through to sixth in Race One, but retired from Race Two after contact from another car and is sixth in the points.
Mads Fischer, JAS Motorsport TCR Project Leader, said: "Pan-Delta continues to be a very happy hunting ground for the Civic Type R TCR and for Dongfeng Honda Racing Team, who lead both this series as well as TCR China and are truly one of the outstanding touring car teams in the region. I've been impressed with the speed shown by both ALM drivers and look forward to taking a closer view in the coming weeks. MM Motorsport are building an excellent foundation with the Civic Type R TCR in Coppa Italia and the MA:GP team need some kind of medal for the superhuman effort in Sweden. When we began our TCR programme, the aim was to create a customer car that could be competitive all over the world and we do seem to have achieved this."