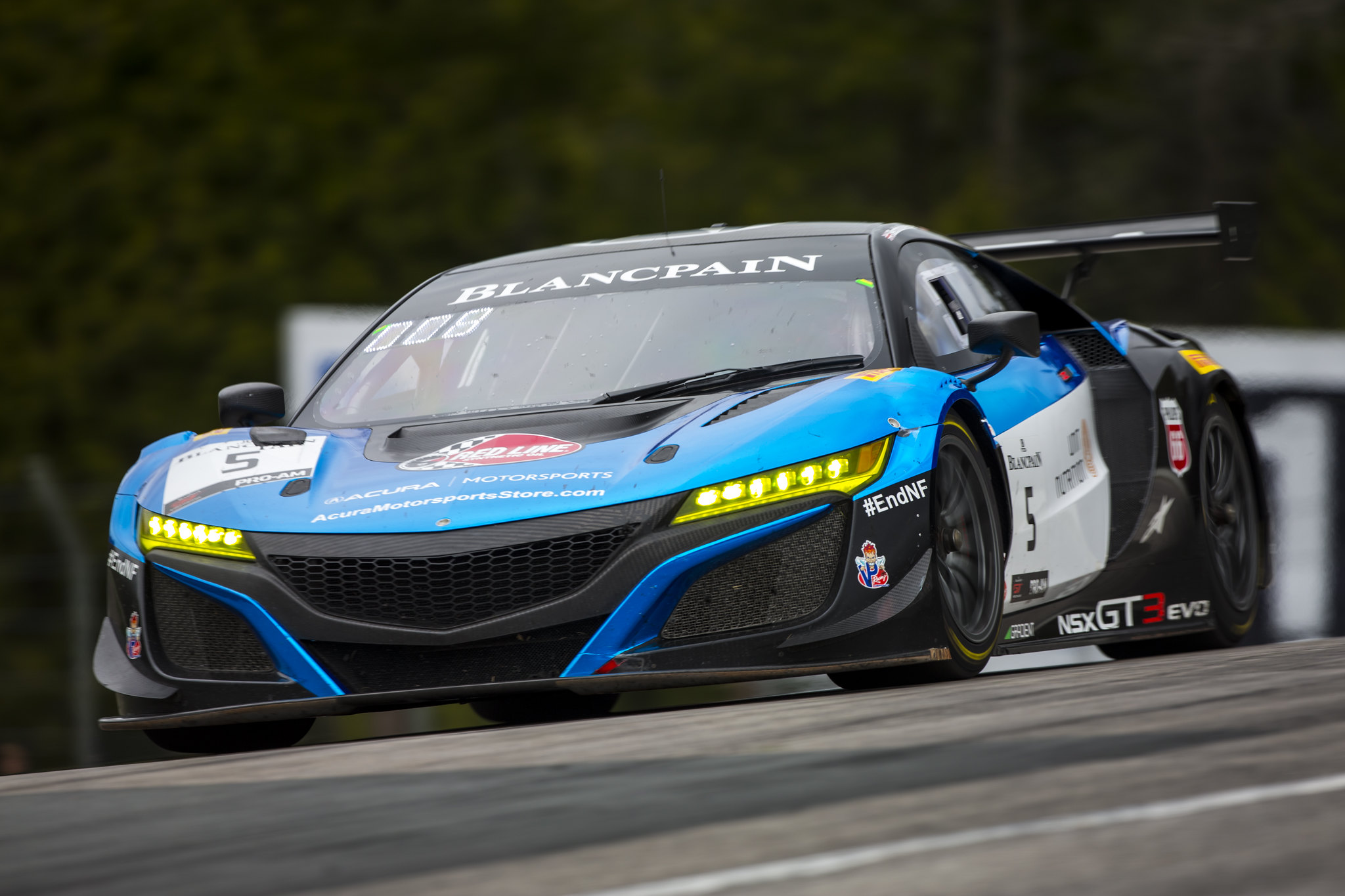 GT3 / 20 May 2019
Dominant pro-am wins for NSX GT3 Evo at Mosport
NSX GT3 Evo teams continued to dominate the pro-am division of the Blancpain GT World Challenge America with superb victories for Gradient Racing and Racers' Edge Motorsports at Mosport last weekend.
Having qualified fourth for the weekend opener, Gradient's Till Bechtolsheimer made several key overtaking moves during the opening stint to reach the mid-race driver changes in the lead.
Co-driver Marc Miller, who was making his first appearance of the season for Gradient, held firm as Kyle Marcelli - who had taken over from Martin Barkey in the Racers' Edge car - set about reducing the gap between the pair from six seconds once the stops were complete.
He moved onto Miller's tail, but could do nothing to deny Gradient a popular maiden victory.
Marcelli and Barkey did win for the third time in 2019 on Sunday after a commanding performance in which they assumed the lead at three-quarters distance and increased their advantage at the head of the pro-am points table.
Bechtolsheimer and Miller finished fifth; a result that leaves the former third in the points.
The third NSX GT3 Evo; run by RealTime Racing, was fifth in pro-am in Race One, but was reclassified as a pro car on Sunday morning as Bret Curtis was sidelined with a sore back and replaced by IMSA regular Trent Hindman.
He and Dane Cameron - who had qualified the car second in pro-am in Friday's session - were forced to start from the back as a result - but the pair battled hard to finish fifth; overtaking all the pro-am cars in the process during the 90-minute race.
All three cars were competing as part of the NSX GT3 Customer Racing Programme; a global collaborative project with JAS Motorsport responsible for assembly of all cars.
Honda Performance Development (HPD) and M-TEC handle sales and technical support in North America and Japan respectively, with JAS responsible for these areas across the rest of the world.
Stefano Fini, JAS Motorsport NSX GT3 Project Leader, said: "The support for the NSX GT3 Evo project from the Honda partners across the world has been incredible and HPD are doing an amazing job with the North American customers as our teams are proving to be the class of the field in pro-am in the Blancpain GT World Challenge too. Gradient Racing have been looking like winners since the start of the season, so it's fantastic to see them get what they deserve, and Jon Mirachi's Racers' Edge team continue to do a fabulous job and have won again. That's five wins from six races for the Evo this year in the series, so it really couldn't have gone much better."