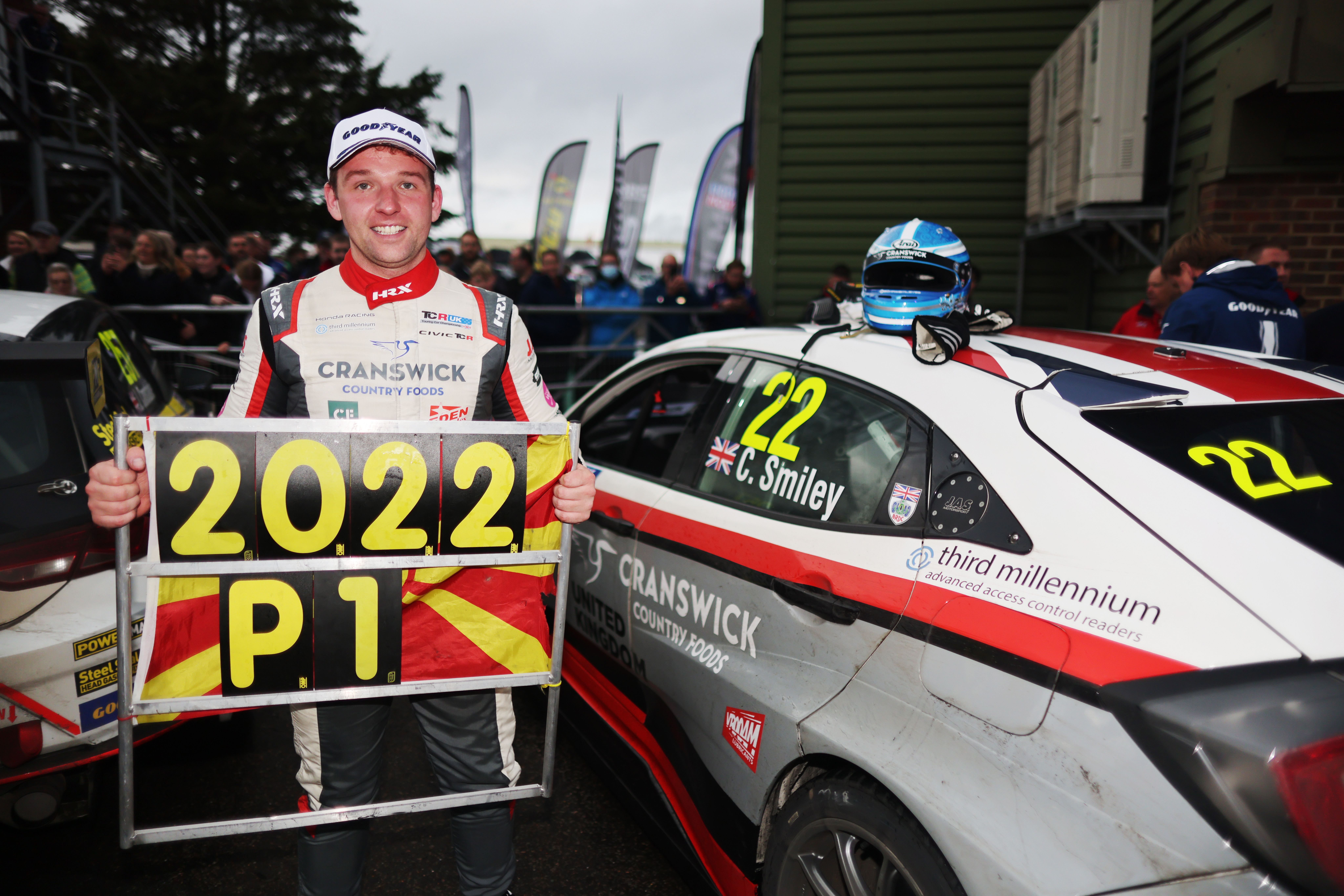 TCR / 24 October 2022
Double championship success for Civic Type R TCR in UK and Germany
Chris Smiley and Szymon Ladniak added two more major titles to the Honda Civic Type R TCR's ever-growing list of successes in 2022 on a dramatic weekend of racing for JAS Motorsport customer teams.
TCR UK
Smiley entered the final round of the season at a very wet Snetterton tied on points for the lead of the championship with seven drivers able to crowned champion.
But the Restart Racing driver reduced the title fight to a two-horse race, first by qualifying on pole position and then dominating an ultra-wet opener on Sunday that started behind the safety car to win by over seven seconds.
That gave him a narrow eight-point lead in the standings over his chief rival, who started one spot ahead on the partially-reversed grid in Race Two that would decide the title.
He held his nerve and latched onto the rear of his rival, climbing to fourth spot and then moving ahead when his constant pressure forced a mistake and an off-track moment by the other car.
Third place was more than enough to make the Northern Irishman - who collected his Civic Type R TCR less than a week before the season-opener - champion for the first time.
TCR Germany
Syzmon Ladniak secured the Junior title with a weekend of utter domination by the Liqui Moly Team Engstler driver at the Hockenheim season finale.
A front-row starting spot was followed by a lights-to-flag victory in Saturday's opener, which was more than enough to make him the Junior title winner.
He went one better on Sunday; this time winning from pole position to end the weekend with a staggering 68 points from a possible 70; results that closed him to within two points of the runner-up spot in the overall standings.
His team-mate Martin Andersen - who wrapped up the overall title last time out - made it an Engstler one-two on Saturday and added third spot on Sunday. Trophy Champion Roland Hertner won the class in Race One and added second place in Race Two.
Civic Type R TCRs have now won 14 major championships in 2022 - equalling the car';s best-ever return in a single season - and 68 in total with a number of additional titles still possible before the end of the year.