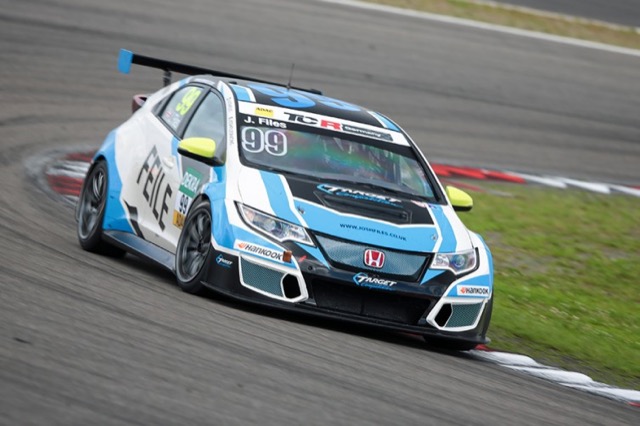 WTCC / 08 August 2016
Double Podium Score for JAS-Prepared Civics as WTCC Resumes
Meanwhile Josh Files Continues Dominance in TCR Germany Series
JAS-built Hondas came through to score a hard fought double podium finish at the latest FIA World Touring Car Championship meeting, the Race of Argentina on Sunday.
Rob Huff took second and third places at the Autodromo Termas de Rio Hondo while Tiago Monteiro and Norbert Michelisz each claimed a pair of top-10 results to ensure six points finishes out of six.
Huff, 2012 WTCC champion, was one of the big improvers on the first lap of the first event gaining three places to third place almost immediately.
A well-judged move at two-thirds distance promoted Rob to second and after a superb late-race charge, he finished just eight tenths of a second away from victory.
Tiago began the first race third and immediately gained a position. But his hopes of victory were dashed when he ran wide onto a dirty part of track at Turn 3 while side-by-side with the race leader, although the Portuguese driver later climbed several spots to finish fourth.
From second on the Main Race grid, Norbert led into the first corner. But an intense battle for victory came to an end when, while under pressure from Jose Maria Lopez and Yvan Muller, he was hit by the Frenchman and run off the track in the space of two corners.
The Hungarian regained the track eighth, which was where he finished; his excursion also allowing Rob and Tiago through to finish third and fourth.
The Honda team had started the weekend off nicely as well, winning the MAC3 Challenge.
The overall results of the weekend mean that all three drivers have strengthened their positions in the WTCC points in their JAS-prepared Civic WTCCs. Tiago and Norbert have maintained second and sixth places in the championship while Rob has gained three places and now lies fourth overall. Honda remain second in the manufacturers' standings.
At the famous Nurburgring, the latest round of the TCR Germany series was taking place. In the first race, Josh Files took his fifth win from nine races in his JAS-prepared Target Competition Honda Civic, holding his nearest competitor at bay throughout the race.
Even though Files only started from eighth for the second race he was to rocket through the field and challenge once again, securing third place and just ahead of teammate Steve Kirsch.
Proving the consistency and performance of the Civic, Files has now extended his championship advantage to an almost unassailable position. He now leads by 50 points with just a handful of races left.