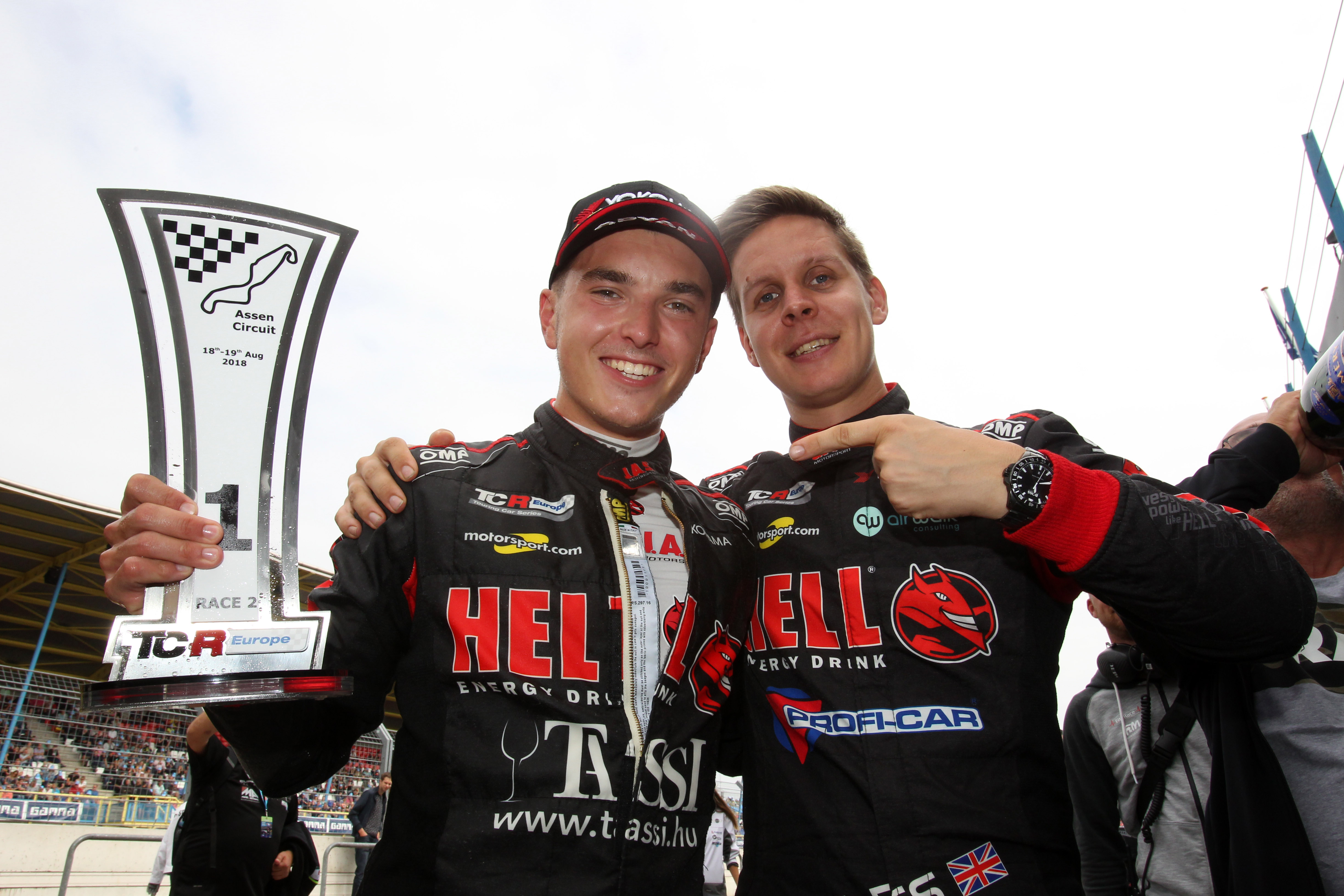 TCR / 20 August 2018
Double success for Honda Civic Type R TCR
Attila Tassi and Mattias Andersson claimed victories for the Honda Civic Type R TCR in TCR Europe and the Scandinavian Touring Car Championship.
Aboard his JAS Motorsport-built car, Tassi started fifth in the second TCR Europe race of the weekend at Assen, Netherlands, but snatched the lead before the end of the first lap with a series of superbly-judged moves and was never headed afterwards.
It was the second win of the year for HELL ENERGY Racing with KCMG and helped elevate them to second place in the Teams' Championship. Hungarian teenager Tassi, who had finished fifth in Race One, is now fourth in the Drivers' points.
Team-mate Josh Files claimed pole position on Saturday morning, but was punted into the gravel by another driver early on and dropped to 10th by the finish due to a damaged steering arm.
He retired after one lap in Race Two when a car running ahead of him dislodged a tyre stack at the chicane, moving it right into his path and leaving him unable to avoid contact that broke the radiator.
Stefano Comini enjoyed his best weekend since joining Autodis Racing by THX; the Swiss twice finishing fourth overall from 11th on the grid and securing a TCR Benelux victory in Race Two.
He's now fifth in the Benelux points table with THX fifth in the Teams' Championship. Team-mate Loris Cencetti was fired off into the gravel at the start of Race One, but finished 13th in Race Two and fourth in TCR Benelux.
Reno Racing's Jens Moller scored two more valuable points for ninth spot in Race Two while Viktor Davidovski recovered from a qualifying incident to record a best finish of 14th for PSS Racing Team.
Andersson became the Scandinavian Touring Car Championship's first repeat winner of 2018.
The Honda Racing Sweden driver had qualified and finished seventh in Race One at Karlskoga, Sweden, but took full advantage of the reversed-grid for the second encounter and was declared the winner.
He is sixth in the Championship with Honda Racing in the same position in the Teams' points.
Honda Team ADAC Sachsen remain second in the TCR Germany Teams' Championship thanks to four points finishes at Zandvoort.
After setting the pace in practice, Mike Halder qualified and finished fourth in Race One before adding fifth spot the following morning.
Dominik Fugel, his team-mate in the Fugel Sport-run team, started Race One from the back of the grid due to a post-qualifying engine change. He climbed to 11th by the chequered flag and added 10th in Race Two.
Mads Fischer, JAS Motorsport TCR Project Leader, said: "I'm delighted that we can now call Attila Tassi a TCR Europe race winner. Both he and Josh have been so fast all year, but both have had so much bad luck. Hopefully that's all behind them now and their push to win the Teams' Championship for HELL ENERGY Racing with KCMG will be successful. It's also great to see Mattias Andersson continuing to prove the pace of the 2017 Civic in Scandinavia and to take a second win of the year. Teams running the Civic Type R TCR are in contention for victory in every series they compete in, and this vindicates the work we've done with the car during its test and development phase and the job we continue to do supporting our customers."