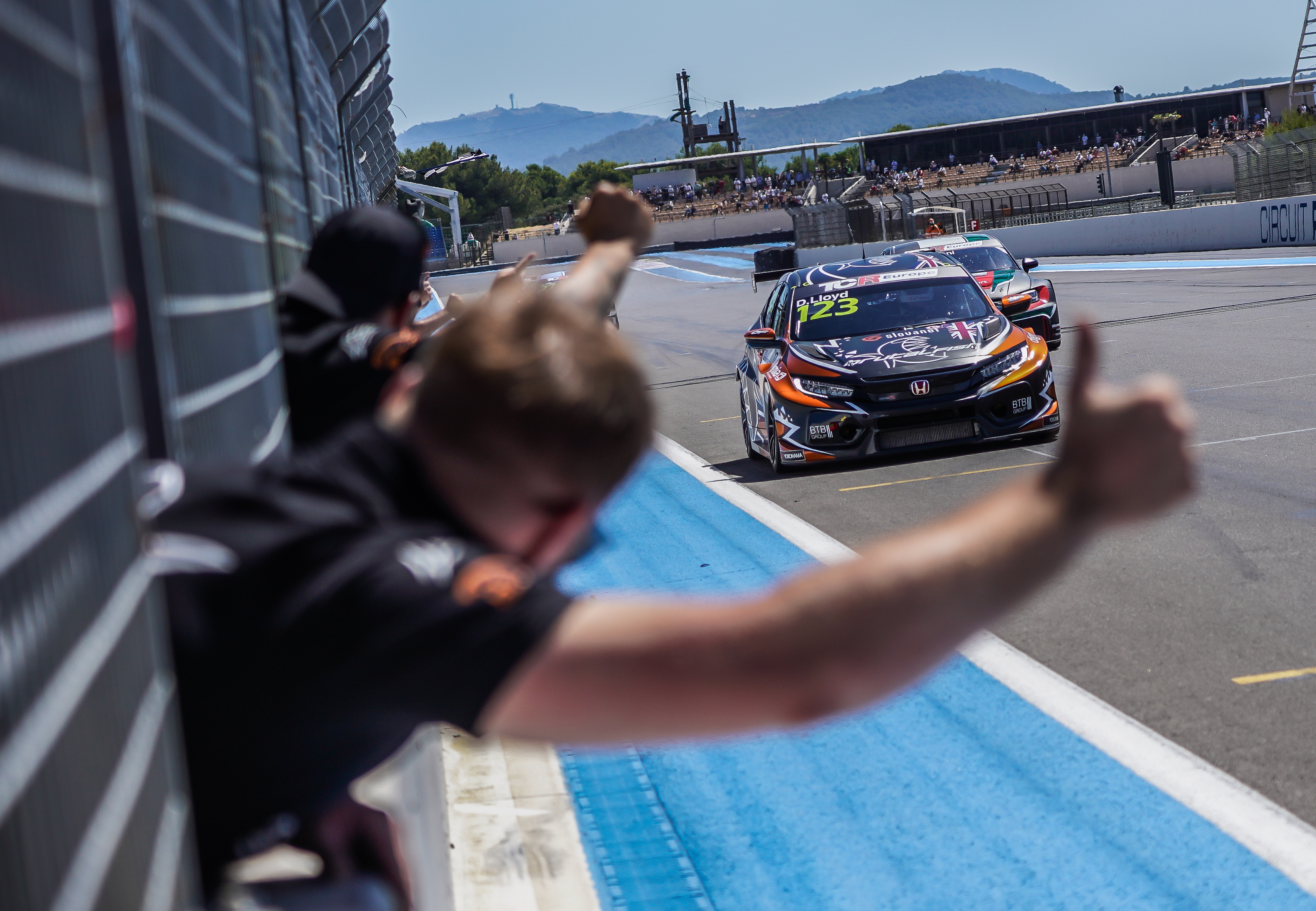 TCR / 31 August 2020
Double win for Civic Type R TCR as TCR Europe kicks off
Daniel Lloyd and Mike Halder made dream starts to the TCR Europe series as both won races in their Honda Civic Type R TCRs at Paul Ricard.
Lloyd continued his strong early-2020 form as the Brutal Fish Racing driver sprinted into the lead at the start in his JAS Motorsport-built car and held it throughout the race. Sixth spot on Sunday means he left France leading the championship.
Sunday's race produced a one-two finish for the Civic as Mike Halder - whose Profi Car Team Halder squad was making its series debut - held off Nestor Girolami, whose second-place finish was the best-ever result for the Macedonian PSS Racing Team.
Lloyd's Brutal Fish team-mates, Pepe Oriola and Martin Ryba, both got stuck into hard battles in both races and scored best finishes of 11th and 19th while Michelle Halder (Profi Car Team Halder) was 12th in Race One. Boutsen Ginion Racing's Tom Coronel was a double-retiree.
Mike Lamarra and Mat Pombo scored the LAP Motorsports-run LA Honda World team's best result of the IMSA Michelin Pilot Challenge season with a hard-fought fourth-place finish at Virginia.
The result lifted them to eighth in the Drivers' points while Honda climbed to third in the Manufacturers' Championship.
Team-mates Shelby Blackstock and Chris Miller were sixth, but Taylor Hagler and Ryan Eversley's luckless season continued as Hagler was eliminated on the opening lap - an innocent victim of another driver's incident.
Honda Wyszomirski doubled their effort to two cars at the Slovakia Ring as Jakub Wyszomirski joined Sebastian Kolokowski for the second round of TCR Eastern Europe.
Wyszomirski took the team's best finish of the year with sixth place in Race One while his young team-mate - also driving an FK2 version of the Civic Type R TCR - was 11th in both races to score his personal-best results.
Anton Nemkin lost ground in the battle for TCR Russia's SMP Rookies' Trophy at Moscow Raceway.
The Motor Sharks driver qualified second in class, but spun to the back on the opening lap of Sunday's first race and collected seventh and sixth places. He's now fourth in the points.