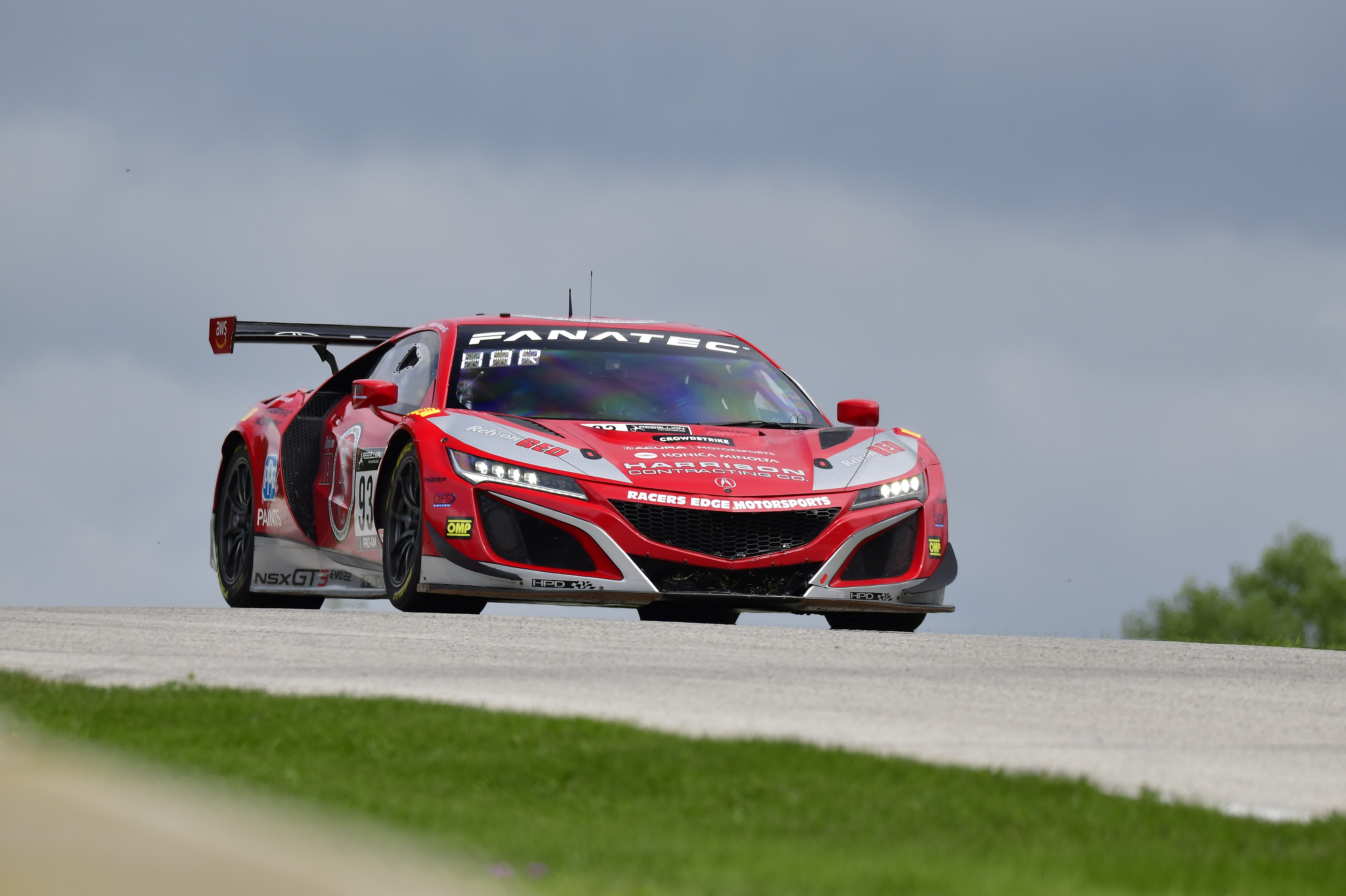 GT3 / 22 August 2022
Double win for NSX GT3 Evo 22 during dominant weekend
NSX GT3 Evo 22 crews remain in the hunt for two major international GT crowns following a double victory against high-quality opposition across the weekend.
GT World Challenge America
Racers Edge Motorsports duo Ashton Harrison and Mario Farnbacher dominated the Pro-Am division across the Road America weekend to score a pair of class victories in two very different races.
A decisive move by Harrison on one of her key title rivals was the highlight of a stint in which she elevated her position from sixth to second.
This gave Farnbacher a clear track when he took over the JAS Motorsport-built car with 40 minutes left and he made the most of it to close down a 10-second gap to the leader and move into the top position with 10 of the 90 minutes to go.
A spectacular late-braking move at Turn Four helped him take the lead with an 'around the outside' move and he sped off to victory.
Farnbacher had qualified on class pole for Sunday's second race; he and Harrison holding the position throughout to take their third win of 2022; a result that moved them to within two points of the series lead.
RealTime Racing's Erin Vogel was unlucky to be hit on the opening lap of Race One as she attempted to avoid a spun car at the exit of Turn Three and dropped to the back of the pack as she pitted twice to have damage rectified.
But despite driving with damaged wheels, Vogel was incredibly able to climb to fifth in Pro-Am before the stops; helping her and co-driver Michael Cooper to finish sixth. They added a strong fifth spot in Race Two to climb to fifth in the points.
GT World Challenge Asia
Comet Racing duo Yusuke Yamasaki and Yorikatsu Tsujiko retained their hopes of winning the Am division of the GT World Challenge Asia Japan Cup with a podium finish at Sugo.
Having started second in class, Yamasaki vaulted his NSX GT3 Evo 22 into the Am lead - and third place overall - within two corners of the Race-One start and built an eight-second advantage by the mid-race pitstops.
Unfortunately, he was deemed to have crossed the demarkation line when entering the pits, meaning co-driver Tsujiko received a drive-through penalty soon afterwards that dropped them to fifth.
They responded brilliantly with second place - and a fourth podium of the season - in Race Two to sit five points away from the Japan Cup lead with 50 available from the two remaining races.
All the mentioned cars were competing as part of the NSX GT3 Customer Racing Programme; a global collaborative project with JAS Motorsport responsible for assembly of all cars.

Honda Performance Development (HPD) and M-TEC handle sales and technical support in North America and Japan respectively, with JAS responsible for these areas across the rest of the world.