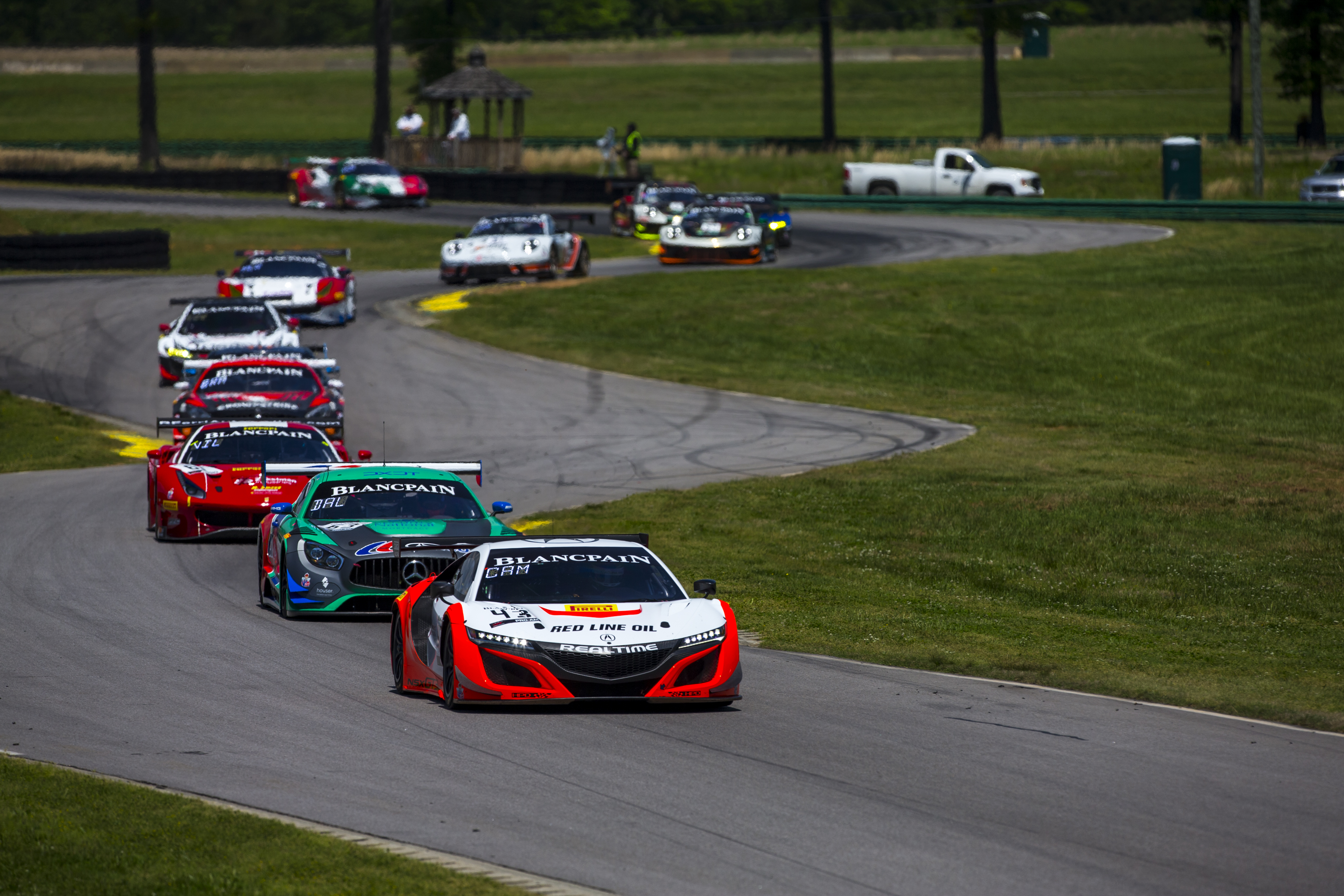 GT3 / 29 April 2019
Double win for NSX GT3 Evo teams in USA
The NSX GT3 Evo scored an incredible double-victory as three cars took centre stage at the latest round of the Blancpain GT World Challenge America at Virginia International Raceway.
Racers' Edge Motorsports and Gradient Racing made it a superb one-two finish in the Pro-Am category in Saturday's opening race at the undulating circuit, while series returnees RealTime Racing were victorious on Sunday.
Having started the opening race from second spot, Gradient Racing's Till Bechtolsheimer led throughout his stint, with RealTime's Bret Curtis and Racers' Edge driver Martin Barkey fighting over second before contact between the pair resulted in a penalty for the former.
Pitting at the start of the mandatory driver-change window, Barkey handed over to pro Kyle Marcelli, whose succession of fast laps vaulted him ahead of Bechtolsheimer's co-driver Ryan Eversley by the time he took the wheel.
They finished in that order with Dane Cameron recovering from sixth to fourth in the RealTime Car with which he had qualified on class pole for Race Two.
That pole position allowed Cameron to lead throughout his stint and give Curtis an advantage that he kept once behind the wheel.
It was RealTime's first win of 2019 in the first appearance of the season for the team that won last year's World Challenge TCR crown with Eversley and the Civic Type R TCR.
Bechtolsheimer and Eversley were fourth with Barkey and Marcelli suffering an issue at their pitstop and dropping to sixth.
Barkey and Marcelli increased their series lead to 15 points over Bechtolsheimer and Eversley while Curtis and Cameron are already up to fifth. Racers' Edge lead the Teams' Championship from Graident.
All three cars were competing as part of the NSX GT3 Customer Racing Programme; a global collaborative project with JAS Motorsport responsible for assembly of all cars.
Honda Performance Development (HPD) and M-TEC handle sales and technical support in North America and Japan respectively, with JAS responsible for these areas across the rest of the world.
Stefano Fini, JAS Motorsport NSX GT3 Project Leader, said: "The win for Kyle and Martin at Austin was fantastic, but to take both Pro-Am victories with two different customer teams, and see all of the NSX GT3 Evos make the podium over the weekend is very special. Our primary aim with the Evo was to make it a fun car to drive for pros and a smooth and confidence-inspiring car for am racers, and with the wins at Austin and now at Virginia, it's clear that the Racers' Edge, Gradient and RealTime teams are benefitting from the work done. The progress continues as well, as we are constantly working with customer teams to help develop the car further. Well done to all three teams."