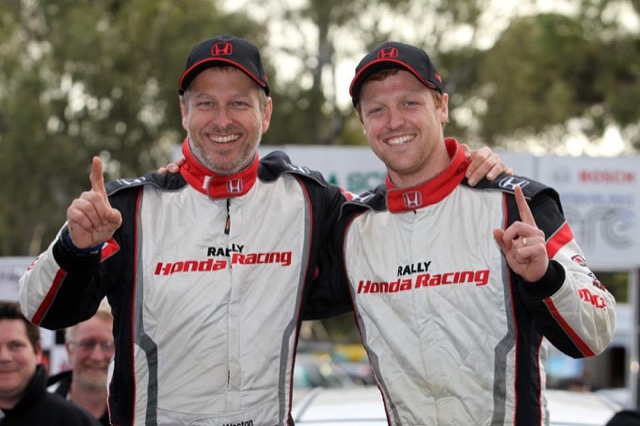 Rally / 16 July 2014
ELI EVANS AND ZOLTAN BESSENYEY: THE BATTLE OF THE HONDA CHAMPIONS
FIA ERC - Rally Estonia
After a short break, the 2014 FIA European Rally Championship returns this week for the Auto24 Rally Estonia. The rally, a newcomer to the ERC calendar, takes place in the beautiful countryside of Otepää in the southern region of the Baltic country, renowned for its fast gravel stages.
The rally presents a fresh challenge for J.A.S. Motorsport, who operates Honda Racing Customer Support, as they will be managing not one, but four Honda Civic Type R in Estonia.
In addition to the familiar faces of Hungarian Eurosol Civic Type R driver Zoltan Bessenyey and co-driver Yulianna Nyirfas, who currently sit in third place position in the ERC 2WD Drivers Championship, the J.A.S team will be supporting current Australian Rally Champions Eli Evans and Glen Weston, who make their ERC debut this weekend.
"Our main rivals Cerny and Lefebvre are not here, but there is still plenty of competition and it won't be easy to score points," says Zoltan, who won the 2013 European Rally Championship 2WD driver title. "With 25 participants in 2WD, and a lot of experienced local drivers, I'm aiming at a Top 5 place."
In preparation, both Evans-Weston and Bessenyey-Nyirfas will take part in a two day test session organised by J.A.S. Motorsport.
"Evans is known as a fast driver, especially on gravel but we've not competed before. That's why it's important for me to work together with him and J.A.S in advance, get to know his style and then we can see where I stand."
But for Eli Evans everything is new. Indeed, this week was his first ever trip to Europe.
"The stages of the Estonia Rally bear a lot of similarities to some of the gravel rallies in Australia and the test session we did on Monday really helped, so I've got an idea of what awaits us. I've got a lot of experience with the Civic Type R too. In 2010/11, before driving the Jazz G2, we entered the Australian championship with the same Civic Type R, so I'm sure we'll do a good job. But I guess we'll only really have a true sense of our chances after completing the two first stages on Friday."
Joining Evans and Bessenyey under the umbrella of the Honda Racing Customer Support will be a number of other Civic Type R drivers, including locals Mait Madik and co-driver Toomas Tauk and Russians Dmitry Voronov and Dan Shchemel. Madik and Tauk bring with them huge experience from the Estonia Rally Championship, whilst Voronov and Schemel will be drawing on their experience in the Russian Rally Championship and last year's Rally of Finland, where they finished fourth behind the wheel of the same Civic Type R.
The Auto24 Rally Estonia starts on Friday July 18 at 11h00 and ends, after eight stages and 123,67 kilometres, with the very short Tartu City (1,33 km) stage. On Saturday July 19 will be a further six special stages and after 107,88 kilometres against the clock the first contestant will be expected in Otepää around 20h45.