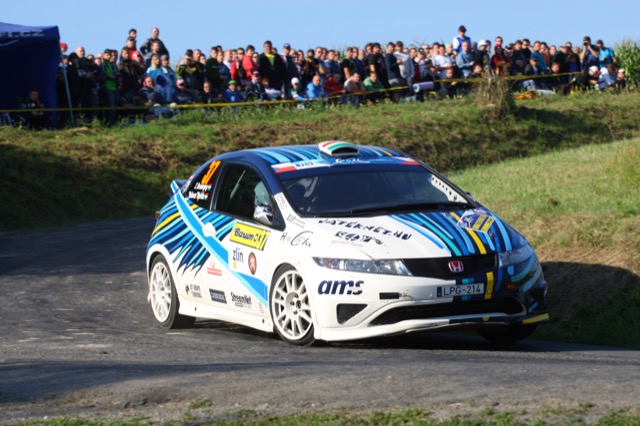 Rally / 13 September 2013
ERC Lotos Rally Poland
Zoltan Bessenyey and Yuliana Nyirfas To Miss 9th Round of the ERC
The ERC's new regulations mean the season is now split into two groups of events - the first and last six rallies of the 2013 calendar – with the Championship decided by the four best results achieved from each.
With the first two rallies of the second phase complete, the ERC travels to Poland this weekend for the Lotos Rally. Noticeably absent though from the 9th round will be Hungarian Zoltan Bessenyey, who currently stands atop the 2WD Driver's Championship leaderboard with 122 points.
Zoltan says: "At the start of the season we made up a calendar with the rallies we wanted to participate in and with so many rallies in September, we decided to skip Poland and concentrate on Croatia."
The decision means Hungarian Kornél Lukács and Frenchman Stéphane Lefebvre, the Eurosol Honda Civic Type R driver's main rivals in 2WD, will have a free hand in Poland to try to close the gap.
"We have a good lead, but not enough to take a rest and we will follow the results of our two competitors closely," says Zoltan about the 53 and 55 points that respectively separate the Hungarian duo from Lukács and Lefebvre. "And after Croatia, there's still Sanremo and Valais to improve our position and to secure the title."
Despite Bessenyey and co-driver Yuliana Nyirfas' absence, the colours of Honda will be defended in Poland by Polish Jacek Jurecki and Lithuanian Karolis Šiug?dinis.
After the Qualifying Stage at 16.00 in host town Mikolajki on Friday the 13 September, the crews begin on Saturday morning at the first stage of 13 special stages, covering 230,40 kilometres. The final winner, who will have to navigate through the gravel of Poland's breath-taking Masurian Lake District, is expected to finish around 19.40 on Sunday the 15 of September.