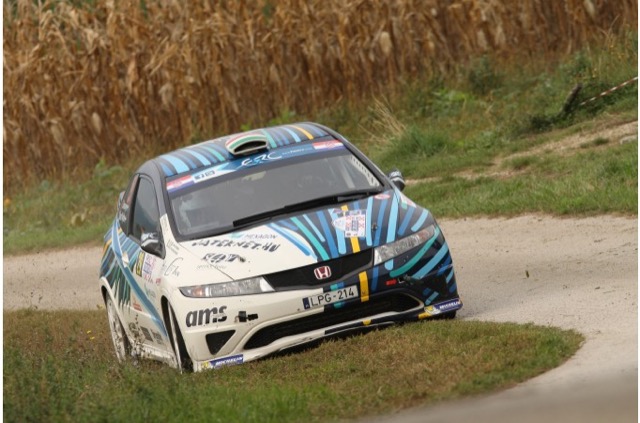 Rally / 16 November 2013
ERC reveals exciting new-look calendar for 2014
FIA ERC 2014
There will be serious competition ahead – and seriously good events – in next year's FIA European Rally Championship with the publication of the draft list of dates for 2014.
Following a meeting of the FIA Rally Commission in Geneva last month, Eurosport Events, the ERC promoter, is delighted to reveal a 12-round schedule, which is due for final ratification by the FIA World Motor Sport Council at its meeting in Paris in December.
It features three events on snow and ice as part of the exciting new ERC Winter Challenge, two on gravel, four entirely on asphalt and three on a combination of asphalt and gravel, with a more even spread of rallies from January to November.
Eight rounds included this season remain on the schedule for 2014 with three legendary events returning to the ERC after several years of absence: the Acropolis Rally, the Circuit of Ireland Rally and the Cyprus Rally. Meanwhile, auto24 Rally Estonia is a new addition to the ERC calendar having hosted a round of the European Historic Sporting Rally Championship in recent years.
ERC Winter Challenge is go!
As previously announced, the 2014 ERC season kicks off with two winter events, the 31 Int. Jännerrallye, Oberösterreich in Austria (3-5 January) and Rally Liepaja in Latvia (31 January-2 February). A third winter event, Sibiu Rally Romania, has now been confirmed from 27 February-1 March and will form part of the all-new ERC Winter Challenge, which will carry its own points and awards. The popular rally in Transylvania is switching from its traditional July slot and will include a stage on the famous Transfagara?an mountain pass.
Legendary events return to the ERC
The ERC calendar for 2014 is further enhanced by the inclusion of the Acropolis Rally, Circuit of Ireland Rally and the Cyprus Rally, three flagship events. The Acropolis Rally, previously Greece's round of the world championship, celebrates its 60th anniversary in 2014. Taking place from 28-30 March, it is one of the most famous rallies on the international calendar and will include asphalt and gravel stages when it runs next year. The Circuit of Ireland Rally first took place in 1931, making it the third oldest in existence. Using asphalt stages in Northern Ireland, the rally is scheduled for 17-19 April. The Cyprus Rally will take place from 19-21 September over a mixed-surface route. It returns to the ERC roster for the first time since 1999.
Established rallies strengthen ERC ties
Eight rounds of next year's ERC formed part of the 2013 calendar. The 49th SATA Rallye Açores moves from late April to 15-17 May, while Belgium's Geko Ypres Rally will take place from 19-21 June. Barum Czech Rally Zlín is scheduled for 29-31 August. Rallye International du Valais in Switzerland is due to run from 23-25 October with Giru di Corsica-Tour de Corse switching from mid-May to the final round from 6-8 November subject to the signing of the event promoter agreement. ERC newcomer auto24 Rally Estonia will run from 17-19 July.
François Ribeiro, Motorsport Development Director, Eurosport Events, said: "We're delighted to announce the ERC calendar for 2014, our second season promoting the championship under our agreement with the FIA. We've included some of the best events in Europe over an 11-month spread to facilitate logistics for the teams. We have achieved a good split of surfaces and will visit a number of key markets. As well as showcasing several emerging rallies, we're also incorporating several legendary events famous throughout the world. Allied with a number of new initiatives to be announced soon, the revamped calendar gives us great cause for optimism for the year ahead."
FIA European Rally Championship 2014 provisional calendar
01: 31 Int. Jännerrallye, Oberösterreich (Austria), Asphalt/snow, 3-5 January 2014
02: Rally Liepaja (Latvia), Gravel/snow, 31 January-2 February 2014
03: Sibiu Rally Romania, Gravel/snow, 27 February-1 March 2014
04: Acropolis Rally (Greece), Asphalt/gravel, 28-30 March 2014
05: Circuit of Ireland Rally (United Kingdom), Asphalt, 17-19 April 2014
06: 49th SATA Rallye Açores (Portugal), Gravel, 15-17 May 2014
07: Geko Ypres Rally (Belgium), Asphalt, 19-21 June 2014
08: auto24 Rally Estonia (Estonia), Gravel, 17-19 July 2014
09: Barum Czech Rally Zlín (Czech Republic), Asphalt, 29-31 August 2014
10: Cyprus Rally (Cyprus), Asphalt/gravel, 19-21 September 2014
11: Rallye International du Valais (Switzerland), Asphalt/gravel, 23-25 October 2014
12: Giru di Corsica-Tour de Corse (France), Asphalt, 6-8 November 2014