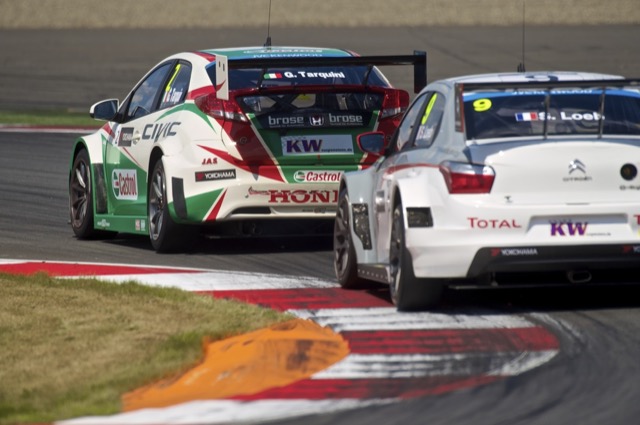 Race Track / 21 June 2014
Experienced Honda Squad Heads To Spa!
FIA WTCC - Round 7 - Spa-Francorchamps
This August the WTCC leaves Europe and heads to South America for the Argentinean round of the 2014 FIA World Touring Car Championship. However, before it does, there is one final European challenge for the drivers to contend with; Belgium's Spa-Francorchamps, widely regarded as "the most beautiful circuit in the world".
In Gabriele Tarquini the Castrol Honda World Touring Car Team have a driver in its ranks who can draw upon a vast amount of experience.
Indeed, 2014 marks the 29th anniversary of Italian driver's debut at Spa and his 20th competitive race at the famous circuit.
Tarquini's first experience of the Belgian track came in 1985 as a fresh faced, 23 year old Formula 3000 driver. He finished in fourth, only just missing out on a podium place.
"When I drove my first laps in Francorchamps I immediately felt at home. It was quite strange, as I had a really strong sense of déjà vu", reminisced Gabriele Tarquini, who earlier this month won a hard earned second place on the Moscow Raceway. "Even on some Italian tracks I never had that feeling, and those should be my home races. In 2007 the Spa circuit was changed, with a redesigned bus stop-chicane, but most of the track remains intact. But my last race here was in 2005 and considering how much the cars have changed since then, I'm sure I will have to wait until my first lap during free practice to feel 'chez moi' again!"
Over the years Tarquini's knowledge of the track has been further enriched through Formula 1 and also by competing in numerous Spa 24 Hours challenges. To this day, the 52-year-old still holds the Spa 24 Hours qualifying lap record in a touring car, which he set behind the wheel of a Honda Accord in 1997.
"I remember it very vividly. The evening qualifying session was almost finished, there wasn't much traffic, the temperature perfect and I decided to have a go." Explains Tarquini. "I simply went for it and ended with a time of 2'29.867, enough to put my Honda on pole. Eye witnesses told me afterwards that the Accord charging up "Eau Rouge" was an impressive sight."
Tarquini's first trip to Spa in the FIA World Touring Car Championship came in 2005, its inaugural year, where he finished fourth in Race 1.
Tiago Monteiro, Tarquini's team-mate in the Castrol Honda World Touring Car Team, is no stranger to the track either, with experience gained during his time in the French F3 Championship, and like Targuini, F3000 and Formula 1.
However, the track has been redesigned since it last hosted the WTCC and the only Honda driver with any knowledge of the revised course is Mehdi Bennani, who competed in the Spa 1000 kms in 2009.
"Since then I've really liked coming to Belgium," said the Moroccan Proteam Racing driver, who finished in an excellent third place on the Moscow Raceway. "Spa-Francorchamps is a fast circuit, with quick corners and a lot of changes of direction. You need a good chassis and enough top speed. After the results in Moscow though, and the progress we have made, I am convinced that the Civic will be even closer to the opposition and we'll be battling again for the podium!"
Unlike his Honda team mates, Spa presents Hungarian Norbert Michelisz, the Zengo" Motorsport Civic driver, with a fresh challenge. Whilst full of confidence, this weekend is his first opportunity to get to know the 7 km. track, set amongst the stunning Ardennes forest.
Driver's Championship : 1. José Maria Lopez (ARG) 209 ; 2. Yvan Muller (FR) 168; 3. Sébastien Loeb (FR) 161; 4. Tiago Monteiro (PRT) 105; 5. Gabriele Tarquini (I) 96; 6. Tom Coronel (NL) 74; 7. Tom Chilton (GB) 73; 8. Gianni Morbidelli (I) 64; 9. Norbert Michelisz (HUN) 62; 10. Mehdi Bennani (MAR) 51; 11. Hugo Valente (F) 49; 12. MA Qing Hua (CHN) 33; 13. Dusan Borkovic (RS) 15; 14. Rob Huff (GB) 13; 15. Mikhail Kozlovskiy (RUS) 11; 16. Franz Engstler (D) 6; 17. John Filippi (I) 4; 18. René Munnich (D) 3; 19. Pasquale Di Sabatino 2; James Thompson (GB) 2
Manufacturer's Championship: 1. Citroën 502; 2. Honda 333; 3. LADA 165
Yokohama Team's Trophy: 1. ROAL Motorsport 117; 2. Campos Racing 82; 3. Münnich Motorsport 78; 4. Zengo" Motorsport 66; 5. Proteam Racing 56; 6. Team Engstler 27