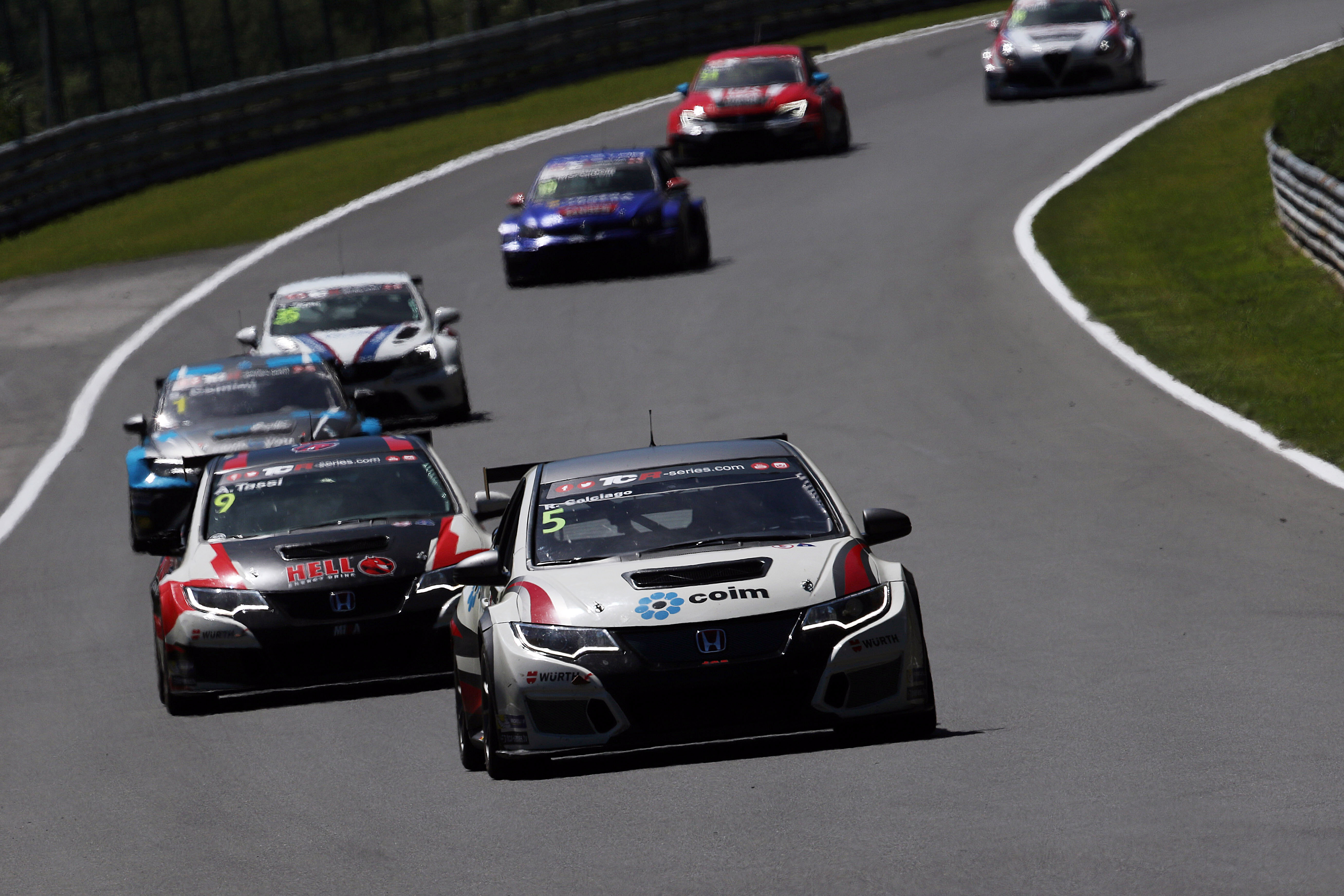 TCR / 12 June 2017
Fairytale weekend for JAS Hondas
JAS Motorsport Hondas enjoyed another sensational weekend with victories in three major touring car series across the globe, all of which they now lead.

M1RA celebrated second one-two finish in as many TCR International Series weekends with a superb display at the Salzburgring in Austria as Roberto Colciago won for the third time in 2017 to move into second place in the Drivers' Championship.

The Hungarian team had begun the weekend in disastrous fashion with Colciago's team-mate Attila Tassi crashing heavily in testing. Tassi was able to walk away unscathed thanks to the strength and safety of the JAS-built Civic, but the car was declared unraceable.

Keen to help M1RA protect their Teams' Championship lead, JAS dispatched a spare car at 20h00 on Friday night from their Milan headquarters, which arrived at 04h00 Saturday morning and was miraculously prepared in time for Tassi to take part in free practice.

Despite starting last, the teenager finished Race 1 in ninth spot and then added second place in Race 2 behind Colciago to lie fifth in the points.

Reno Racing's Jens Moller had his best weekend of 2017; the Dane securing eighth and ninth spots to score his first points of the season.

Josh Files made it three wins from four races in TCR Germany with a dominant double win at the Red Bull Ring in Austria.

The reigning champion leapt from eighth on the grid to first within two corners of Race 1 and was the dominant force to increase both his lead of the Drivers' points battle and Target Competition UK-SUI's Teams' Championship advantage.

Moritz Oestreich of Honda Team ADAC Sachsen and Files' team-mate Kris Richard made it three Hondas in the top four in Race 2. Steve Kirsch (Sachsen), Jurgen Schmarl and Jose Rodrigues (both Target) secured top-10 finishes.

In Super Taikyu, the Honda-supported Motul Dome Racing Project made it three wins from three rounds of the ultra-popular endurance series in 2017 thanks to Hiroki Kato, Keishi Ishikawa and Takuya Kurosawa.

Ninety seconds behind the leader with an hour to go, Kato began a relentless charge that brought him into top spot with just 15 minutes to go. Victory increased the trio's lead of the ST-TCR class points.

The sister machine featured an all-new driver line-up for Suzuka with Castrol Honda WTCC driver Ryo Michigami joining Hidenori Kouuchi and drift king Keichi Tsuchiya - making his first race start since 2003. They finished fifth after Michigami was hit and suffered puncture during his stint.

Mads Fischer, JAS Motorsport TCR Project Leader, said: "What a weekend and what an incredible team effort from JAS and M1RA to make sure a fresh car was delivered for Attila in time to race after - quite literally - burning the midnight oil! To score a one-two finish is the icing on the cake after a Herculean effort and Roberto's chances were helped by Attila playing the perfect team-mate role and keeping a flying Stefano Comini behind. He was able to establish a small gap that helped secure the win. I must also congratulate Josh Files and Target Competition, who have once again proved themselves the class of the field in TCR Germany, and the Dome Racing Team for another deserved win in Super Taikyu."