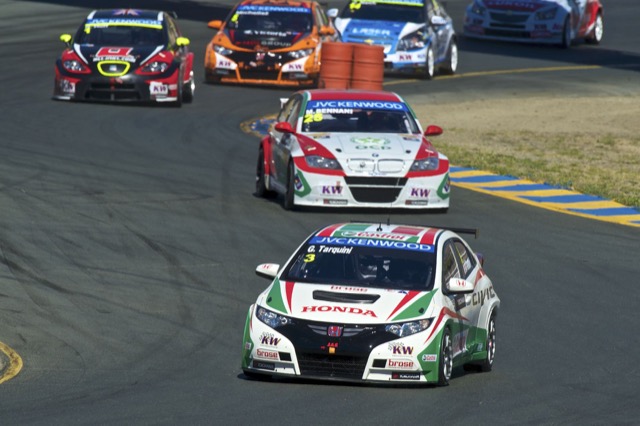 Race Track / 09 September 2013
FIA WTCC Sonoma - Race 2
TARQUINI VICTORY SEALS WORLD CHAMPIONSHIP TITLE FOR HONDA CIVIC
Gabriele Tarquini took a resounding victory in Race 2 in the WTCC event at Sonoma, California this afternoon to record his second triumph of the season, his 19th career win and to secure the FIA World Touring Car Manufacturers Championship for Honda. Points scored by all three Civics in the series have contributed to the Championship title.
Honda Civics came home in first, third and fifth places to highlight the competitive pedigree of the Civic in the first season of the FIA World Touring Car Championship competition. Norbert Michelisz battled hard to secure third place, setting fastest lap during his endeavours to reach second whilst Tiago Monteiro capped a superb weekend with a fighting fifth place having started 8th on the grid.
Tarquini accelerated past the pole position man soon after the start and steadily pulled away from the field to take victory with a 2.4 second advantage. "My start was like a masterpiece to get ahead of the rear wheel drive car and once ahead I just kept the pace to maintain the gap in front. It is a great victory for me and the team and a very special win for Honda," said the experienced Italian as he mounted the victory podium. Gabriele has moved to second place in the Drivers' Championship points table with six races left in the series.
Michelisz was determined to get onto the podium here in the USA and from the second row he chased the pole position car from the start. At half distance he was forced to defend his position against the current Championship leader but the young Hungarian star thrives under pressure and he drove precisely to the chequered flag. "For me and the Zengo Motorsport team a place on the podium here means so much. It is a drivers' circuit so I am pleased to get this result. The Honda is superb and we get better and better as the season moves on so I am really looking forward to Japan and the last races of the year," said Norbi.
For Tiago Monteiro Sonoma has proved a very happy weekend with strong showings every time on track. "I have had some bad luck days this season but when you come to this great circuit and get these results it makes everyone happy. Now we move to Suzuka where I started with the Civic last year right at the start of our development program so it will be great to see how far we have moved forward."
Even a champagne bath on the podium was enjoyed by Daisuke Horiuchi, Large Project leader for WTCC development from Honda R & D. "This has been a perfect weekend for us. The engine mapping that we worked out in free practice has been great for all three cars during the whole weekend in qualifying and the races. The drivers and the team have done a perfect job. These good results will thrill the many Japanese race fans who will attend the next WTCC event at Suzuka on 22 September even more so that an additional Honda Civic WTCC will be driven in that event by Takuya Izawa."