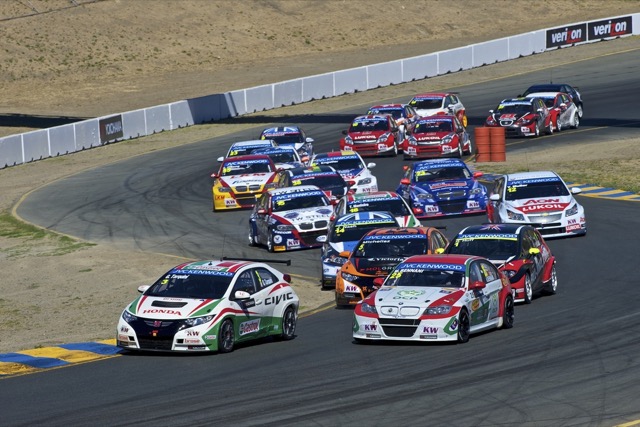 Race Track / 17 September 2013
FIA WTCC Suzuka
HONDA DRIVERS HOPE FOR WTCC HOME RACE RESULTS
The Suzuka Circuit in Japan is effectively the 'home' event for the Castrol Honda World Touring Car Team in more ways than one. The circuit, 50kms south west of Nagoya, was created as a Honda test track in 1962 to a design by Dutchman, John Hugenholtz, and is operated by Mobilityland Corporation, a subsidiary of the Honda Motor Co Ltd.
It is one of few circuits in the world to have a "figure 8" layout, with the back straight passing over the front section by means of an overpass. It has three alternative configurations and the WTCC will use the short East Circuit which is 2.243 kilometres (1.394 miles) with 7 turns. The pole position lap time for the WTCC in 2012 was 52.885 seconds, a speed of 152.687 kph.
In 2012 the brand new Honda Civic WTCC, first raced at the Suzuka WTCC race when Tiago Monteiro scored remarkable top ten results in both of the two races. Already this season, Honda Civics have taken two race victories, two pole positions and twelve other podium appearances. Excellent results in the first year of racing in this fiercely competitive FIA World Touring Car Championship.
The 10th round of the 2013 WTCC will see four Honda Civic WTCC cars in action. Tarquini and Monteiro driving their regular Castrol-backed entries, the young Hungarian Norbert Michelisz at the wheel of his Zengo Motorsport run Civic and the first appearance of the young Japanese race star, Takuya Izawa. Izawa will be driving a fourth Civic WTCC prepared by JAS Motorsport, the Italian preparation experts who have been Honda's motorsport partner since 1998.
For Monteiro this event will bring the Civic story full circle. "When we arrived in Suzuka last year we had only run the car for minutes prior to air freighting it to Japan. It was a pressure moment with high expectations for the first race. The car worked well from the outset and getting top ten results was a great reward for the frantic work everyone had put in up to that moment. Now we return with the Championship title ours, but we want to take more victories before the end of the season. This will be the first race where we have data from last year so it will be interesting to see how we have progressed. Of course the car is quite different but it will be nice to compare. It will be a busy time with lots of PR and media work. I feel confident that we are right on the pace now and can challenge for the victory. I have known Takuya for several years and I know he is very young and very fast with lots of experience at the circuit so maybe he can give us a few tricks."
Gabriele Tarquini has many fond memories of Suzuka going right back to his Formula 1 days. The Italian, who was not driving for Honda at that time, took the third step on the podium for Race 2 at Suzuka last year. "I have raced many times there; the big circuit is just great for a driver but the short circuit will suit the Civic better. It is something like the Sonoma characteristics with lots of direction changes, flowing corners and not too long straights. Our good acceleration and traction out of the corners will be useful. It will be important to get a top qualifying time as overtaking will be difficult there."
Driving in the Honda Civic WTCC will be a new experience for Takuya Izawa but he has learned his race craft with many, many laps around the circuit. "I am excited to join the Honda team, as well as compete with all the world-class WTCC drivers at Suzuka. I am certain that this experience will help me to further accelerate my career! I would imagine that getting top results will be difficult at such a high level racing series, but competing in a touring car on a circuit that I grew up with is a new adventure for me."