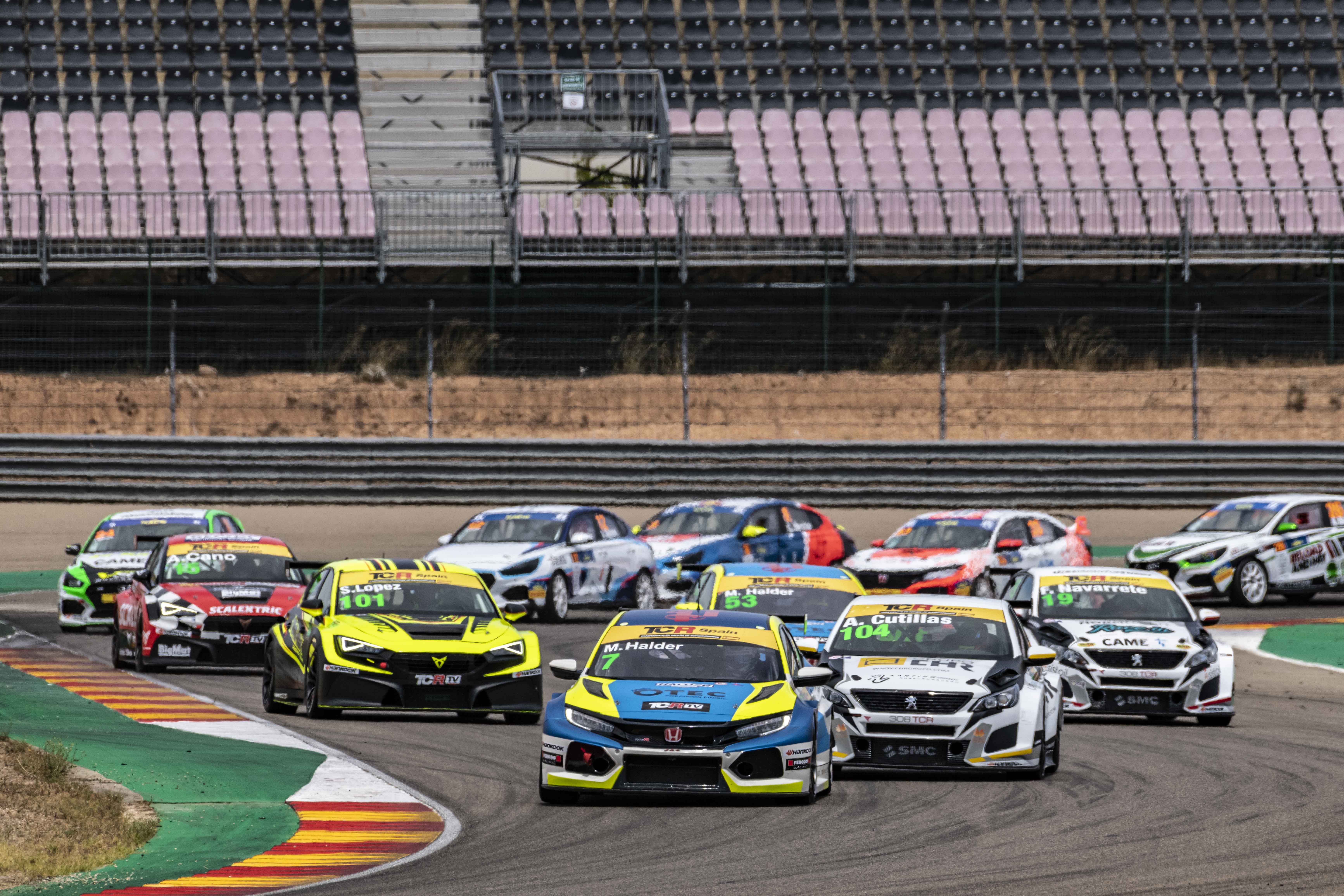 TCR / 02 August 2021
Five-star weekend for Civic Type R TCR drivers
Five dominant victories plus four more class successes meant one of the best weekends of the year for Honda Civic Type R TCR customer racing teams in Europe and Asia.
TCR Spain
Mike Halder completed a remarkable treble at MotorLand Aragon in his JAS Motorsport-built car to increase his series lead with three rounds of the series gone.
Team Halder endured a terrible build-up to the event as Michelle Halder and her parents were robbed as they slept in their motorhome on the trip out to Spain one night, but the determined brother-sister combo would not let that soften their resolve.
Mike won a damp opener on Saturday night and repeated the feat the next morning, but his best drive came in the finale from fifth on the partially-reversed grid. Michelle was third in Race Three and fifth in the other two encounters.
Super Taikyu
Racer M&K Racing made it back-to-back wins in Super Taikyu's ST-TCR class at Autopolis as the Civic Type R TCR continued its 100 per cent winning record in the class this year.
The planned five-hour race descended into a series of sprints as several race stoppages - each one for poor visibility as thick fog arrived several times at the wet track. The quartet of Shinji Nakano, Syun Koide, Kenta Harada and Mitsuhiro Endo held firm.
Team Noah completed a Civic Type R TCR one-two finish with Toshiro Tsukada, Yoshikazu Sobu, Shigetomo Shimono & Yuji Kiyotaka just eight seconds behind. They can be crowned champions next time out at Suzuka.
TCR Europe
Brutal Fish Racing scored four superb class wins as the series moved on to Spa-Francorchamps, Belgium with teenager Isidro Callejas dominating the Rookie Trophy and Martin Ryba doing likewise in the Diamond Trophy.
Callejas continued his promising maiden season in international competition with fourth spot overall in Race Two as he was a double-winner in the Rookie points. Ryba was also a double-winner; his Race Two win coming after an inspired early switch to slick tyres on a drying track.
Brutal Fish's third team member, JAS Development Driver Jack Young, endured an awful weekend. After setting the practice pace, he crashed in qualifying and started last before retiring from both races due to incidents not of his creation.
PSS Racing Team's Franco Girolami led the standings coming into the weekend. Hampered by an unfavourable Balance of Performance and compensation weight, he focused on banking solid points with fifth and seventh spots and is now second in the standings.
Pacific Motorsport Festival
Team TRC's Andy Yan made it two wins out of two as the series - which decides some of qualifiers for the end-of-season Macau Guia Race - held its second event at Guangdong, China. A packed field also contained entries from MacPro Racing Team and Maximum Racing.