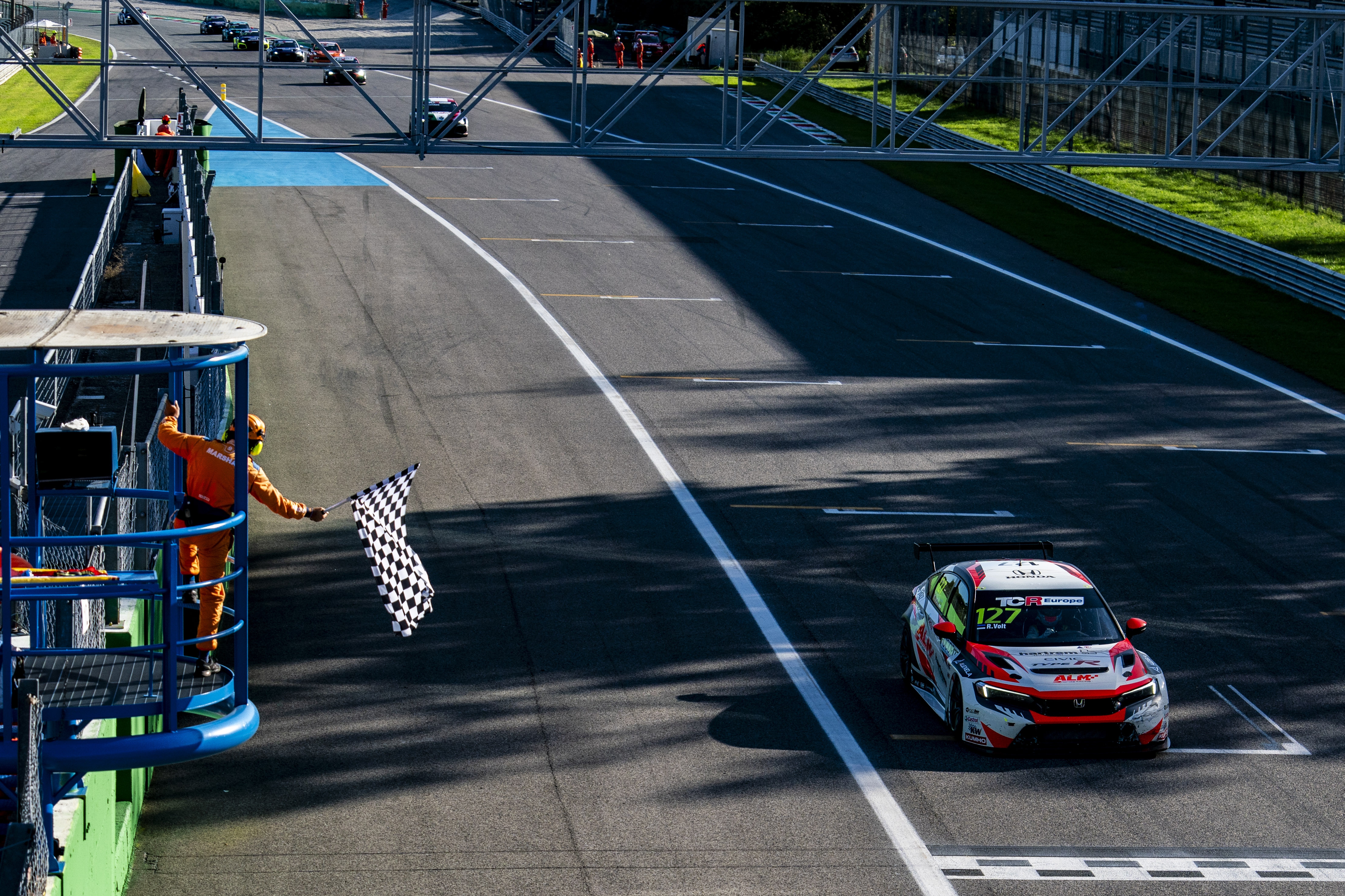 TCR / 25 September 2023
Four-star Civic Type R TCR wins again
ALM Motorsport were the star turns of the weekend as they scored a magnificent three wins from four races with their Honda Civic Type R TCRs across two different touring car championships.
And with additional victory for Squadra Martino in TCR Brazil, the weekend became another ultra-successful one for both the FL5 and FK7 versions of the JAS Motorsport-built race car.
TCR Europe
Ruben Volt was the sensation of the weekend as he produced an electrifying performance on Saturday morning at Monza to claim his maiden series pole position aboard his FL5.
Stalling at the start of the opener he fell to the back of the pack, but magnificently charged through to fourth by the finish in a car that was free of success ballast, unlike the upto 40kg carried by some rivals.
The JAS Driver Development Programme graduate was even better in Race Two as he started 10th and powered to the front of the pack, picking off his rivals one-by-one and grabbing a lead he would not lose with a round-the-outside move at the Parabolica with two laps left.
Baltic Touring Car Championship
Twenty-four hours before Volt's heroics, Sven Karuse was a double winner as the Baltic series wrapped up at Bikernieki, Latvia.
The ALM Motorsport driver qualified second in the TCR class, but took less than a lap to snatch the lead at the start of a wet opening race and was unchallenged thereafter.
He was even more dominant in Race Two as he stormed to a fourth win of 2023 to complete an incredible record of having won every race he's started in the series with ALM this year and snatch second place in the championship.
TCR South America & TCR Brazil
Ignacio Montenegro retained his advantage in both series as he stormed to pole position at Velopark and then scored a Brazilian win - plus second in the concurrently-run ultra-wet South America opener.
The Squadra Martino driver added eighth spot in a less wet second race, having been bounced around by several rivals during the 25 minutes. Team-mate Juan Manuel Casella was fifth and 10th, having been spun by another car in Race Two.
Montenegro, Casella and Enrique Maglione were, in fact, all punted into a spin or off the track by the same car in Race Two; Trophy class polesitter Maglione winning the category in both series' in Race One and then adding second later on.
Team-mate Fabio Casagrande was fourth in Race Two to sit second in the standings - one spot ahead of Maglione. Squadra Martino head the Teams' points in both series.
NLS
After their win in the previous event, Halder Motorsport were again in action at the Nurburgring-based endurance series in the TCR division.
Brother and sister Mike and Michelle Halder, who were again sharing with Roger Vogeli, qualified second in class but retired at the end of the first hour.
Mads Fischer, JAS Motorsport TCR Project Leader, said: "It's been a fantastic weekend of results with our teams showing that the FK7 Civic Type R TCR continues to be extremely competitive. Ruben was exceptional in the FL5, showing how fast he is despite his young age, although being able to race with no success ballast was a huge benefit and things will be different in Barcleona when he has to carry 40kg extra. In Latvia Sven continued his superb strike rate for the year. Squadra Martino continued to do a fantastic job with all four drivers and were innocent victims of being hit and spun by others throughout the weekend. Although they're still leading the championship, it's going to be a very hard battle to win the title. We're looking forward to continuing to support all our customer teams to the season's end."