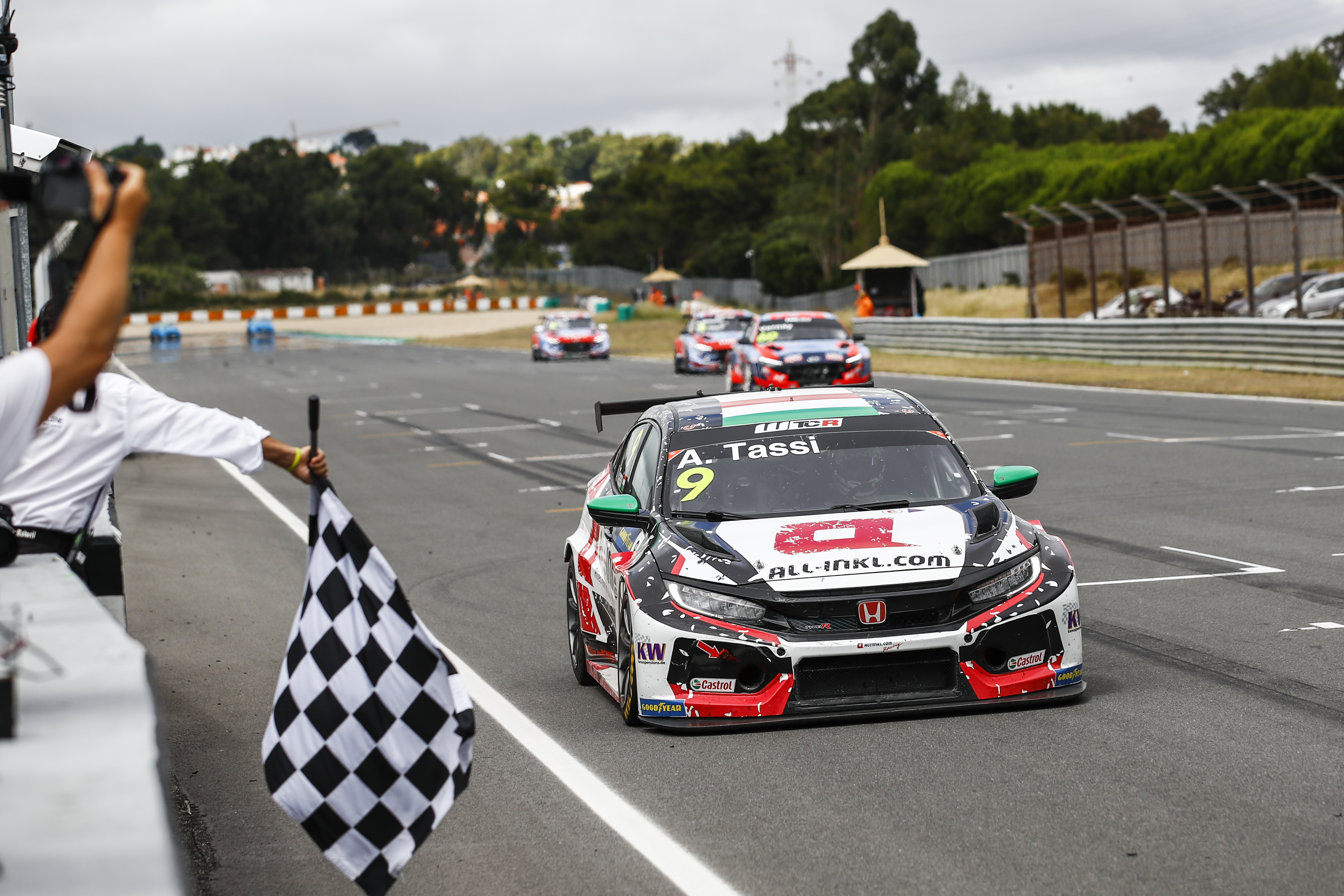 TCR / 28 June 2021
Four-star weekend for Civic Type R TCR
Four victories on three different continents capped off the best weekend of 2021 so far for the JAS Motorsport-built Honda Civic Type R TCR.
Breakthrough wins in the WTCR - FIA World Touring Car Cup, IMSA Michelin Pilot Challenge and TCR South America left a handful of customers teams in joyful mood as they packed up on Sunday night.
FIA WTCR
Attila Tassi scored his first series win, the Hungarian running second for most of Race Two at Estoril, Portugal, but then taking the lead with a lap to go when ALL-INKL.DE Munnich Motorsport team-mate Tiago Monteiro pitted to have a loose bonnet seen to.
It was a result that elevated Tassi - a former JAS Motorsport Development Driver - to second in the championshp standings. Monteiro kept his title challenge on-track with fourth in Race One - just ahead of ALL-INKL.COM Munnich Motorsport's Esteban Guerrieri.
Guerrieri qualified on pole position, but fell to 14th by the first corner, inspiring a fightback that took him to eighth.
Team-mate Nestor Girolami was eliminated by first-corner contact in Race One, but finished 13th later on from last on the grid.
ALL-INKL.DE Munnich Motorsport now lead the Teams' Championship.
IMSA Michelin Pilot Challenge
A superb performance by Todd Lamb and Ryan Eversley gave Atlanta Speedwerks their maiden TCR victory in the series in the four-hour race at Watkins Glen, USA; promoting the latter to the top of the Drivers' standings.
A loose boost pipe had dropped the car to 11th early on, but this was solved at a pitstop as Lamb fought back to second. Eversley took over driving duties with 90 minutes left and stormed through from fifth to first.
He leads the Drivers' Championship with the squad on top in the Teams' rankings and Honda now heading the Manufacturers' title race.
Robert Noaker had put the sister car on pole position to maintain the team's 100 per cent qualifying record in 2021 and led the opening two-and-a-half hours, but a tough restart in the final 30 minutes meant he and Brian Henderson finished fourth.
Karl Wittmer qualified an impressive third and ran second for much of the opening 90 minutes for VGMC Racing, but his race, and that of co-driver Victor Gonzalez Jr, ended with a loose wheel straight after a pitstop.
TCR South America
Pepe Oriola made history by winning the series' inaugural race at Interlagos, Brazil, and then made it an even better day by doubling-up later in the day.
The Spaniard grabbed the lead at the start of Race One from his pole-sitting W2 Racing team-mate Raphael Reis and headed a one-two finish. Reis was fighting through the field in Race Two when contact put him out.
Squadra Martino's teenage racer Ayrton Chorne was a superb third in Race Two with team-mate Jose Manuel Sapag fifth after being spun by a rival at the Senna S early on. They had finished sixth and fifth in Race One.
TCR Italy
JAS Development Driver Mattias Vahtel came within an ace of his first series win after leading the first three quarters of the second race at Vallelunga. But the ALM Honda Racing driver sustained puncture and was forced into the pits, dropping him to last.
That was where he found team-mate Ruben Volt, who had run second early on, but dropped back from the mid-point of the race onwards with his own issues.
Volt had earlier recovered from an early pitstop in Race One to climb from last to ninth while Vahtel's race ended in the gravel after suffering another puncture while sixth. Technodom Sport's Jonathan Giacon did not start either race after crashing in qualifying.