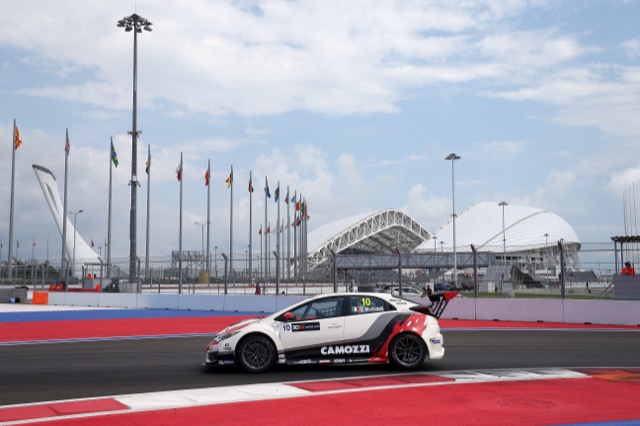 TCR / 21 June 2015
From Russia With No Love: Tough Weekend in Sochi for JAS Honda Civic TCR Drivers
Turbo Issues Ground Morbidelli
It was a weekend to forget for the West Coast Racing team in Sochi. Despite good form in free practice, lead driver Gianni Morbidelli was already warning against high expectations, due to the technical nature of the race track at the Olympic facility which would make passing manoeuvres very difficult. This proved to be the case, especially in the first of the two races in Russia. The JAS Motorsport – prepared Honda Civic TCR cars were also unable to make up for the heavy performance ballast loading mandated by the TCR series organisers.
Morbidelli finished seventh, but larger problems were starting to appear, as turbocharger issues were to cause some frantic activity in the pit area in between the two races. Kevin Gleason, winner of the last race, did however benefit from a last corner incident between two other cars to gain two late places to finish eighth.
Unfortunately the team was not able to repair the turbo problem in time for erstwhile series leader Morbidelli to take the start of the second race. While Gleason started from pole he was unable to maintain the advantage and eventually finished in the middle of the field.
The TCR International Series now moves to the Red Bull Ring in Austria for the next round, where the team will be looking to re-engage the battle for the championship win.