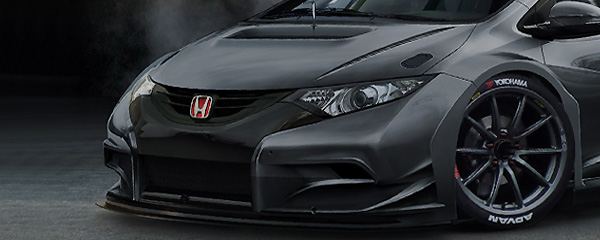 Rally / 18 July 2012
GABRIELE TARQUINI AND TIAGO MONTEIRO ANNOUNCED AS HONDA?S WTCC DRIVERS
Tiago Monteiro will race in Suzuka, Shanghai and Macau this year ?

Gabriele Tarquini will assist Honda Racing Team JAS on the car?s development ?

Both will race the new ?Civic WTCC? in 2013
Tokyo, July 18th 2012 -
Honda announced today that Italian Gabriele Tarquini and Portuguese Tiago Monteiro will be its works team drivers in the FIA World Touring Car Championship (WTCC).
Earlier this year, Honda already confirmed its entry in the WTCC from 2013 onwards, with a two car worksteam
-- Honda Racing Team JAS ?
managed by JAS Motorsport (Milano, Italy), Honda?s long term racing partner.
J.A.S.Motorsport is currently developing the European Honda Civic 5-door for the WTCC, whilst Honda R&D has created a bespoke, brand new 1.6 litre 4 cylinder direct injection turbo-charged petrol engine at its research and development centre in Tochigi (Japan).
As part of its development programme, Honda will enter the WTCC as early as this season with one car. Behind the wheel of the ?Honda Civic WTCC?will be ex-Formula One driver Tiago Monteiro, who will compete in three races, starting at Suzuka in October 2012. Honda R&D and Mugen will provide trackside support to the team as the new engine makes its racing debut.
Drawing on his extensive experience in the sport, 2009 World Touring Car champion Tarquiniwill also assist the works team on the car?s development this year.
Both drivers will compete in the full FIA World Touring Car Championship (FIA WTCC) in 2013.
Commenting on the announcement, Hideo Sato, General Manager of Honda Motorsport Division in Japan, said:
"We are delighted to have Gabriele back with us and excited to welcome Tiago into the Honda racing family for the first time. Both are former Formula One drivers and have also proven time and again that they belong in the absolute top echelon of world touring car drivers. We are convinced that both drivers will contribute to the success of the Honda Civic in the FIA WTCC.
I?d also like to expressa special gratitude to the FIA and Eurosport Events, who have both been instrumental in making our entry into the WTCC possible from this year onwards."
Gabriele Tarquini?s racing career began in karting, where he became both Italian and World Champion. He then moved to Formula 3000 for three seasons, followed by Formula One, participating in 78 Grand Prix and working with teams such as Osella, Coloni, AGS, Fondmetal and Tyrrell.
In 1994 the Italian then made a successful switch to touring cars. Starting with the British Touring Car Championship (BTCC), he won the title at his first attempt.
In 1997 he began a five year relationship with Honda, firstly in the BTCC behind the wheel of a Honda Accord. In 1998 he moved to Germany to support Honda?s assault in the country?s STW Cup, and then in 2000 returned to the BTCC. This first ?Honda era? drew to a close in 2001 and was marked by winning nine races in the European Touring Car Championship.
Since then Tarquini has competed in the FIA WTCC, including a championship winning season in 2009, when he took the drivers? title at the last race of the year.
In the same year that Tarquini first joined Honda (1997), Tiago Monteiro was making his debut in the French Porsche Carrera Cup.
After a spell in the French Formula 3 and the GT Championship, he moved to Formula 3000 in 2002 and then the American Champ Car series in 2003.
He then pushed through to Formula One, driving for Jordan Grand Prix, Midland F1 and Spyker F1 team. In the 2005 United States Grand Prix he obtained a podium finish (3rd place) and in the same year went on to break the record for the highest number of finishes in a season as a rookie (18); a record that he still holds to date.
Monteiro moved to the FIA WTCC in 2007, where he continues to compete at the highest level.