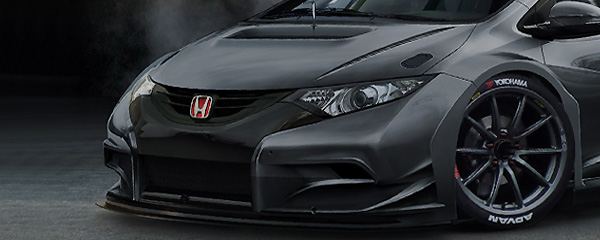 Rally / 30 April 2008
GUY WILKS GETS TO GRIPS WITH NEW HONDA CIVIC TYPE R R3
British talent Guy Wilks has had his first taste of the Honda Civic Type R R3 he will drive on the forthcoming Canberra Rally in Australia, at a test session in Italy last week The 27 year-old drove the new car for about 100 kilometres on asphalt to the east of Sanremo: the host town of Italy's round of the World Rally Championship for many years.
The test stage, which was 2.4 kilometres long, incorporated a variety of speeds and corners. Along with his co-driver Phil Pugh, Wilks was able to get a good first impression of the JAS Motorsport-built Civic Type R R3, which has already achieved some giant-killing results in its short career, such as fifth overall on last year's Rallye du Valais in Switzerland. "I was very impressed with the car," said Wilks, who just won the first round of the British Championship. "The engine of the Civic in particular is extremely powerful and the road-holding is excellent. However, there's still definitely a lot more to come, which is very encouraging. I feel we can definitely make some more progress and improve our pace."
The Canberra Rally forms part of both the Australian Rally Championship and the FIA Asia-Pacific Championship, guaranteeing a high quality level of drivers and cars.
Wilks is set to go up against Group N and Super 1600 machinery in Australia, as well as some of the latest Super 2000 cars. "I'm sure it's going to be a competitive event, against some very good drivers," added Wilks. "I'm not really sure what to expect, because we've still got a lot to learn about the car and the terrain. But depending on the type of stage, maybe we can challenge some of the Group N cars there. And I'd like to think that we could compete on equal terms with the Super 1600 machines on any of the stages."
Wilks, the reigning British Rally Champion, leaves for Australia at the end of this week and will spend two days testing the car before the all-gravel rally gets underway the week after next.
Media contact : media@jasmotorsport.com
Website : www.jasmotorsport.com