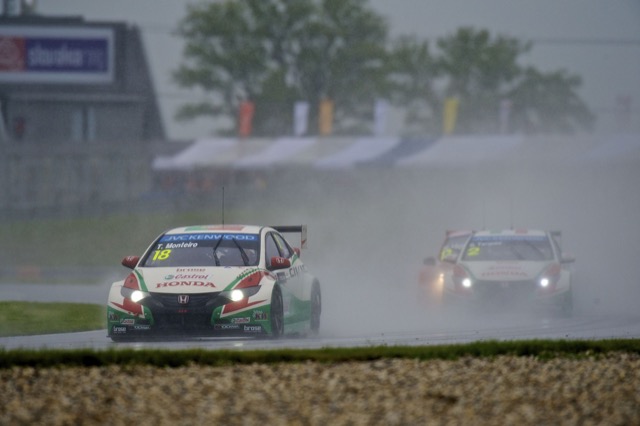 Race Track / 11 May 2014
Honda Civic third in Race 1 at Slovakia Ring as rain stops play
FIA WTCC - Round 4 - Slovakia Ring - Race Report 1
The Honda Civic of Norbert Michelisz claimed third place on the first corner of the first lap of Race 1 of the WTCC event at Slovakia Ring and held the position confidently as the conditions deteriorated as the rain intensified forcing the race to be halted with 4 laps to go. The track was flooded and the Race Director decided correctly that conditions were unsafe. Michelisz had shown his determination to improve his 4th position on the grid and made an excellent start to get ahead of reigning champion Muller.
"I am really happy with my result. The car had a good balance and I was really confident. I was expecting to have to fight with Muller but then he had to take his drive-through penalty for jumping the start. I had to drive very safely but I always had something in hand. It is good to have another podium here. Let's see what happens in Race 2 but I am starting further back this time," said Norbi.
Track conditions were wet for the start but heavy rain fell immediately the cars left the grid and increased as the race progressed. For the Castrol Honda World Touring Car Team the conditions could not have been less favourable. Gabriele Tarquini made a very strong start but was then blocked and forced wide. Tiago Monteiro also made a good start to close up behind his Italian team-mate and was able to pass him on lap 6 for the two Castrol liveried Civics to finish close together in the shortened race.
"Conditions were terrible out there," said Gabriele. "It was difficult to see in the spray and there really was no grip at all on any part of the circuit."
Tiago also said the conditions were bad for the drivers. "I really made a good start and passed some cars at the start but got bumped at the second corner and lost speed. I managed to get past Gabri at the chicane but in these conditions it was really impossible to get any grip for traction or braking and that makes it very dangerous. Thankfully all our cars are still in very good racing order and we will see what happens later"
After the disappointment of yesterday when boost problems cut short his qualifying opportunities, Mehdi Bennani quickly moved up the field from the back of the grid to be running in 13th place after two laps. A slide delayed him mid-race and he was running in 15th position when the race was halted.
Race 1 (provisional): 1. Sébastien Loeb, Citroën C-Elysée WTCC 8 laps; 2. Jose-Maria Lopez, Citroën C-Elysée WTCC 1.105; 3. Norbert Michelisz, Honda Civic WTCC 2.435; 4. Tom Coronel, Chevrolet RML Cruze TC1 4.081; 5. Tom Chilton, Chevrolet RML Cruze TC1 5.205; 6. Gianni Morbidelli, Chevrolet RML Cruze TC1 6.206; 7. Tiago Monteiro, Honda Civic WTCC 6.960; 8. Gabriele Tarquini, Honda Civic WTCC 7.410; 9. Rob Huff, Lada Granta 1.6T 8.359; 10. Yvan Muller, Citroën C-Elysée WTCC 9.457; 11. Hugo Valente, Chevrolet RML Cruze TC1 10.535; 12. Dusan Borkovic, Chevrolet RML Cruze TC1 10.971; 13. Rene Munnich, Chevrolet RML Cruze TC1 12.325; 14. James Thompson, Lada Granta 1.6T 14.231; 15. Mehdi Bennani, Honda Civic WTCC 14.690