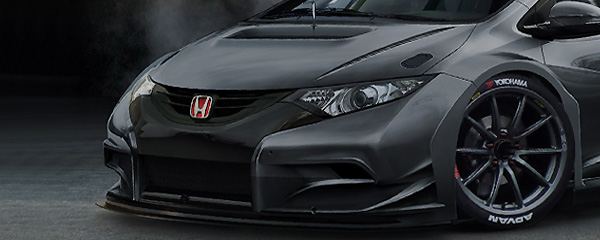 Rally / 29 September 2008
HONDA CIVIC TYPE R R3 TRIUMPHS IN THE NETHERLANDS AND REUNION ISLAND
The new Honda Civic Type R R3, built by JAS Motorsport in Italy, has claimed its first national rally championship titles of 2008.
Designed to the latest FIA R3 regulations, and equipped with an engine tuned by Mugen, the Honda has punched well above its weight this year on campaigns in the World Rally Championship, Intercontinental Rally Challenge and various national series all over the world.
Already it has claimed two of them, recently winning the two-wheel drive class in both the Netherlands Championship and the Reunion Island Championship. Each series still has events left to run this year, underlining the competitiveness of the Civic in a wide variety of conditions.
In the Netherlands, Marcel Piepers and his navigator Eric De Wild took the prestigious Dutch two-wheel drive title after a highly successful season in which they won four rallies and claimed another two podiums. Their Civic Type R was run by Piepers Rallysport and gave them hardly any problems at all over the course of the season.
De Wild said: "There are actually two rallies still left to go in the Dutch Championship this year, so to already win the Formula 2 title is a great achievement. We're also third overall, which is a massive bonus. We knew that we had a competitive package from the start, but we're definitely both surprised to have done as well as we have. The Civic has been an excellent car throughout the season, and our plan is certainly to continue rallying with Honda in 2009." I
n the burgeoning Reunion Island championship Mamisoa Rajo?l, co-driven by Muriel Rajo?l, has won the two-wheel drive title and is currently also an excellent third overall in the rankings, just behind a four-wheel drive car. One round remains in November, but whatever happens the Rajo?ls are assured of the Formula 2 title after winning the class on their last event: the gruelling ASA Sud 1000 Kilometres.
"At the moment, we're placed between two Reunion Island champions, Olivier Payet and Pascal Ardouin, so it's a real honour for us to be here," said Mamisoa Rajo?l. "We're naturally delighted to win Formula 2 and our objective on the final event will be to retain third overall in the championship. This will be tough but not impossible: up to now the Civic has shown itself to be impeccably reliable as well as easy to drive."
The next outing for the Honda Civic Type R R3 will be the Sanremo Rally in Italy this weekend, a round of the Intercontinental Rally Challenge and Italian Rally Championship. Alessandro Bettega, son of the legendary Attilio Bettega, is aiming for another class victory at the wheel of a Civic Type R R3 run by well-known Italian team Procar.
The R3 regulations, for two-wheel drive, normally aspirated cars with a 2.0 litre engine, were designed by the FIA to offer the perfect compromise between performance and affordability. Although the new generation machines are competitive and often quicker than Super 1600 cars, they can be bought and run for a significantly lower cost. The Civic Type R R3 rally car is built near Milan by JAS Motorsport in Italy: Honda's long-time competitions partner.
media@jasmotorsport.com
www.jasmotorsport.com